Essex schoolboy had N-word and 'go back to the jungle' scrawled over his shirt while celebrating his GCSEs
School says it will report matter to the police when a suspect is identified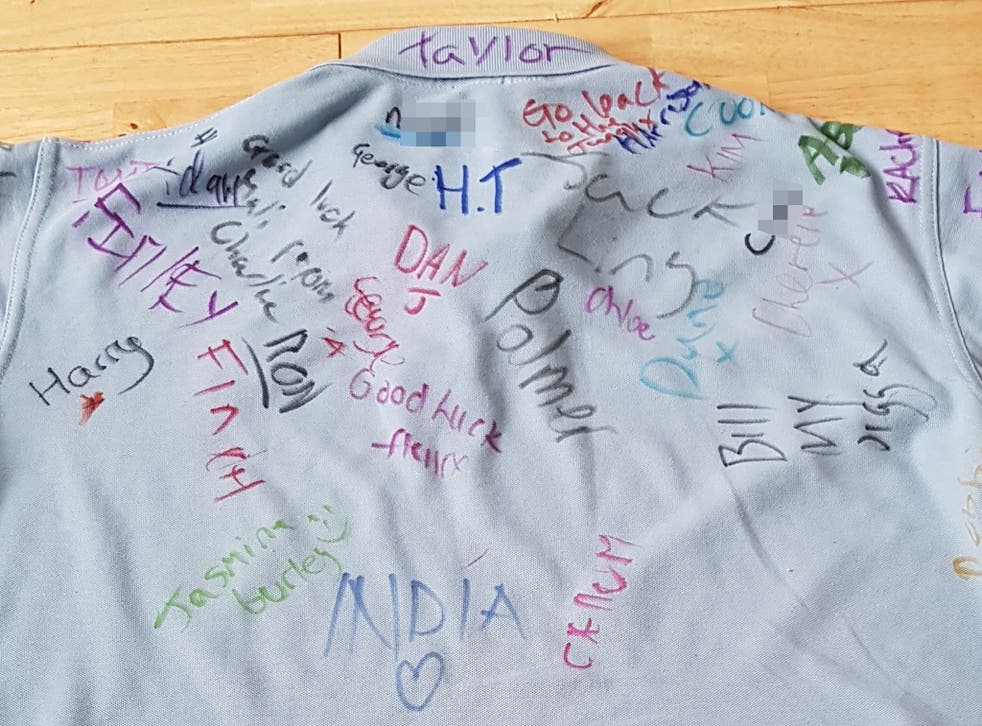 A schoolboy claims he was racially abused by his own classmates who scrawled "n****" and "go back to the jungle" on his school shirt.
The 15-year-old, who did not want to be named, said the vile remarks were inked during an annual shirt-signing session to celebrate the end of GCSE exams at Clacton County High School in Essex.
His mother said he was "traumatised" when he saw the abusive comments after arriving at home.
Juliet Ryan, 47, said her son had been oblivious to what had been written on his shirt.
Ms Ryan said: "Unknown to him, some students decided to write racist messages on his back.
"Due to racism my son did not have many friends at the school ... In no way was this a joke of playful banter.
"When my son returned home he didn't know what was written on his back.
"I began reading his shirt and on the front there appeared to be the usual farewell wishes and signatures. As I looked at the back of the shirt is when I saw the offensive terms.
"I immediately asked him to take off the shirt and I showed him the racist remarks he was really shocked and shaken."
The mother-of-two added: "He now currently will not leave the house, he is traumatised and is really security conscious."
She said her son is the only black pupil in his year and has been abused repeatedly.
Ms Ryan added: "This is a serious incident and I want to find out who is responsible for such a heinous act."
UK news in pictures

Show all 50
The school's head teacher, Neil Gallagher, told Ms Ryan he was reviewing CCTV footage. He said the school would pass the matter to the police if a suspect was identified.
The deputy head teacher, Chris Taylor, said: "This happy and lively event was marred this year by the totally unacceptable actions of a student who, without thought of consequence and with total ignorance, wrote racist and hateful remarks on the back of the shirt another student."
He said: "Clacton County High School will not, and does not, tolerate racism or prejudice in any shape or form."
SWNS
Join our new commenting forum
Join thought-provoking conversations, follow other Independent readers and see their replies