Schoolgirl referee 'almost quit' after verbal abuse from touchline reduced her to tears
Emily Dyke had disallowed a goal that parents believed had crossed the line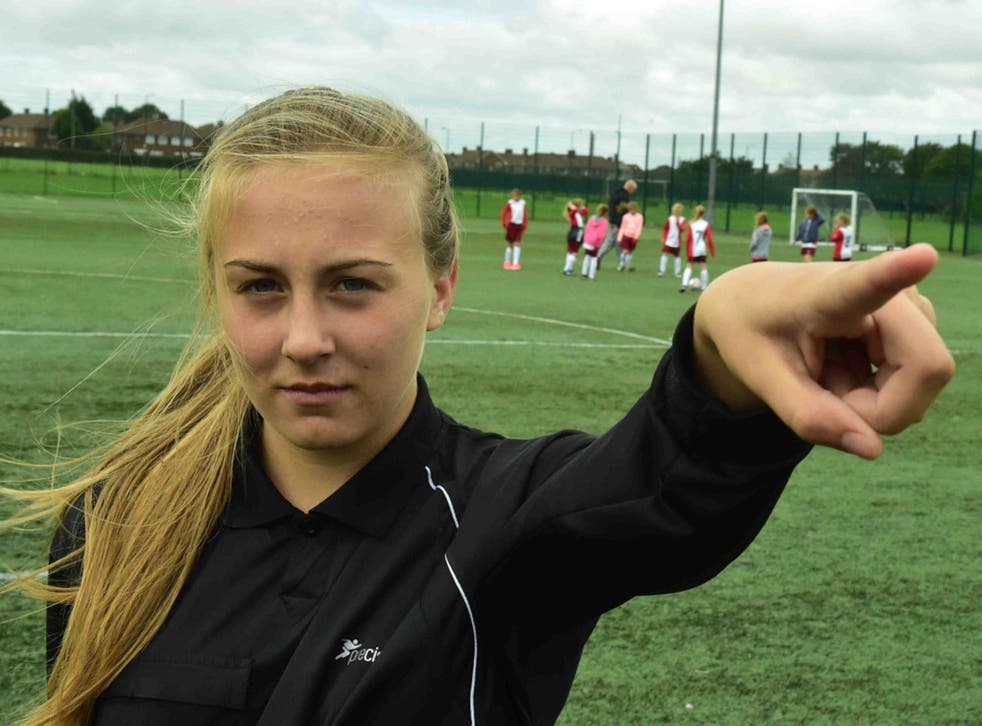 Football referees endure all sorts of abuse from the fans when they officiate at tense premiership matches and have come to expect virtually every insult and four-lettered word possible to be hurled in their direction.
In amateur games, however, the expectations are different and it is still possible to be shocked when fans shout and swear at the ref. Especially when the "man in black" is a 14-year-old girl who is in charge of a match played by eight-year-old children.
For Emily Dyke, the experience of being abused by people who in most circumstances would be considered to be "grown-ups" was searing. The teenager was so tearful and upset at the invective thrown at her from the touchline by the players' parents that she almost quit refereeing.
The parents' behaviour has been condemned by senior referees and Emily, buoyed up by encouraging comments from other spectating parents, is now determined to keep refereeing.
Emily, from Guisborough in Cleveland, had been in tears on the pitch after parents swore at her when she disallowed a goal that they believed had crossed the line. She said: "I was so upset. I felt really bad and I didn't want to continue. I love football and I really enjoy refereeing. I like seeing the game from a different perspective than you get as a player. It's a hobby that I really want to continue and I'm determined that I will still referee games."
Emily's dad Paul Dyke, 36, who coaches at nearby Skelton United under-16s girls' team, where Emily plays in midfield, persuaded her to carry on.
Touchline tantrums

Show all 21
He said: "Emily was refereeing in an under-8s tournament. The keeper spilled the ball and it looked like it had crossed the line. She couldn't see it and didn't give the goal. Parents on the touchline were shouting and calling her names. It was awful. She got upset on the pitch.
"I went to speak to them and they said that's football and if you want to be a referee, you have to get used to it. But she shouldn't have to put up with abuse like that. At the end of the day, she's 14."
Mr Dyke is urging parents to think carefully when watching a game from the sidelines about the impact that any comments could have on young referees. Emily wrote on a football forum after the match: "I love football. I play on a Saturday and referee whenever I can. I have recently suffered some verbal abuse from people while I have been refereeing and found it very hard to deal with, to the point where I am now considering not doing it any more.
"I am not looking for sympathy. I am wanting people to realise that I am just a child doing something I love. I want everyone to take a look at their children and put yourself in my shoes when the abuse is being said."
Emily said she now wants to continue being a referee after she received some positive comments from parents at her next match.
Tom Tyerman, secretary of the Stockton-on-Tees Referees' Association, said: "We do our best to encourage young referees to try to keep them in the game, but any abuse that they get when they are just starting out can knock their confidence at the first hurdle. Perhaps the leagues need to do something about it. There's little we can do. That sort of behaviour is just not acceptable."
Register for free to continue reading
Registration is a free and easy way to support our truly independent journalism
By registering, you will also enjoy limited access to Premium articles, exclusive newsletters, commenting, and virtual events with our leading journalists
Already have an account? sign in
Register for free to continue reading
Registration is a free and easy way to support our truly independent journalism
By registering, you will also enjoy limited access to Premium articles, exclusive newsletters, commenting, and virtual events with our leading journalists
Already have an account? sign in
Join our new commenting forum
Join thought-provoking conversations, follow other Independent readers and see their replies