Scotland to end public sector pay cap next year
SNP voted down lifting the 1% cap for NHS workers in May - turnaround comes two months later
Rachael Revesz
Tuesday 04 July 2017 15:28 Comments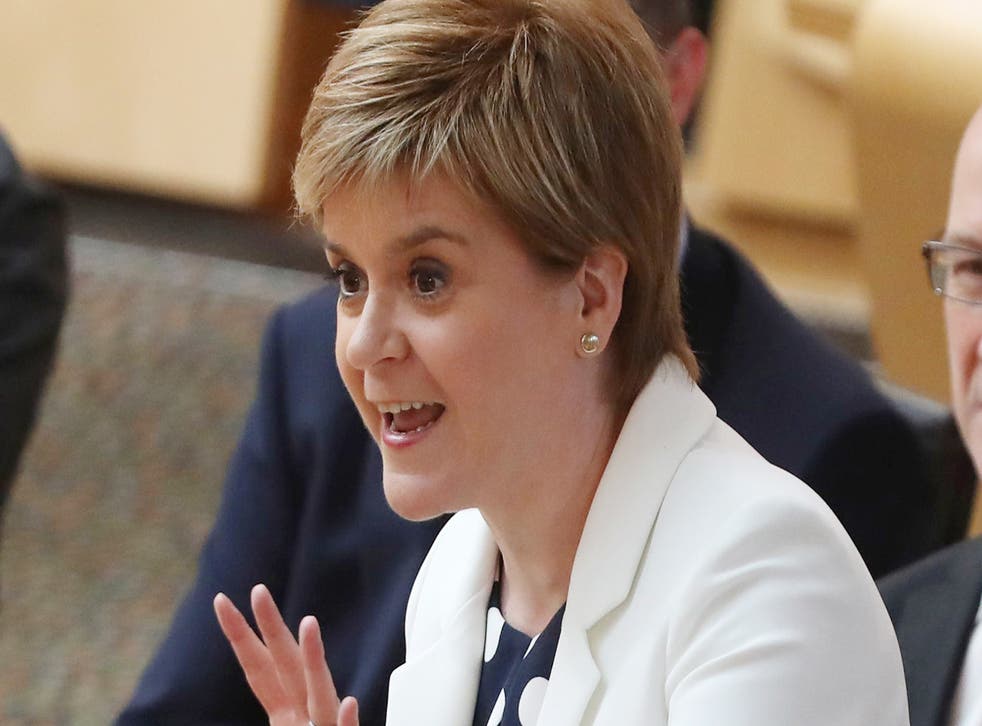 The Scottish Government will end the blanket 1 per cent public sector pay cap in the next budget, after a similar proposal from the Labour Party was defeated in Westminster.
Announcing the SNP's intention to get a "fair deal" for public sector workers next year, First Minister Nicola Sturgeon said, "We won't wait for Tories to see sense".
Two months ago, the SNP voted against scrapping the cap for NHS staff in May, arguing the 1 per cent limit did not include pay progression or special measures for lower earners, but has changed its stance two months later.
Finance Secretary Derek Mackay told Holyrood this week: "We will take a reasonable approach that absolutely recognises that the time is up for the one per cent pay cap. Not only will the SNP commit to that, but we will do it."
The SNP vowed to discuss the new agreement with unions, public sector workers and employers "over the coming months", ahead of the draft budget in December, to ensure "people earn a fair wage and protecting employment and public services".
"That won't always be an easy conversation – unlike at Westminster we really don't have a magic money tree, but no matter what the UK government does the SNP will deliver a new pay deal for Scotland's public sector workers," a Government statement read.
There was no detail as to when public sector workers will next receive a pay rise.
Gove: We should take on recommendations of independent pay review bodies on public sector pay
Scottish Labour leader Kezia Dugdale responded: "Just 50 days ago, Nicola Sturgeon and her SNP MSPs shamefully voted against lifting the pay cap for our dedicated NHS staff.
"The U-turn by her government is welcome, as it is high time that our public sector workers get the pay rise they deserve."
A Labour Party proposal to end the pay cap was defeated in Westminster in June after the Tories and the DUP banded to together to vote it down.
Theresa May's Government signalled it was ready to end the cap after the June 8 election, however, and her chief of staff, Gavin Barwell, hinted that austerity was coming to an end, but the Government backtracked after a Treasury backlash.
Theresa May has reportedly privately agreed to lift the cap after lobbying by fellow MPs, despite the Labour proposal, supported by the SNP, being defeated in England last month.
The Scottish Government sets the pay for 485,000 public sector workers, which is close to 90 per cent of the total public sector workers in the country.
Jeremy Corbyn tells Theresa May 'you cannot protect the public on the cheap'
Employees of places like HMRC and Jobcentre Plus offices are affected by UK-wide rules.
NHS staff pay is set at a UK level by an independent body, and Scottish Health Secretary Shona Robison said she has asked "organisations that represent NHS staff to work with her on a fair settlement for the future".
An Office of Manpower Economics study, released by Westminster this week, found that doctors' pay has declined 4.4 per cent in real terms every year since 2010 when austerity was pushed through under George Osborne.
UK news in pictures

Show all 50
Finance minister Mr Mackay wrote a letter to Philip Hammond, Chancellor of the Exchequer, urging a UK-wide end of the pay cap and blasting the £1 billion deal with the DUP.
"It is now imperative that you commit to ending unnecessary and ideological austerity," he wrote.
He said the new pay deal in Scotland will take rising inflation into account. Inflation hit 2.9 per cent in May, the highest level since June 2013.
The Bank of England forecasts inflation to fall back to 2.4 per cent next year and 2.2. per cent in 2019, both above the 2 per cent target.
Pressure is mounting on Westminster after the aforementioned study found that doctors, police officers, teachers and prison guards have seen their wages decline in real terms every year since 2010.
Register for free to continue reading
Registration is a free and easy way to support our truly independent journalism
By registering, you will also enjoy limited access to Premium articles, exclusive newsletters, commenting, and virtual events with our leading journalists
Already have an account? sign in
Join our new commenting forum
Join thought-provoking conversations, follow other Independent readers and see their replies