Scottish independence: Referendum counters were stood down 'for high-fiving Yes votes and booing Nos'
Highland Council confirmed a team of four counters was replaced following complaints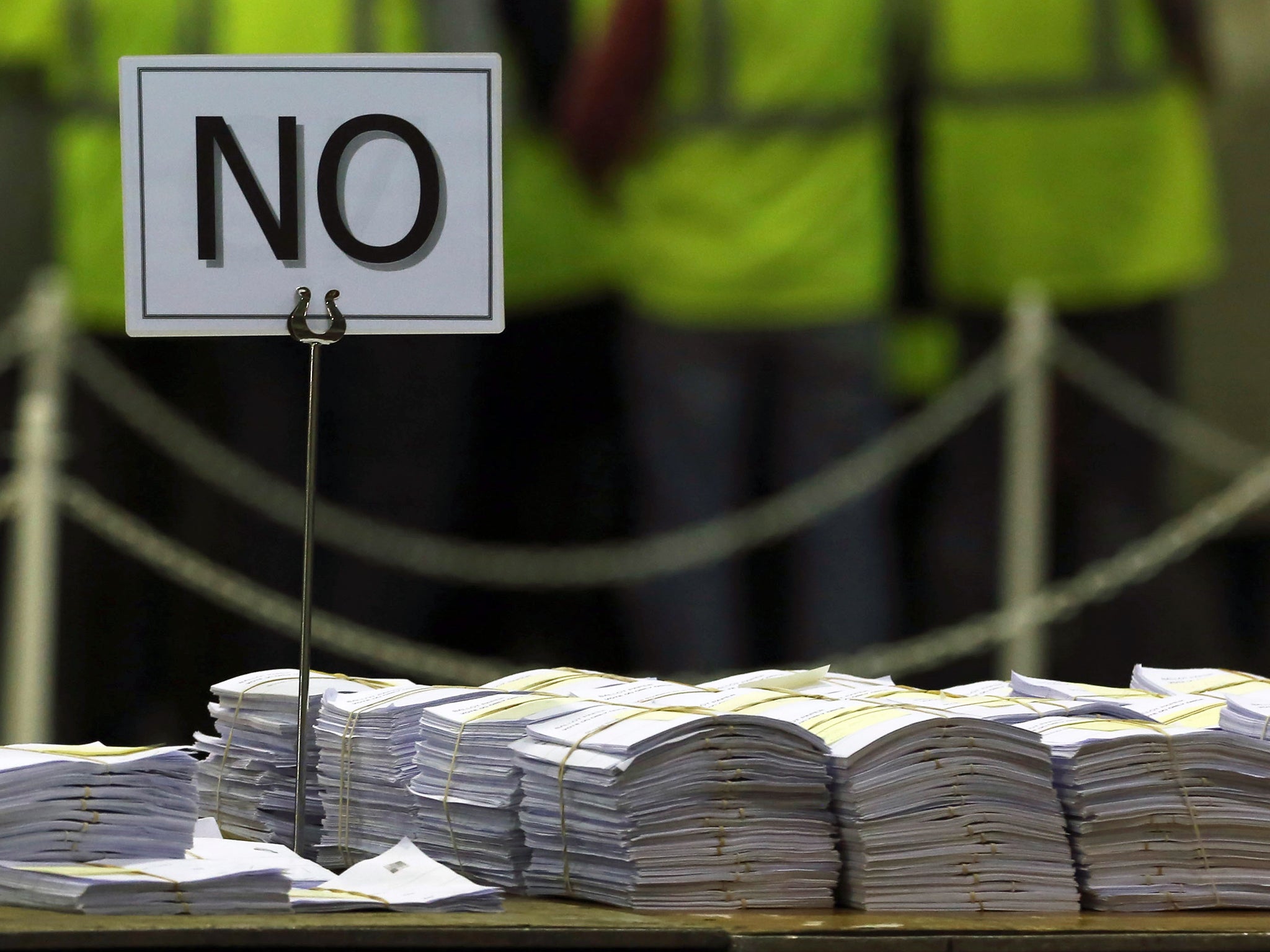 Members of council staff counting ballot cards for the Scottish referendum were relieved of their duties because they booed "No" votes and celebrated those for "Yes", it has been claimed.
The incident allegedly took place during the count at Dingwall for Highland Council on the 18 September, and is believed to have involved four people who were later replaced.
A spokesperson for the council confirmed that a number of staff members were asked to stand down due to complaints of "inappropriate behaviour", though added that Highland officials did not see exactly what happened.
According to BBC News, Labour and Liberal Democrat party agents made a joint complaint to the counting officer.
Witnesses alleged that some counters were giving each other thumbs up and high-fives when they opened "Yes" ballot cards. It was also claimed that boos were heard when "No" votes came up, BBC News reported.
A spokesperson for the Highland counting officer told The Independent: "Complaints were made about a count staff team of four people at the referendum count in Dingwall and as a result the team were stood down and replaced.
Scottish independence: Referendum results in pictures
Show all 15
While the result from Dingwall was delayed, the spokesperson said this was "because of the A9 road closure", and said that the incident with the counters "did not contribute to the time taken to declare the final result".
It is not known whether the counters involved would be disciplined further. The spokesperson said: "We don't comment on personnel matters."
The result from Highland was the last to be declared across the country, at which point the victory for Better Together had already been confirmed. At 8.15am on 19 September, it was announced as 87,739 for "No" and 78,069 for "Yes".
The incident in Dingwall comes after the Yes campaign in Dundee was forced to clarify that ballot cards had not yet been sorted in footage from the count showing "Yes" cards on a "No" table.
A number of votes in Glasgow are also being investigated by police over a claim of multiple voting, while an online petition calling for an inquiry into alleged vote rigging has received more than 60,000 signatories.
Join our commenting forum
Join thought-provoking conversations, follow other Independent readers and see their replies