Scottish politicians attack 'going home' immigration posters as 'shameful'
A charity has also labelled the Home Office posters displayed in reporting centres 'racist'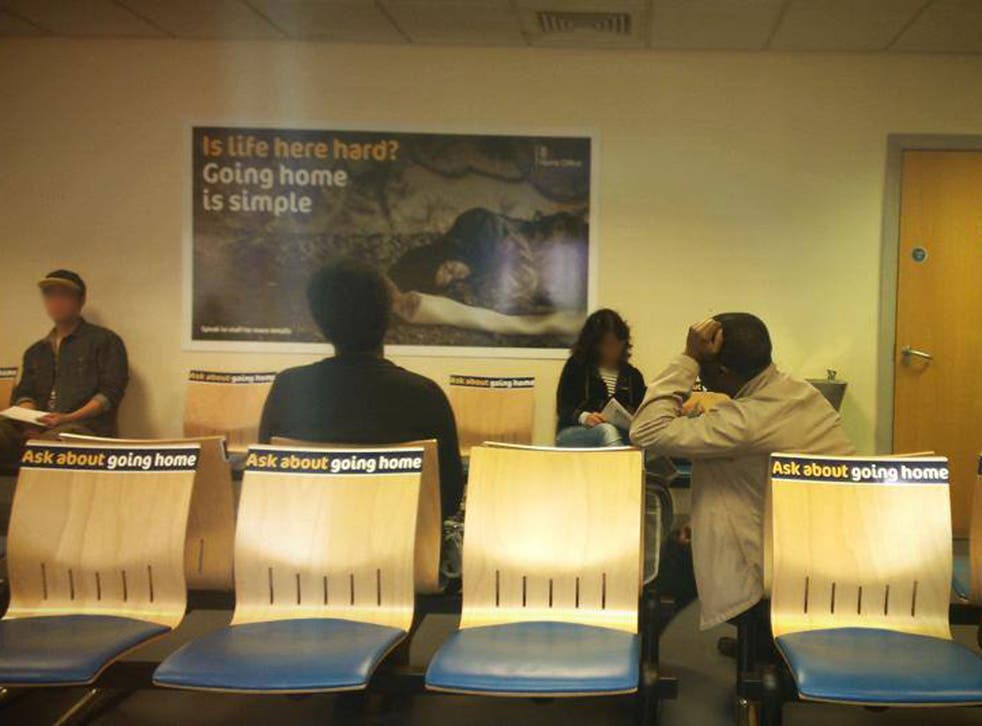 The Home office has been heavily criticised by Scottish politicians and civil society groups for a series of posters placed in immigration reporting centres last month that encourage immigrants to "ask about going home".
The adverts, which have been on display at reporting centres in Glasgow and Hounslow in West London and offer to book immigrants flights back to their native countries, have been described by MSPs as "shameful", the Guardian reports.
The Home Office said the posters were designed as part of a campaign to provide those who cannot stay in Britain with "sensitive advice and assistance to help them return home with dignity".
Positive Action in Housing, a Glasgow-based charity which works with asylum seekers, said the posters were "shameful and deeply offensive".
Many of those attending the two immigration reporting centres in which the posters are displayed are people applying for asylum and migrant workers with questions about their visas.
Besides traditional posters which display the message "Is life here hard? Going home is simple," the campaign includes signs on chairs in the waiting area that read, "Ask about going home".
An aeroplane-shaped poster suspended from the ceiling says, "Let us help you go home."
Sandra White, the Scottish National Party MSP for Glasgow Kelvin and a member of the Scottish parliament's cross-party group on asylum seekers told the newspaper, "Very many asylum seekers are fleeing for their lives, escaping violence and persecution.
"To be greeted with posters urging them to return to the countries they have just fled is totally inappropriate and appalling.
"In my view the campaign borders on the racist. The posters are in an area where most people who go there are African or Asian and to my mind they are there to put fear into people."
Ms White added that the posters should be removed "as soon as possible".
Ken MacIntosh, Labour MSP for Eastwood, said, "I think the whole 'go home' campaign has been damaging, and this latest campaign certainly seems to reflect the same sentiment.
"It is a shameful attempt to whip up anti-immigration feeling."
Robina Qureshi, director of Positive Action in Housing told the BBC, "As we all should know, 'go home' is a well-known racist taunt that has been used for decades in this country by fascists and racists against those of us from immigrant communities.
"That a government agency should decide to take up the same racist and xenophobic refrain while processing would-be refugees to this country, is shameful and deeply offensive."
An SNP MSP is writing today to Theresa May, the Home Secretary demanding the poster campaign be stopped immediately.
James Dornan, representing Glasgow Cathcart, said, "I am writing to Theresa May to find out if she thinks this type of manipulative messaging to people in very difficult situations is appropriate or not. Did she authorise this campaign? And if not, does she approve of it? And will she commit to ending the use of this inflammatory language immediately?
"There is no room for this type of abhorrent xenophobic campaign which will only serve to make already vulnerable people feel unwelcome and fans the flames of racial bigotry.
"The Home Office has absolutely no idea about how modern Scotland treats vulnerable people - regardless of where they are from. Their campaign [at the UK Border Agency centre in Glasgow] must stop immediately."
The MSP has also put down a motion in the Scottish parliament calling for an end to the campaign and calling for Scotland to "have a humane asylum system".
In a statement to the BBC, the Scottish government said immigration policy was currently reserved to the UK government.
A spokesman added: "An independent Scotland will also ensure that we uphold our long tradition of providing shelter for those fleeing violence and persecution in their own countries."
A Home Office spokeswoman told the broadcaster that the posters were part of a pilot campaign running at the UKBA in Brand Street, Glasgow, and Hounslow, west London.
She said it was part of a wider policy aimed at highlighting the range of help and advice available to those not eligible to stay in Britain to return home voluntarily.
The spokeswoman said this was more cost-effective and less traumatic than forced removals.
"Those with no right to remain in the UK should leave voluntarily. These posters are designed to ensure people know that we can provide sensitive advice and assistance to help them return home with dignity.
"We also continue to work closely with community groups who welcome the opportunity for someone who is not here legally to leave the country of their own accord."
This row follows another Home Office publicity campaign which used vans driven across six London boroughs displaying the slogan, "In the UK illegally? Go home or face arrest."
Ministers were threatened with legal action from clients of migrant community groups who claimed that the rhetoric on the posters breached the government's duties under equality legislation.
Join our new commenting forum
Join thought-provoking conversations, follow other Independent readers and see their replies