Famous seal hitches rides with paddleboarders off Dorset coast
Animal still trusts humans despite being targeted by stone-throwers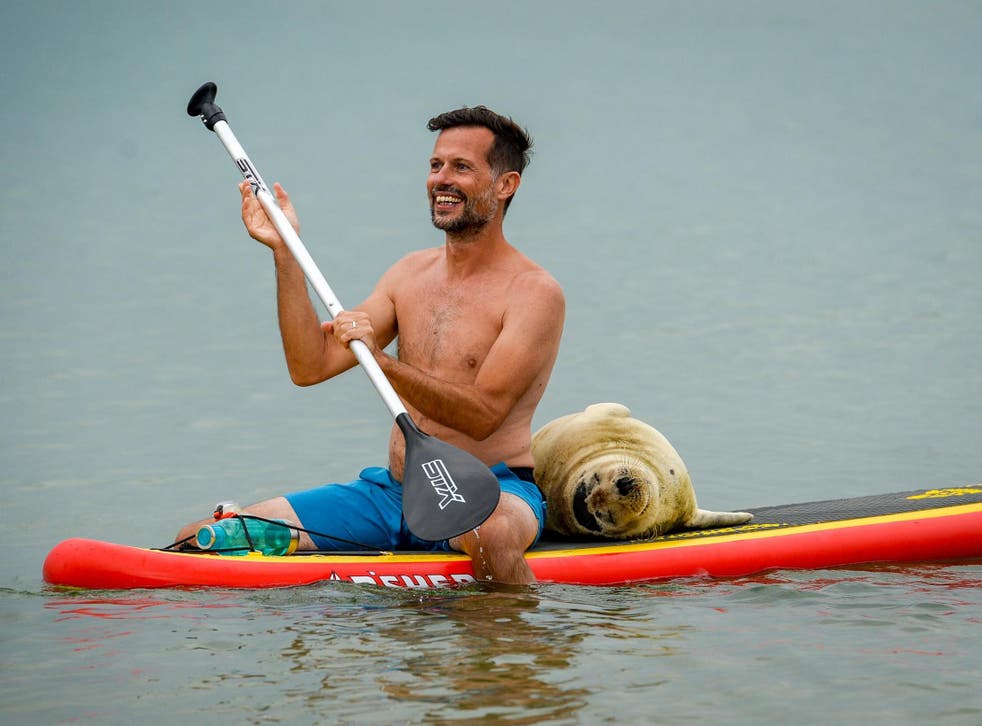 A seal that was targeted by children throwing stones has apparently forgiven humans – and taken to hitching rides with people on their paddleboards.
Last month youngsters were spotted trying to hit the animal with stones while their parents took video footage on their phones.
Seals are usually elusive and shy, but this animal, known as Sammy, has been spotted regularly at Weymouth, Dorset, for three months, where he has become a tourist attraction.
Sammy has even been known to approach people, and now has even started hopping on board with beachgoers taking to the sea.
Andy Tolley, an engineer, told the Dorset Echo he saw a seal trying to get onto the beach as children were aiming at it while the parents filmed the scene.
"The kids were only about 10ft away from the seal and they could have been doing some real damage to it at that close range," he said.
"The seal was trying to get onto the beach and, because of the kids throwing stones, it kept going back into the water, swimming further up and then trying to come in again. Eventually it disappeared as it couldn't get safely onto the beach.
"I was stuck for words. I couldn't believe what I was seeing. There were other people on the beach watching them as well and I don't think they could believe it either.
"I wish I had gone up to them and taken photos of what they were doing so that the pictures could be used to demonstrate what others shouldn't be doing. I was just gobsmacked."
Police and RSPCA officers have been devising plans to protect Sammy, the paper reports.
"All agencies involved will be working together to maintain the safety of the seal and that of the public using the beach where the seal is present," a spokesman said.
"Please take care when swimming in the area and do not encourage contact with the seal. Please maintain a safe distance at all times to protect yourself and the seal."
Join our new commenting forum
Join thought-provoking conversations, follow other Independent readers and see their replies