Pensioner finds 150lb seal sunning herself in back garden – 20 miles from the nearest sea
The garden is 20 miles away – about a 30-minute drive – from the coast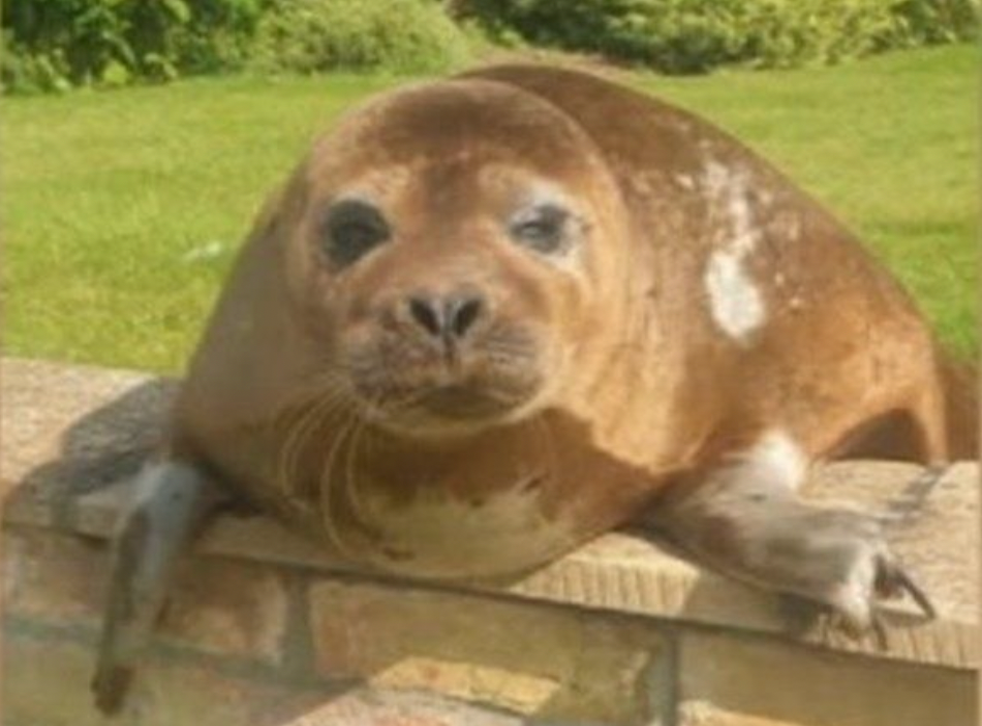 A pensioner who lives more than 20 miles from the sea was given a shock when she woke up to find a seal sunbathing on her patio.
Anne Page, 72, discovered the animal in her back garden when she went out to do a spot of early morning gardening on Tuesday.
She said could not believe her eyes, and was puzzled as to how the seal got there, given that she does not live on the coast.
It is believed the marine mammal reached her house in Billinghay, Lincolnshire, by swimming up the River Witham, which leads to the coast of the North Sea 20 miles away where a seal colony is situated.
The seal was later identified as Dandy Dinmont after RSPCA inspectors examined her orange tag when later releasing her into the River Welland, at Fosdyke, according to local news website The Lincolnite.
In September, Dandy made headlines for hitching a ride on a paddleboard while a woman was in the middle of a lesson. The paddleboarding instructor, Phil May of Yellowbelly SUP School, took a photo of Dandy clinging to the board on the River Witham, in Boston, Lincolnshire.
When Ms Page spotted Dandy, she called her son Rob, who then enlisted the help of local police wildlife officer PC Martin Green after he could not get through to the RSPCA and the seal sanctuary.
In describing how she found Dandy, Ms Page told the Daily Mail: "I went out to water my plants in the back garden just after 7.30am and straight away I saw the seal on my patio.
"We were just staring face to face. I put down my watering can, went back inside and then went out again as I couldn't quite believe my eyes.
"I blocked the steps, as I know they can be quite aggressive, but I seemed to frighten it and the seal moved onto the lawn under our willow tree.
"I then rang my son. I don't think he believed what I was actually saying. Instead of a seal in the garden he thought I was telling him the seal had gone on my door."
Ms Page's son said: "The seal seemed very tame and quite relaxed. She was in the sun at first but then moved into the shade when the temperature rose as I got there."
PC Green and an RSPCA inspector worked together to usher Dandy, who weighs about 150lbs, into a kennel.
"This is very rare. I have dealt with three seals in my 23 years of policing," PC Green said.
Dandy is one of seven seal pups rescued by the RSPCA in 2017 who were all named after breeds of dog. The RSPCA originally found her at East Mersea Island in Essex before releasing her into the sea with an orange tag.
Join our new commenting forum
Join thought-provoking conversations, follow other Independent readers and see their replies