In search of the Nazi memorabilia collectors
The trade in artefacts linked to Hitler is booming in Britain. Matthew Bell uncovers an astonishing auction, where a tray listed at £600 sells for £28,000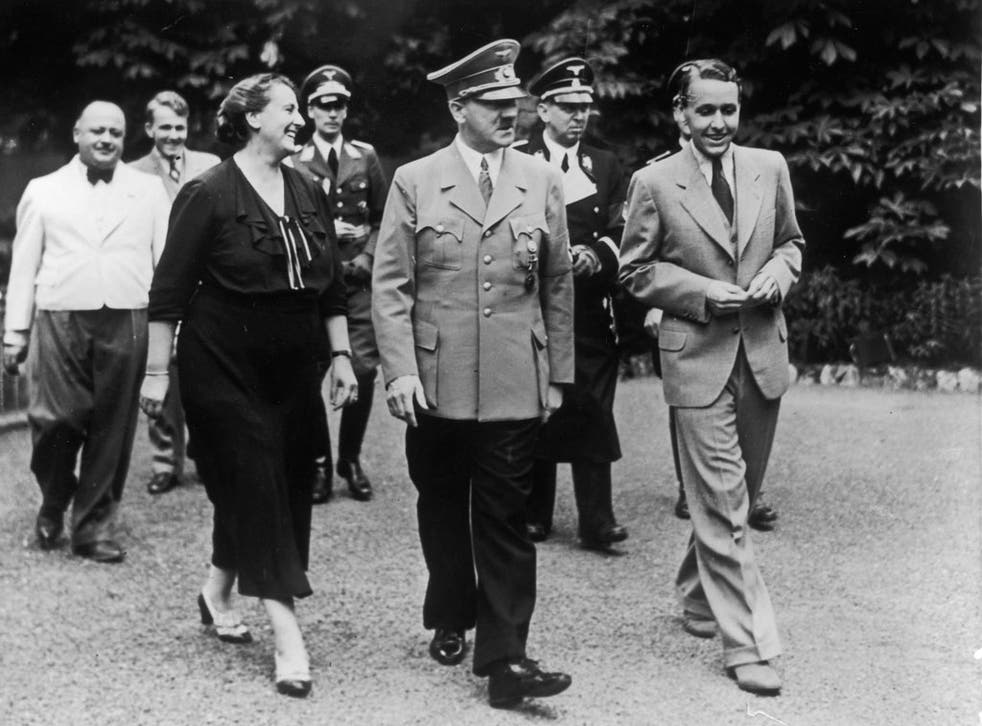 In France, Germany, Austria or Hungary, it would have been illegal. But in a converted church in Bristol on Tuesday, there was laughter and applause as the star lot in a sale of Nazi memorabilia sold for more than 40 times its estimate. This was not the "interesting if somewhat brutal Gestapo truncheon used for crowd control and interrogation". That was yet to come and, like most lots, would exceed its estimate at the sale run by the auctioneers Dreweatts.
No. Today's prize item was a silver tray presented to Adolf Hitler for his 50th birthday by Albert Speer. It was described in the catalogue as "bearing the eagle device with wings folded and displayed, flanked by the initials A H"; the estimate was £600-£800. But with interest from within the room, online and from bidders speaking by phone to six staff, the hammer fell at £28,000, plus £6,000 commission. The tray sold to an anonymous UK phone bidder.
"The trade is booming," said Malcolm Claridge, an expert on militaria for Dreweatts. "There's always interest in the big names: it used to be Wellington and Napoleon; now it's Hitler, Goering and Himmler. The trade always gets good money for quality things, and the design and quality of the German stuff is particularly good. But I had no idea it was going to go mad like that."
And yet, the signs have been there. In November, a single bedsheet "believed" to have belonged to Hitler sold for £2,000. In 2010, the historian David Irving sold Hitler's walking stick to a New York collector for more than £7,000. He is now offering single strands of Hitler's hair at £1,000 each. And in 2009, the metal sign over the entrance to Auschwitz, with the words Arbeit macht frei ("Work sets you free"), was stolen, apparently to order. On Thursday, just two days after the Bristol sale, Mullocks in Shropshire sold a large stash of Hitler photos and paperwork for thousands of pounds.
Many collectors say their interest is purely historical. Malcolm Fisher, a dealer who runs the website Regimentals, believes that for some of his clients there is a "buffoon element" to owning something bearing a swastika. "It's something you can use to shock your mates," he says. But some suspect a more sinister motive. Ann Widdecombe, a Tory MP until 2010, was disgusted by last week's sale: "It's very disturbing that this trade exists," she said. "I mean, who is paying £28,000 for that? And what else are they doing?"
Peter Hain, the shadow Welsh Secretary, who campaigns for United Against Fascism, described the auction as "obscene". He questioned whether such a trade was good for Britain.
There is no legislation in Britain against the trade of Nazi memorabilia, and no plans to ban it, but in France, Germany, Austria and Hungary it is illegal. In 2001, the online auction house eBay imposed a ban on "items that promote or glorify hatred, violence, racial, sexual, or religious intolerance", singling out Nazi memorabilia and books such as Mein Kampf. Sotheby's and Christie's do not trade in Third Reich material, and in 2010, Bonhams changed its policy to stop accepting it.
Clive Cockram is a private collector of Second World War memorabilia, who travelled from London for Tuesday's sale. Among his purchases was a 1928 copy of Mein Kampf, a book by Hermann Goering, and an SS dinner plate with all the SS runes on it. For him, these items are simply of historical interest: "You can't sweep it all under the carpet and pretend none of it ever happened."
Does Dreweatts have an ethical problem profiting from the regime that murdered six million Jews? "For me, personally, no," says Mr Claridge. "My son is a soldier: he fought in Afghanistan. I was brought up with the military. Everybody realises that what the Nazis did was completely wrong. But the Holocaust should be explained to the younger generation, and, yes, you should be allowed to collect these things. People think it's perpetuating neo-Nazis. But that's a big paranoia. It's like collecting Roman helmets: you wouldn't buy them because you were a Caesar supporter."
But when The Independent on Sunday asked for images of the truncheon and swastika-bearing flags, Dreweatts declined. "The company directors have asked that we don't use the sensitive images you are requesting," said a spokesman. "We don't wish to offend anyone in any way."
In 2005, the EU's political affairs committee published a report on neo-Nazism. Its author, Mikhail Margelov, expressed particular dismay at the "hundreds of Nazi sites on the internet" where "one can find... advertisements for and sales of Nazi memorabilia – flags, swastikas, uniforms, etc – or the text of Mein Kampf and other 'works' of Nazi doctrine".
The Imperial War Museum in London has a large collection of Nazi and Holocaust artefacts, some of which it buys at public auction. Richard Westwood-Brookes, a historical documents specialist at Mullocks, believes it is important that Third Reich documentation is preserved.
"The moment you start to push this out of view, it lets in the Holocaust deniers. Anybody who comes to one of my sales will be in no doubt that the Holocaust happened."
Join our new commenting forum
Join thought-provoking conversations, follow other Independent readers and see their replies