Secretive court opens doors to journalists
High Court judge lifts reporting restrictions after campaign by 'The Independent'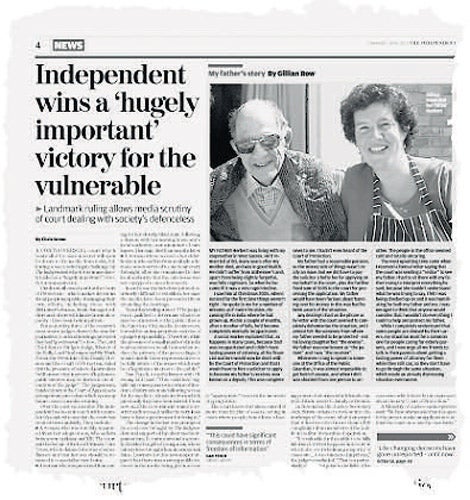 one of Britain's most secretive courts opened itself to public scrutiny yesterday after a High Court judge lifted reporting restrictions on work done by a hitherto-closed corner of the British justice system.
The Court of Protection oversees cases involving vulnerable people who lack the mental capacity to make key decisions about their life, such as brain-damaged soldiers or people with Alzheimer's. But its workings were conducted entirely behind closed doors until a successful legal challenge by The Independent earlier this year.
Yesterday, Mr Justice Hedley allowed reporting for the first time on a mother's fight to have her son returned to her. Neither the mother, her son, nor the local authorities can be named. But some details of the case can be reported for the first time, providing the public with an insight into the desperately hard, often-controversial decisions made by the court on a daily basis.
The case revolves around a 25-year-old man who suffers from a severe form of uncontrolled epilepsy and mild learning difficulties. Born into a highly dysfunctional and abusive family, he was eventually adopted by a foster mother who looked after him for 18 years.
Following growing disagreements between health professionals and the mother over her son's medication – and concerns that the mother was turning her son against his doctors – the local authority decided that the man needed to be moved into care accommodation, with only limited access to his mother.
In a ruling which can now be reported, Justice Hedley found that the mother was "single-mindedly devoted and committed to the care of [her son]", but added that her desire to "protect him from, as she sees it, incompetent, indeed mendacious professionals" was both "bizarre" and contrary to the bulk of medical evidence. Since the forced separation, both mother and son say they want to live together, but last year the Court of Protection ruled that the man "lacked capacity" and so it took control of his decision-making.
Such decisions are the bread and butter of the court, which provides for people who are unable to make key decisions about their welfare and have not made a living will dictating who they would like to sort out their affairs in the event of mental incapacitation.
Every year the court hears approximately 23,000 cases, and has taken control of more than £3.2bn of people's assets. But the perceived lack of transparency has led to severe criticisms of the court, with 3,000 complaints lodged in the first 18 months of its operation. Members of the public whose loved ones had become incapacitated often complained court officials assumed they were out to defraud their relatives.
Speaking at the Royal Courts of Justice yesterday, Mr Justice Hedley said it was vital that justice was seen to be done in his courtroom. "The workings of the Court of Protection are – and most certainly should be – a matter of public concern and information," he said.
"This case is instrumental because it illustrates in a particularly vivid way the power of the court to intervene in the common view of a mother and son's right to live together."
In yesterday's hearing the local authority requested that contact between mother and son be temporarily suspended for six months to allow the son to adjust to having a second person brought in to live with him in his sheltered accommodation – which the mother opposed. A further hearing will be needed next year to be decide on any further restrictions between mother and son.
Join our commenting forum
Join thought-provoking conversations, follow other Independent readers and see their replies