Sergei Skripal: The sedate suburban life of former MI6 double-agent
'When he walked past, I would say hello, he would say hello, that was it', says neighbour.  'He was very quiet'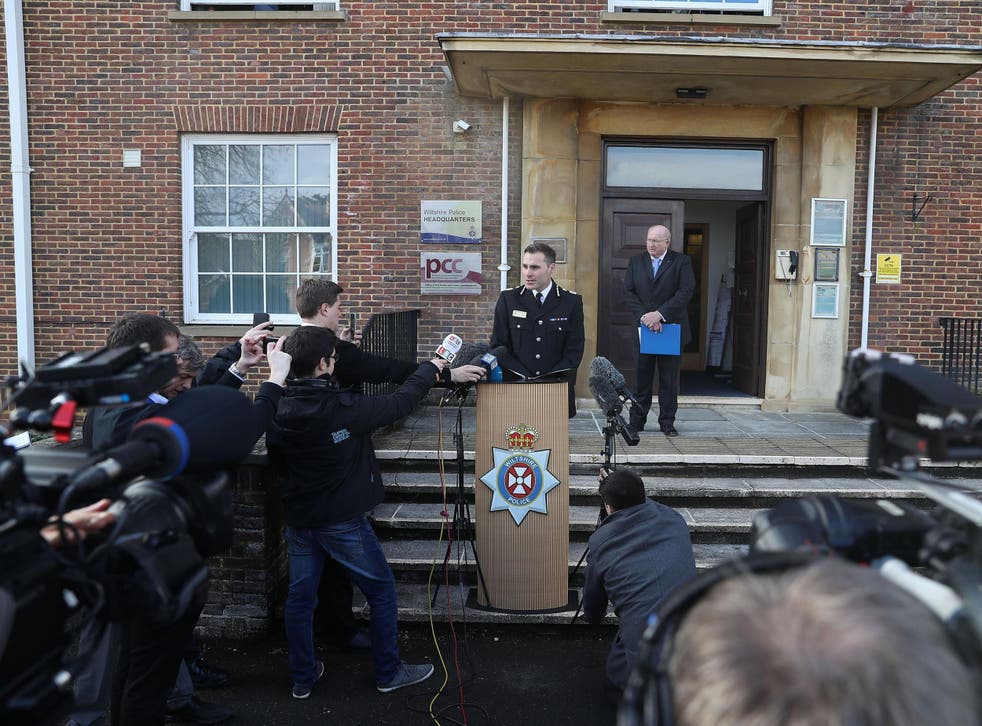 Sergei Skripal certainly didn't look like anyone special.
Not for him the ostentation of the London oligarchs, or the high-gated, heavily patrolled Surrey estates of wealthier fellow Russians who had reason to fear Vladimir Putin.
No, Mr Skripal, 66, preferred the suburban anonymity of a modern brick semi in a quiet little residential estate on the edge of Salisbury.
To neighbours, Mr Skripal was the politely friendly if not overly forthcoming gent who was never too flashy, and never that smartly dressed – despite driving a BMW 3 Series.
To local officials, Mr Skripal was nothing more exciting than a retired local government planning officer.
Not the Russian colonel who became MI6's "spy with the Louis Vuitton bag". And certainly not someone with something to fear from the men in the Kremlin.
"He seems a happy person", said one neighbour as the first reporters arrived to look at a door that was already being guarded by a pair of police officers.
Nor did the experienced double agent fall into the trap of drawing attention to himself with obsessive furtiveness. Although, who knows? If he lives to tell the tale, Mr Skripal may even explain that in the charming cathedral city of Salisbury, he thought there was no danger, no need for secrecy.
Whatever the reasoning, when he bought his £340,000 home about a year after leaving Russia in the biggest spy swap since the Cold War, Mr Skripal invited all his new neighbours to a party.
"He had a housewarming party when he moved in, put a note through the door", recalled James Puttock, 47, a taxi driver who lived across the road.
But no, he didn't know his neighbour had been a spy, slipping secrets to MI6 while working for Russian military intelligence, jailed for 'high treason' in 2006, released in 2010, in exchange for spies including Anna Chapman – "Russia's most glamorous secret agent", as she became known.
Ms Chapman, of course, went on to present a weekly Russian TV show in between modelling assignments and heading a youth council for her grateful government.
That wasn't Mr Skripal's style.
"When he walked past, I would say hello, he would say hello, that was it", explained Mr Puttock. "He was very quiet."
In fact, as Mr Skripal and his daughter Yulia, 33, lay critically ill following "suspected exposure to an unknown substance", it seemed that in Salisbury there was no clearly established, uncontested version of his life in England.
Mr Skripal is thought to have arrived in Salisbury with his daughter, his wife Liudmila, and son Alexandr, before Yulia returned to Moscow after a few years.
But now neighbours were unsure exactly how many people were still living in the Salisbury house.
UK news in pictures

Show all 50
And nowhere was the confusion more obvious than in the conflicting accounts of how Liudmila and Alexandr came to die – in deaths that may yet come to be seen as highly controversial.
Liudmila died aged 59, in 2012. One neighbour thought this had been in a car crash. The death certificate filed with Wiltshire Council Register office, though, suggests she had cancer, the cause of death being given as disseminated endometrial carcinoma.
The death certificate, the Daily Mail reported, was filled in by Yulia, who gave her father's occupation as "retired local government planning officer".
Alexandr's death, aged 43 in 2017, was also initially said to have been the result of a car crash. But then the BBC reported a potentially far more disturbing tale.
Alexandr, it was said, had suddenly fallen ill and died of liver problems while on holiday in St Petersburg, Russia, with his girlfriend.
At the time, the BBC reported, family members had been suspicious. There were also reports that Mr Skripal had gone to British police expressing fears for his safety.
Even without the fear they potentially generated, it seems the deaths would have hurt him badly.
Igor Sutyagin, who was part of the same prisoner swap as Mr Skripal, has recalled talking to him as they prepared for freedom.
"Sergei was excited about being reunited with his family", said Mr Sutyagin. "It seemed to me they were his major joy. I think family played a very important role in his life."
And then came the events of Sunday.
Yulia had come to visit from Russia. Mr Skripal's cleaner burst into tears as she recalled how the "lovely, friendly and kind-hearted man" had asked her to get a room nice and tidy for his daughter.
Salisbury city centre was just a short drive away. Mr Skripal and Yulia were seen on CCTV going round the corner from the Italian restaurant Zizzi, through Market Walk, over a small bridge across the River Avon to the Maltings, and a bench near the children's play area.
And there, it seems, they were overcome by an as yet unidentified substance.
Gym worker Freya Church spotted them half-collapsed, looking "like they had been taking something quite strong".
"She was leaning on him", she said. "She looked passed out and he was looking up, doing these hand movements. His eyes were glazed. To be honest, I thought they were just homeless."
The police were called at about 4.15pm.
And then came the surreal sight of investigators in lurid green hazchem suits in central Salisbury, taking every precaution as they examined what may in time be confirmed as a crime scene.
On a sunny, spring-like Tuesday in Salisbury there was still a sense of unreality – of a peculiarly British kind.
In the market place, pensioners carried on with their shopping as if the young policeman guarding the closed door of Zizzi wasn't there.
One 80-year-old, on his way to feed the ducks with his great-grandchildren, was rather peeved to be confronted by the police cordon and the sight of a forensics tent covering the bench where the two Russians had been found.
"Stupid things keep happening these days", he sighed. "The world's in a right mess."
But he and the great-grandchildren were still going to feed the ducks.
Neil Skelton, 69, a retired Churches Conservation Trust administrator, gazed over the wide cordon.
"In Salisbury of all places", he mused.
Mr Skelton looked a little more intently, towards the far side of the cordon and the supermarket beyond.
"I'm just wondering if Sainsbury's will still be open…."
So, yes, in Salisbury everyone was being very British about it – as in London they wondered whether everyone had been too British about things in 2006 when Alexander Litvinenko was killed by tea laced with radioactive polonium.
That operation was said by a British inquiry to have been "probably approved" by Vladimir Putin.
If Mr Skripal had fallen prey to a similar operation, the commentators fulminated, was that because the Russians saw us as a soft touch?
At a press conference on the steps of Wiltshire Police headquarters in Devizes, Angus Macpherson drew upon his full authority as Police and Crime Commissioner for Wiltshire and Swindon.
"It is particularly shocking", he intoned, "that an incident such as this appears to have taken place, on a quiet Sunday afternoon, in the cathedral city of Salisbury."
Temporary Chief Constable Kier Pritchard talked about a "full multi-agency response" and a "fast-paced investigation", but not about potential leads or toxicology tests.
He confirmed that the Metropolitan Police's Counter Terrorism network was now leading the investigation, but stressed that no-one had declared a terrorist incident. Investigators were still keeping an open mind.
"The advice from Public Health England", Mr Pritchard gently added, "remains that currently there doesn't appear to be any immediate risk to the public."
The two men withdrew inside police HQ.
They did not take questions, about Mr Skripal or anything else.
Join our new commenting forum
Join thought-provoking conversations, follow other Independent readers and see their replies