Serving samosas to forge friendships: 'The Big Iftar' aims to help non-Muslims learn about Islam
UK-wide initiative sees mosques around the country offering traditional food
Chloe Hamilton
Saturday 27 July 2013 20:41 Comments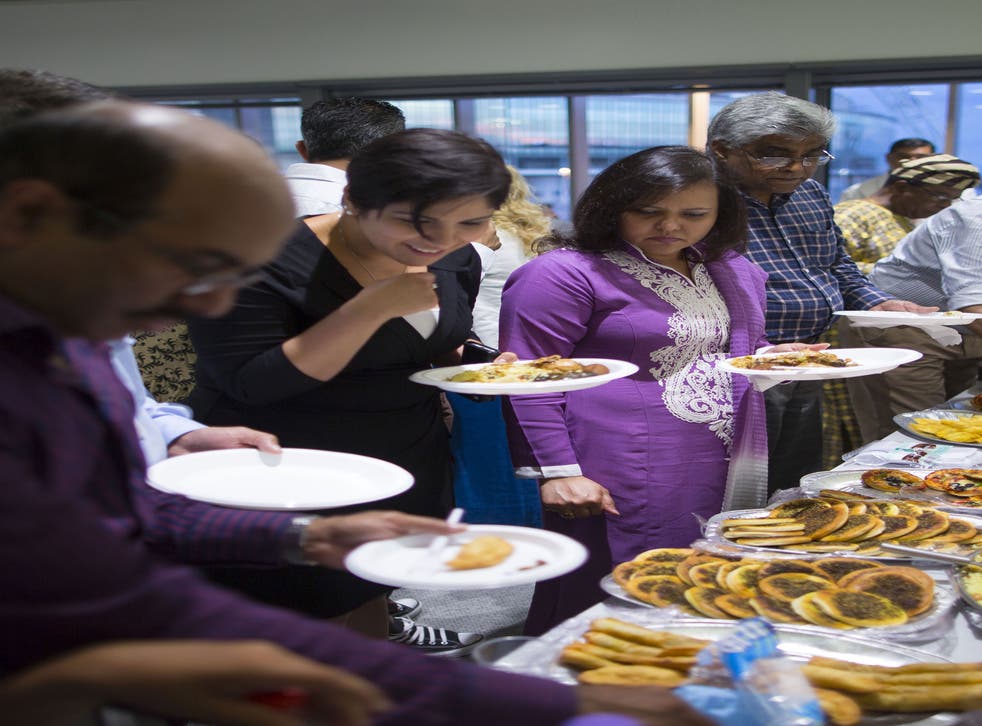 A group of Muslims is hoping food can offer a path to racial harmony with "The Big Iftar", a UK-wide initiative in which mosques around the country are opening to allow non-Muslims to join Muslims for a meal to learn about Islam. The Iftar is the meal served after sundown during Ramadan, the holy month we are currently midway through, when Muslims are required to fast between sunrise and sunset.
"It comes when myth-busting is more important than ever," said Baroness Warsi, Minister for Faith and Communities. "Research earlier this year showed that less than a quarter of people thought Muslims were compatible with the British way of life."
At the Brent Civic Centre in north-west London on Friday at 9:01pm guests gathered around a trestle table laden with rice, noodles, curries, samosas and, in keeping with Iftar tradition, dates and milk.
The Big Iftar's founder, Mustafa Field, 32, a project manager from Brent, explained its aims. "It's about reaching out," he said. "Once you get to know your neighbours you start to understand each other's cultures."
Following the murder of Lee Rigby in May, Muslims have come under attack from anti-Islam groups. "It's about getting the message out that there is a nicer side to Islam," said Altaf Choudry, 33. "A lot of people have been tainted with the wrong brush."
Mark Buckley, 40, a Christian, welcomed the opportunity to engage with another faith. He said: "Just as Christians need to get out of their church walls, Muslims have to get out of the mosque walls and engage with people in the real world."
Register for free to continue reading
Registration is a free and easy way to support our truly independent journalism
By registering, you will also enjoy limited access to Premium articles, exclusive newsletters, commenting, and virtual events with our leading journalists
Already have an account? sign in
Register for free to continue reading
Registration is a free and easy way to support our truly independent journalism
By registering, you will also enjoy limited access to Premium articles, exclusive newsletters, commenting, and virtual events with our leading journalists
Already have an account? sign in
Join our new commenting forum
Join thought-provoking conversations, follow other Independent readers and see their replies