Sgt Alexander Blackman: The case for and against the Royal Marine who murdered a wounded, unarmed Taliban fighter
'Shuffle off this mortal coil you c***. It's nothing you wouldn't do to us.'
Cahal Milmo
Friday 18 September 2015 18:23 Comments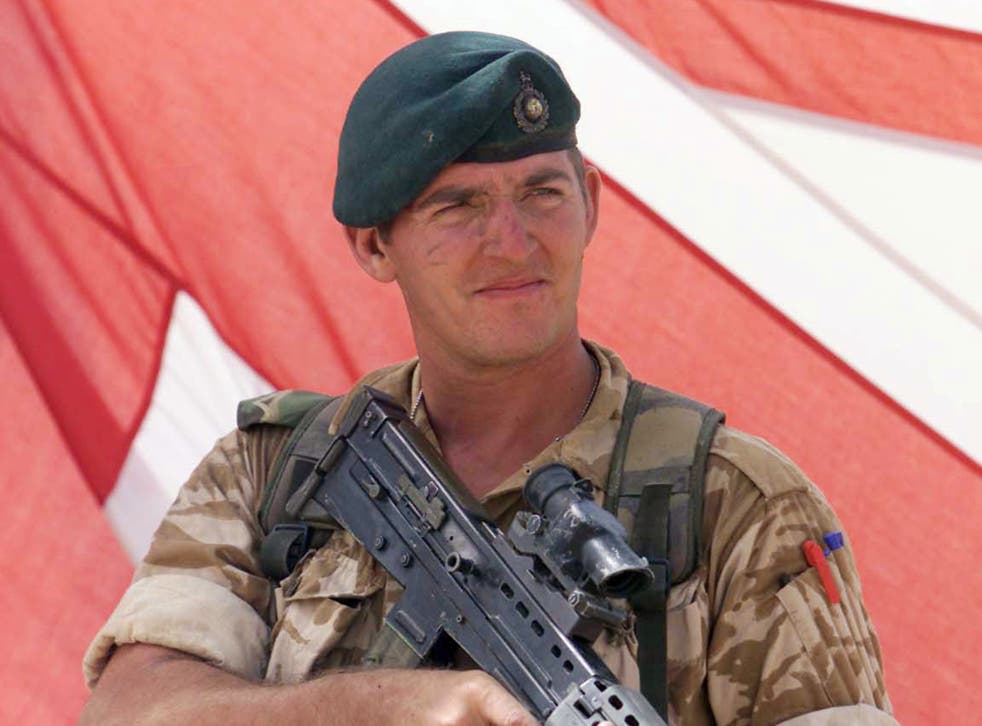 On 15 September 2011, Sergeant Alexander Blackman pointed his 9mm pistol at the chest of a wounded Taliban fighter and pulled the trigger with the words: "Shuffle off this mortal coil you c***. It's nothing you wouldn't do to us."
Unbeknown to the Royal Marine, his actions were recorded on the helmet-mounted camera of a comrade. In 2013, he was convicted by a court martial of murdering the unarmed insurgent - the first such conviction of a serving British soldier since the Second World War.
That this hugely experienced serviceman's actions resulted in the killing of a prisoner is uncontested. But thereafter opinions about the nature of his crime, for which he is serving a minimum term of eight years' imprisonment, diverge sharply.
To his supporters, Blackman is a "political scapegoat" whose lapse of judgment under pressures that would have crippled the steeliest warrior is being used to cover up the failings of Britain's top brass in Afghanistan.
For his detractors, the former Marine is simply a cold blooded murderer whose action in shooting dead a wounded Taliban fighter who posed no risk to him or his men denigrated the reputation and sacrifices of British service personnel in the most lethal and challenging mission for a generation.
The actions of Blackman, who was given a life sentence for murder in 2013, and the wider circumstances of Britain's engagement in Helmand province are now once more under scrutiny following the launch of a high-profile campaign calling for his conviction to be commuted to manslaughter.
The drive, led by author Frederick Forsyth and the Daily Mail newspaper, has dredged up allegations from legal failings to the deliberate withholding of an internal report that could help clear the Marine of murder.
Below the key pieces of evidence and the arguments for and against the overturning of Sgt Blackman's conviction are laid out.
The case for Sergeant Blackman
Telemeter - the "secret report" on a flawed chain of command
In the aftermath of the incident at a British outpost in Helmand, the Navy, which oversees the Royal Marines, commissioned a 50-page report on "the events ancillary to the murder of an unknown insurgent in the Nad-e Ali North district".
Until this week, the full contents of this document, known as Telemeter, remained known only to a few senior commanders and the Ministry of Defence. A heavily-redacted summary previously made public focused blame on Blackman, saying his professional standards had fallen to "an unacceptably low level".
But the MoD has now agreed to provide a full copy of Telemeter to the Marine's defence team. Details leaked prior to that announcement reveal a catalogue of issues which were never put to the seven-strong court martial panel and could be said to significantly help Blackman's case.
They include the existence of concerns in 2011 that his unit - 42 Commando - was being encouraged to be overly aggressive and a finding that his senior officer was unprepared for the demands of serving in Helmand.
Most crucially, the document found commanders had missed signs that Blackman and his men were cracking up. The report said: "Supervision by a commanding officer where Blackman and his men were based was insufficient to identify a number of warning signs that could have indicated they were showing evidence of moral regression, psychological strain and fatigue."
Post-traumatic stress
It is hard to imagine the daily pressures faced by Blackman and the 15 men under his command as they performed their duties at Command Post Omar - a remote compound at the very frontline of the UK's efforts to wrest back Helmand from the tyranny of the Taliban.
Undermanned and overstretched, the Marines lived for six months in a cramped mud-brick enclosure, patrolling for up ten hours a day and living with the constant threat of buried IED bombs and attack. Seven Marines from 42 Commando were killed during this tour and after one IED explosion, soldiers from the unit found body parts of British troops deliberately hung from a tree to taunt them.
A psychiatric report on Blackman, presented only after his conviction, found that he and his men had been under near-intolerable stress. At sentencing, the court martial conceded it was likely the Marine had been suffering "to some degree from combat stress disorder".
Campaigners argue that had this finding and other evidence been put to the court martial panel a different finding may well have been likely. Had he been found guilty of manslaughter, Blackman could have served around three years imprisonment and now been free.
"A flawed trial"
A new legal team representing Blackman believes there were several errors in the conduct of the court martial.
Most importantly, they argue that the panel was wrongly never given the chance to consider a lesser verdict of manslaughter against the Marine. Such a verdict, they claim, could have been reached on at least three grounds, including diminished responsibility due to post-traumatic stress - a condition which it is now accepted he was suffering.
It is also questioned why Blackman's overall commanding officer - Lieutenant Colonel Oliver Lee - was not called to give evidence in his defence. Col Lee resigned from the Royal Marines in disgust at what he said was the failure of senior officers to allow the full facts of the circumstances in which 42 Commando was operating to be made public. There has been, he said, "a failure of moral courage" by commanders.
Public opinion
Blackman's case will ultimately be settled in a court of law if campaigners are successful in getting his conviction considered by the Criminal Cases Review Commission. But it is nonetheless important to note the level of support he is attracting from MPs to members of the public. An appeal for donations towards his legal fees reached £250,000 within a week.
The case against Sergeant Blackman
"I just broke the Geneva Convention"
Blackman's murder conviction rests on unusually strong evidence - uncontested video footage which shows him shooting his pistol into the chest of his victim.
The Marine sergeant insisted at his trial that he had believed the Taliban fighter, who had been badly (perhaps ultimately fatally) wounded by fire from an Apache helicopter, was already dead.
But the court martial found this was "clearly made up" and that the words used by Blackman as he opened fire showed unequivocally that he knew different.
The Marine, who had ordered the prisoner to be moved out of sight but was unaware that the incident was being recorded by a camera on a comrade's helmet, told those under his command to keep quiet about what they had just seen: "Obviously this doesn't go anywhere, fellas. I just broke the Geneva Convention."
Adherence by the British military to the laws of war, including the rule which forbids the infliction of any harm on a prisoner, is advanced as a key test of what sets it above those it seeks to defeat.
Judge Jeff Blackett, the Judge Advocate General, told Blackman at his sentencing: "If the British Armed Forces are not assiduous in complying with the laws of armed conflict and international humanitarian law they would become not better than the insurgents and terrorists they are fighting."
He added: "You treated that Afghan with contempt and murdered him in cold blood."
Due process
The Marine was not tried by a kangaroo court. His court martial, at which two of his comrades were acquitted of murder, lasted two weeks and made an exhaustive examination of the evidence.
The evidence against him was tested to the same level as for a civilian criminal court, though it is argued that he should have been tried by a jury of 12 rather a military panel of seven.
But it should be noted that Judge Blackett considered the helmet footage so damning that he ordered it could not be publicly released for fear it would hand a powerful propaganda tool to the Taliban and other extremists.
The Helmand handover in numbers

Show all 6
Blackman's case has also been before the Court of Appeal, the highest criminal court in the land.
Unlike his court martial, these judges took into consideration the impact of the Marine's state of mind on his actions in both his conviction and sentence.
They found that the military court had not taken these matters sufficiently into account and that Blackman had indeed been displaying the symptoms of combat stress disorder. His tariff was reduced from 10 to eight years but, despite this strong mitigation, his conviction for murder nonetheless stood.
"Stupid, lack of control"
Blackman conceded during his trial that his actions were "stupid" and showed a "lack of control, momentary lapse in my judgment".
Supporters have pointed out that the Marine was previously of impeccable character, beyond courageous and at heart a "good man". Few have challenged this and, in a departure from protocol, the members of the court martial returned his salute as he was led away to prison.
But it was found that he had crossed a line into criminality that thousands of his comrades whether in Iraq, Afghanistan or elsewhere had stayed behind.
As Judge Blackett put it: "While we acknowledge your personal circumstances and the immense pressure you were under, we note that thousands of other service personnel have experienced the same or similar stresses. They exercised self-discipline and acted properly and humanely; you did not."
Register for free to continue reading
Registration is a free and easy way to support our truly independent journalism
By registering, you will also enjoy limited access to Premium articles, exclusive newsletters, commenting, and virtual events with our leading journalists
Already have an account? sign in
Join our new commenting forum
Join thought-provoking conversations, follow other Independent readers and see their replies