Sir Winston Churchill to replace Elizabeth Fry on the five pound note - leaving the Queen as only woman on a British bank note
War leader will replace penal reformer Elizabeth Fry, leaving the Queen the only woman on a British bank note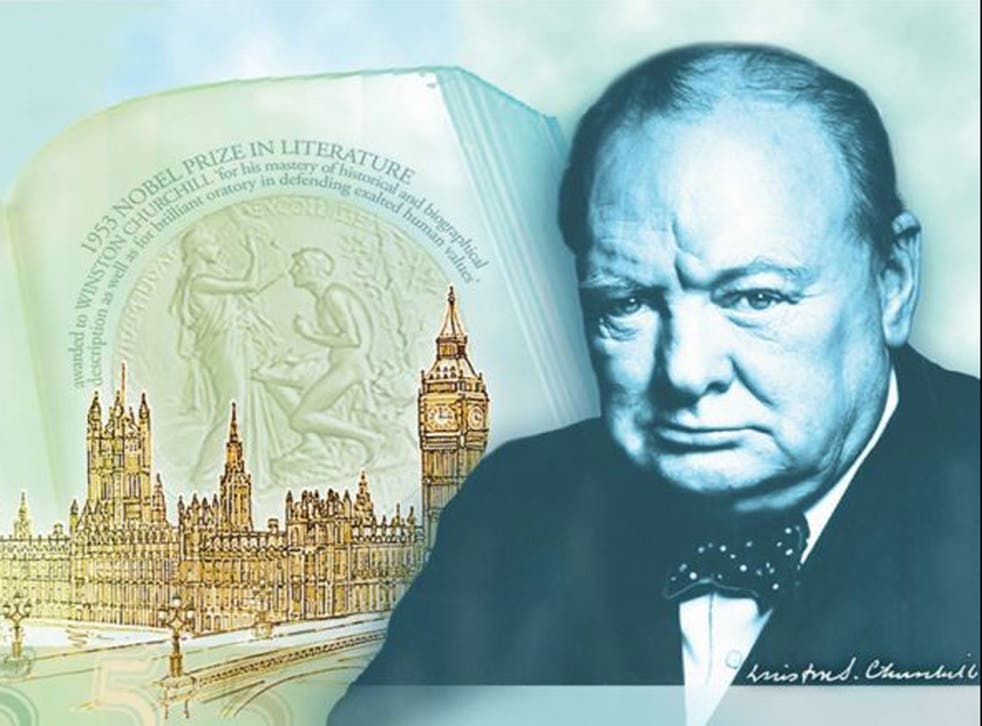 Britain's war leader Sir Winston Churchill will appear on the next £5 note, to be issued in 2016, the Bank of England has announced.
He will become the first politician of the modern era to feature on a banknote, and in replacing Elizabeth Fry, he will leave the Queen the only woman on a UK note.
Sir Mervyn King, governor of the Bank of England, made the announcement today at Chartwell, Churchill's former home in Kent.
In the background of the proposed image (pictured), will be the Palace of Westminster, with the clock showing 3pm, on May 13, 1940 when he famously told the Commons: "I have nothing to offer but blood, toil, tears and sweat." The quote itself is also shown on the design.
A background image shows the Nobel Prize for literature, with citation, awarded in 1953 to Churchill - who apart from being a politician was a prolific historical writer.
Sir Mervyn said: "Our banknotes acknowledge the life and work of great Britons. Sir Winston Churchill was a truly great British leader, orator and writer. Above that, he remains a hero of the entire free world.
"His energy, courage, eloquence, wit and public service are an inspiration to us all. I am proud to announce that he will appear on our next banknote."
Sir Mervyn, who will soon leave his post, also suggested that the new note might become known as a "Winston." Asked if he thought this would catch on, Sir Winston's grandson, Mid Sussex Tory MP Nicholas Soames, said: "Of course it will.
"We are all going to go to Tesco and be buying our groceries with Winstons, and that of course would have given him more pleasure than anything."
He went on: "He was an extraordinary man and his ability to capture the mood and the people's mood was one of his great gifts as a statesman.
"The design of the bank note, the quotation and the whole idea behind it is so appropriate and fitting, and my grandfather would have been truly very proud."
The notes bearing the face of penal reformer Elizabeth Fry, in circulation since 2002, will be phased out when the Churchill note is issued.
Churchill had a long parliamentary career during which he served as home secretary and chancellor before a spell in the political wilderness in the 1930s when he warned of the increasing threat of German rearmament.
In May 1940, he replaced Neville Chamberlain as prime minister in the newly-formed National Government. His leadership and brilliant oratory were credited with helping to steer Britain to victory.
Defeated by Labour in the 1945 general election, he served again as prime minister from 1951 to 1955, when he retired aged 80. Churchill died in 1965 and was given a full state funeral, the first commoner to receive such an honour since William Gladstone in 1898.
He formerly appeared on the 1965 crown, or five-shilling piece.
Join our new commenting forum
Join thought-provoking conversations, follow other Independent readers and see their replies