Six soldiers killed in Afghanistan blast named
Sam Marsden
Thursday 08 March 2012 11:24 Comments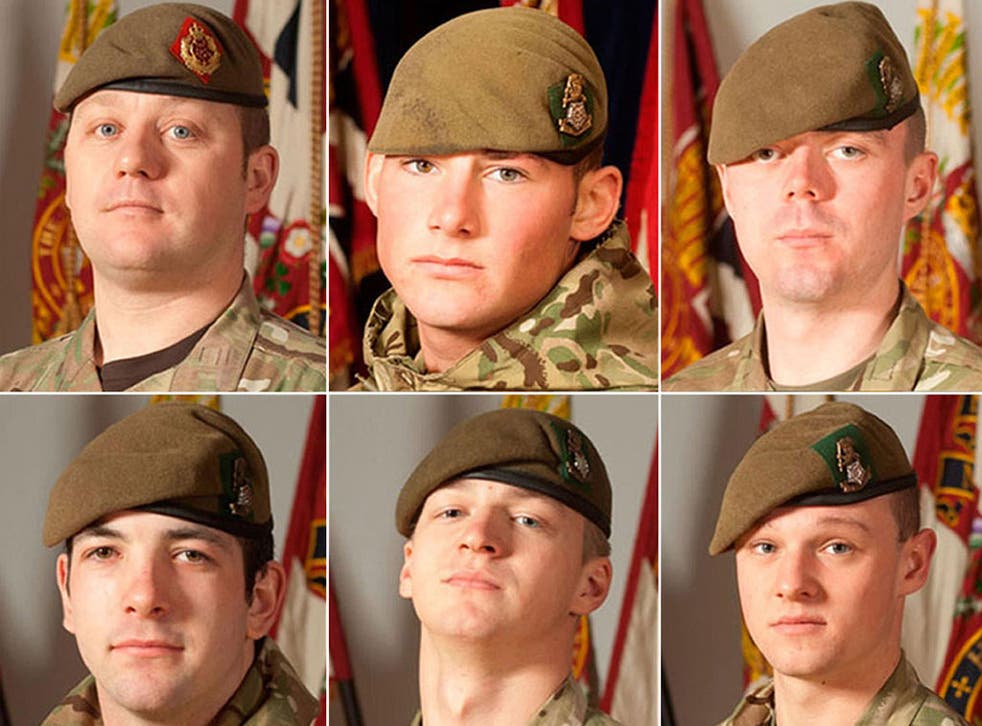 Four of the six British soldiers killed in the deadliest single enemy attack on UK forces in Afghanistan since 2001 were aged just 20, the Ministry of Defence revealed today.
The men were named as Sergeant Nigel Coupe, 33, of 1st Battalion The Duke of Lancaster's Regiment, and Corporal Jake Hartley, 20, Private Anthony Frampton, 20, Private Christopher Kershaw, 20, Private Daniel Wade, 20, and Private Daniel Wilford, 21, all of 3rd Battalion the Yorkshire Regiment.
Pte Frampton reassured his mother he would be "fine" weeks before his death.
He wrote comforting messages to his worried family after he was deployed to Helmand Province on Valentine's Day.
But he and the other five troops died when their Warrior armoured vehicle was hit by an apparent improvised explosive device (IED) in the deadliest single enemy attack on UK forces in Afghanistan since 2001.
The soldiers, who had only been in Afghanistan for a few weeks, were hit by a blast about 25 miles north of Helmand's capital, Lashkar Gah, at 6.30pm local time (2pm UK time) on Tuesday.
Ammunition on board the Warrior ignited, causing a fierce fire to burn for many hours.
The intensity of the blaze meant rescuers could not get near the vehicle and its charred shell was not recovered to the main British base in Helmand, Camp Bastion, until 7.30pm last night local time.
At the family home of Pte Wade, in Warrington, Cheshire, relatives tied balloons and floral tributes to the garden fence.
A note with four roses from the young soldier's mother read: "Daniel my baby boy, my hero. I will always love you and you have made me the proudest mum in the world.
"RIP son, you are with Nanna and your Dad now, my angels. Love mum x x."
The Taliban told the BBC they carried out the attack and were "very proud of it".
In a series of phone calls and Facebook messages, Pte Frampton sought to allay the fears of his mother, Margaret Charlesworth, during his deployment.
On the day he set off for Afghanistan, he wrote: "I'll be fine mum trust me xxxx."
A week later, he added: "Hey mum hope u r OK am missing u so much can't wait to come home and have only been here 7 days lol (laugh out loud) try not 2 worry mum love you so much! xxxxxxxx."
His mother used her Facebook page to express her concerns for her "little Afghan hero", poignantly writing on February 26: "Hope my boy stays safe and the rest of the lads out there."
Pte Frampton was a student at Royds Hall High School in Huddersfield, West Yorkshire, leaving in 2007.
Headteacher Melanie Williams said he was "fondly remembered" by staff as a "memorable young man with a strong character and a real sense of humour".
"Friendly and polite, he was also caring and compassionate towards other students," she said.
"Anthony will always be remembered by the school community with pride and we extend our deepest sympathies to his family and friends."
Pte Wilford and Cpl Hartley, who like Pte Frampton joined the Army as teenagers, were also from Huddersfield, according to the Huddersfield Daily Examiner.
Cpl Hartley was a student at Earlsheaton Technology College in Dewsbury, West Yorkshire.
Head Paul Levey said: "Jake is remembered in school as a vibrant, lively, unassuming, good-natured and very determined boy.
"He had a distinct sense of responsibility to other people. He is a credit to his family and our thoughts go out to them and his friends at this awful time."
Mehboob Khan, leader of Kirklees Council, said: "This is a desperately sad day for our town.
"These deaths bring it very close to home in Huddersfield and Dewsbury the bravery of our troops and it is something we must never forget.
"My heart goes out to the families and friends of those killed. They were young men doing an enormously brave job. It is tragic beyond belief that so many have died in one incident."
The MoD said it did not plan to release further information about the six soldiers until they have been formally named.
It is understood that this could take days because experts are having to use DNA techniques to confirm their identities.
The tragedy was the biggest single loss of life for British forces in Afghanistan since an RAF Nimrod crash killed 14 people in September 2006.
It took the number of UK troops who have died since the Afghan campaign began in 2001 to 404.
Defence Secretary Philip Hammond insisted today that morale among British forces in Afghanistan remains "extremely high" because they know they have an important job to do.
He told ITV's Daybreak programme: "The people on the ground are acutely conscious of the risks that they are running but they are also incredibly proud of the job that they are doing - and rightly so - and hugely satisfied by the level of public support that they have back home.
"Morale on the ground in Afghanistan is extremely high, and it's high because the servicemen and women there know that they are doing a job and are doing it well, and that is their professional commitment to get that job done."
Mr Hammond defended the level of protection offered by the vehicle the six soldiers were travelling in when they died.
He said: "The Warrior is the most heavily armoured vehicle that we have. It has been very heavily upgraded following some criticism that was made of the level of protection by a coroner. That programme of upgrading has been completed.
"In fighting a war you can never be 100% protected. We don't know what happened in this incident - it looks like a massive IED that had a catastrophic impact on the vehicle.
"Obviously we will look at any lessons that can be learnt but talk to soldiers on the ground - they will tell you that there is a trade-off between level of armour and manoeuvrability.
"You can put more armour on a vehicle but then you make it slower and less manoeuvrable and that in itself creates risk."
General Sir David Richards, the head of the Armed Forces, insisted that Britain's military strategy in Afghanistan would not change despite the deaths, adding: "We will hold our nerve."
Prime Minister David Cameron said the news marked a "desperately sad day for our country", while Labour leader Ed Miliband saluted "all of our fallen and those who continue to serve in the face of the gravest danger".
Floral tributes continued to be left at Battlesbury Barracks in Warminster, Wiltshire, the home of 3rd Battalion The Yorkshire Regiment.
More than a dozen children from the local school, St George's Catholic Primary, walked with their teacher to the barracks entrance.
One girl placed a bunch of flowers next to the other tributes and then rejoined her classmates as they then stood quietly and prayed.
The children's tribute read: "Our thoughts and prayers are with you all. God bless. From the staff and pupils of St George's Catholic Primary School, Warminster."
Earlier, 13 civilian staff, who work at the barracks as cleaners, paid their respects to the dead soldiers.
They each left flowers and then held hands in a semi-circle as they stood in reflection for a minute's silence.
One woman fought back tears and was comforted by a colleague.
Floral tributes were being left by both service families and those with no connection to military life but who were touched by the tragic loss.
One bouquet said: "From one regimental family to another. Our thoughts are with you at this sad time. Rest in peace. The Warminster branch of the Royal Irish Rangers."
Another tribute said simply: "Stand easy - your duty is done. The world is safer."
More visitors arriving at Warrington soldier Pte Wade's family home brought flowers, relatives embracing and hugging in tears outside the end terrace house.
A second balloon, in the shape of a union Jack flag, fluttered in the wind.
A message written on it read: "Six brave soldiers never forgotten" a blue heart-shaped balloon alongside, read: "My hero Dan" and "RIP Son".
PA
Register for free to continue reading
Registration is a free and easy way to support our truly independent journalism
By registering, you will also enjoy limited access to Premium articles, exclusive newsletters, commenting, and virtual events with our leading journalists
Already have an account? sign in
Join our new commenting forum
Join thought-provoking conversations, follow other Independent readers and see their replies