SNP conference: Alex Salmond tells party 'Team Scotland' negotiations would start days after a 'Yes' vote on independence
His speech will come a day after Deputy First Minister Nicola Sturgeon told party members that a vote for the SNP is a vote to reclaim the Labour Party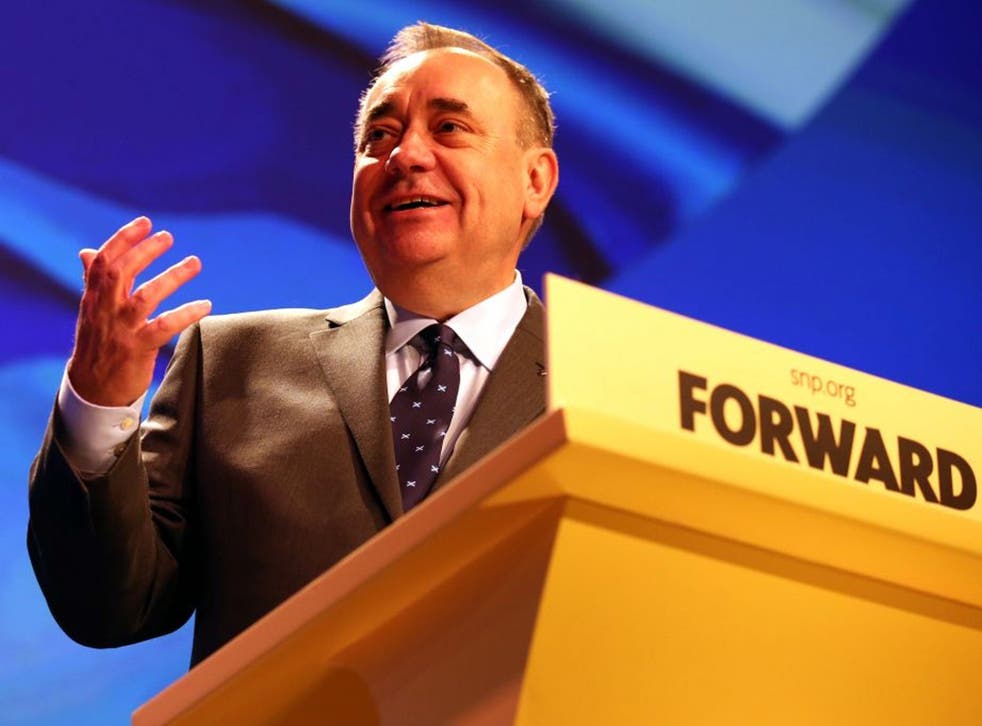 Negotiations on an independent Scotland with the remainder of the UK could start days after a Yes vote, Scottish First Minister Alex Salmond will announce in a speech to the SNP conference in Aberdeen on Saturday.
In his last conference speech before the referendum on 18 September, Mr Salmond will say that if Scots vote to leave the UK, a cross-party "Team Scotland" will be set up to negotiate the logistics of independence.
The group will "secure expertise from across the political spectrum and beyond, and from Scotland and beyond" to begin talks with Westminster before the end of September - marking the point at which the "real work will begin," Mr Salmond will say.
The discussions will be held in accordance with the principles of the Edinburgh Agreement – the deal between Westminster and Holyrood to allow the referendum - Mr Salmond will explain, adding: "That means with respect and in the interests of everindeyone in Scotland and the rest of the UK."
"Our party is hugely popular, and we are currently five and 15 points ahead in polls for Westminster, Europe and Holyrood respectively.
"But a Yes vote in September is not a vote for me, or for an SNP government in 2016.
"It's a vote for a government in Scotland that the people of Scotland choose, pursuing policies the people of Scotland support.
"A government in control of tax, the economy, social security, employment, immigration, oil and gas revenues, European policy and a range of other areas currently under Westminster control.
"That may be the SNP. It may be Labour. It may be a coalition," he will say.
However, he will claim that independence will end the "era of unelected Tory governments" in Scotland, as the party has only one MP north of the border.
Mr Salmond is expected to attack David Cameron's party for "dismantling our welfare state" and its determination to "privatise public services".
He will pledge: "In an independent Scotland we can give this guarantee: The era of unelected Tory governments handing out punishment to the poor and the disabled will be gone and gone for good."
A Better Together spokesperson said: "Alex Salmond clearly recognises Scots simply don't believe a word he has to say about separation. This is no surprise given that he won't come clean about what would replace the Pound or what would happen to our schools and hospitals if we left the UK."
His speech will come after Scotland's Deputy First Minister Nicola Sturgeon addressed the conference on Friday, where she made a direct appeal to Scots loyal to Labour to vote Yes.
"The Yes campaign is not asking you to leave your party. Instead, it offers you the chance to get your party back - a Labour Party free to make its own decisions, no longer dancing to a Westminster tune.
"For everyone out there with Labour in your heart, the message is clear. Don't vote No to stop the SNP. Vote Yes to reclaim the Labour Party," she said.
Register for free to continue reading
Registration is a free and easy way to support our truly independent journalism
By registering, you will also enjoy limited access to Premium articles, exclusive newsletters, commenting, and virtual events with our leading journalists
Already have an account? sign in
Register for free to continue reading
Registration is a free and easy way to support our truly independent journalism
By registering, you will also enjoy limited access to Premium articles, exclusive newsletters, commenting, and virtual events with our leading journalists
Already have an account? sign in
Join our new commenting forum
Join thought-provoking conversations, follow other Independent readers and see their replies