So what happened to Anne the elephant after she packed her trunk and left the Bobby Roberts circus?
Simon Usborne meets the Asian elephant rescued from a life of drudgery and abuse
Simon Usborne
Saturday 01 December 2012 01:00 Comments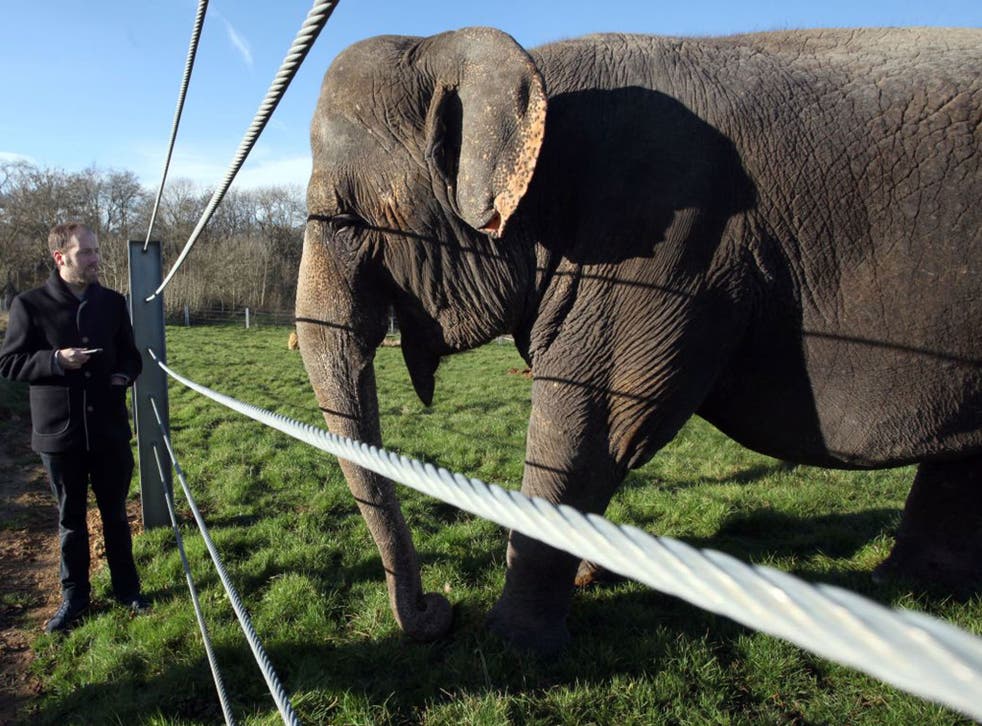 Eighteen months after Anne the elephant packed her trunk and said goodbye to the circus, her arthritic rear legs drag slightly as she walks, and her skin is creased and leathery.
But she seems to be as aware of her advancing years – she's 60 – as she is her celebrity.
Shuffling around her paddock at Longleat Safari Park in Wiltshire, she tears up salad-bowl portions of grass, snorting between mouthfuls.
Last week, Anne made headlines again when her former owner, Bobby Roberts, was convicted of abuse charges after footage had emerged of a groom beating her. Roberts was given a conditional discharge and his wife, Moira, was cleared.
As Anne ends her days in peace, what might she be thinking? She is close enough that her spittle reaches my shoes, but her eyes reveal little of one of the biggest brains in the animal world. Aristotle said the elephant "surpasses all others in wit and mind".
"To be honest," says Andy Hayton, a keeper here, "she's probably thinking p*ss off and let me eat my grass."
She might not care but Anne is Britain's most famous beast. Russell Crowe and Sir David Attenborough have been to see her, along with thousands of visitors seeking glimpses of Europe's oldest elephant (they can live as long as humans).
"She has a huge personality," Hayton says. "More so than a lot of people I know, not naming names. She can also be awkward, like a four-tonne mother-in-law, but you just look at her and think, God, the things you've seen, the memories you must have."
As Britain's last circus elephant, Anne was for for years the unwitting pawn in a battle between animal rights groups and an industry steeped in tradition. It came to a head in March last year when undercover filming showed her being chained up and beaten with a pitchfork.
The Roberts have always denied abuse (the groom returned to his native Romania, and has not been traced) but the film caused such outrage they agreed to give her up.
In security usually afforded a high-profile prisoner, Anne was escorted by police to Longleat. When she had been the subject of earlier campaigns, Roberts said: "If Anne was taken away from her surroundings and the company of those she loves, she would quite simply pine away and die."
Anne is thriving. Medication has steadied her arthritis and she has the run of her paddock, as well as a yard and a "granny annex" in the rhino house. She is only scared of her nearest neighbours, the pelicans, who she "absolutely hates," Hayton says.
She rolls in mud, digs and loves chocolate and wine gums ("same as any old lady," Hayton says). After a morning bath she spends the day outside, where prefers the cold and loves rain. Her new freedom means she is also building muscle.
Longleat hopes to give sanctuary to other elephants in a new house for which the park is raising funds. For now, however, Anne is Queen.
Register for free to continue reading
Registration is a free and easy way to support our truly independent journalism
By registering, you will also enjoy limited access to Premium articles, exclusive newsletters, commenting, and virtual events with our leading journalists
Already have an account? sign in
Join our new commenting forum
Join thought-provoking conversations, follow other Independent readers and see their replies