Son joins his father in Catholic priesthood
Vatican reform designed for Anglican converts allows the first ordination of its kind for 900 years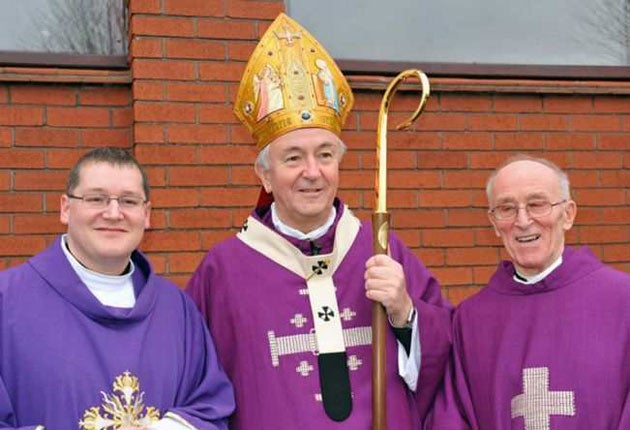 With celibacy a fundamental tenet of the Catholic clergy, you might think it should be all but impossible for a father and son to both be priests.
But that is exactly what has happened this week in Birmingham in what is believed to the first case of its kind for 900 years. This morning, Father Dominic Cosslett, a 36-year-old newly ordained priest, begins his job as assistant priest at St George's Church in Worcester. But what makes his ordination so unusual is that his father, Ron Cosslett, is also a priest at a church just up the M5 in nearby Darlaston.
The historical pairing came about because of a get-out clause introduced by the Vatican which allowed Anglican clergy to convert to Catholicism.
Although Catholic priests are forbidden from marrying and have to remain celibate, the Pope made an exception for those priests who married in separate denominations and then converted to Catholicism at a later date.
Many of those in the Anglo-Catholic wing of the Anglican Church, for instance, defected to Catholicism in protest over the ordination of women priests and some were married. They are allowed to stay within wedlock despite being priests in the Catholic Church but are expected to remain celibate. Fr Dominic, who is not married, was ordained at a packed ceremony last month at Christ the King in Coventry by Archbishop Vincent Nichols, who also ordained Father Ron three years ago.
Speaking at the ordination, Archbishop Nichols said: "This is a unique occasion and a great day in the life of the diocese. Both a father and his son, after his ordination, will be serving as Catholic priests."
But although their ordination might be deemed somewhat unorthodox in the modern Roman Catholic Church, 900 years ago it would have been perfectly plausible. Although celibacy became an increasingly important issue for the Vatican during the 9th and 10th centuries, it was not until the First Council of the Lateran in 1123 that Rome officially declared clerical marriages invalid.
The Vatican had become increasingly concerned about the behaviour of their clergymen and felt that priests should be married to the Church above all else. Until then, it was perfectly acceptable across wide tracts of Christendom for priests to marry and have children. Even the Popes were known to marry. Pope Hormisdas (514-523) fathered a son who later became Pope Silverius (536-538) while Pope Hadrian II (867-872) was the last married pontiff.
In recent years, the question of whether the Vatican should once again allow priests to marry has resurfaced among reformers who believe that allowing married priests would help to attract newcomers and reduce clergy shortages, particularly in the West. Thirty years ago, there was one priest for every 1,797 Catholics compared to one for every 2,977 nowadays.
Fr Dominic's arrival at St George's is not the first time he has been a priest – he originally trained for the Anglican priesthood at the high church Mirfield College of the Resurrection before being priested in 1997. He then underwent a shortened form of training to become a Catholic priest under guidelines agreed by the Vatican for the reception of Anglican clergy who defect to the Catholic Church.
In his ordination mass booklet Fr Dominic wrote: "I especially want to thank my parents and family for the support and unwavering love they have shown me over the years."
Join our commenting forum
Join thought-provoking conversations, follow other Independent readers and see their replies