Speaker John Bercow reveals Remain vote in EU referendum as concerns mount over his impartiality
He faces a vote of no confidence in the House of Commons after being accused of violating his neutrality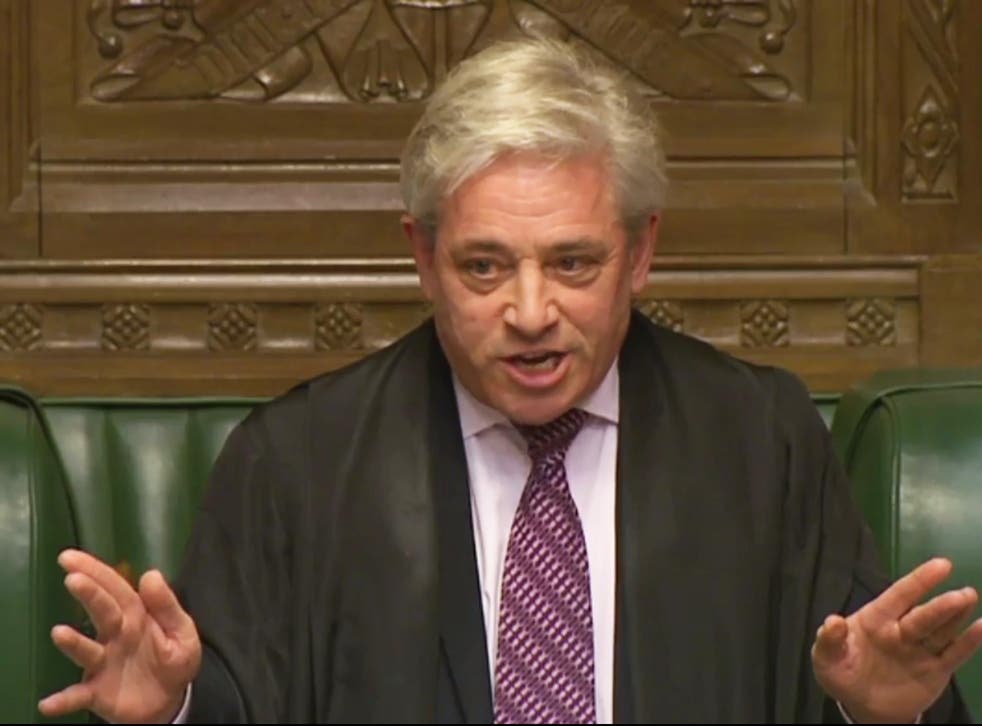 The Speaker of the House of Commons John Bercow has opened the door to a new controversy over his impartiality after he revealed he voted Remain in the EU referendum.
Mr Bercow spoke publicly at an event at Reading university on 3 February after being invited by the Department of Politics and International Relations.
In a recording of the event, obtained by The Telegraph, Mr Bercow tells the audience: "Personally I voted Remain. I thought it was better to stay in the European Union than not, partly for economic reasons –being part of a big trade bloc – and partly because I think we are in a world of big power blocs.
"For all the deficiencies of the European Union it is better to be part of that big power bloc in the world than thinking you can act effectively on your own. There are lots of supranational and multilateral and global challenges that I think we are better placed to try to address as part of a wider group."
Mr Bercow added he respected the outcome of the referendum and was "not complaining about the results".
But the revelation comes as Mr Bercow is under fire from some Conservative MPs, who accused him of violating the Speaker's impartiality after he said Donald Trump would not be welcome to address Parliament and accused the US President of "racism and sexism".
A spokesman for Mr Bercow said his impartiality had not been affected by the fact he revealed which way he had voted.
"The Speaker's impartiality is required on matters of debate before the House, and he has been scrupulous in ensuring that both sides of the argument are always heard.
"Furthermore, his comments made clear that he absolutely respected the result of the referendum.
"How he voted and whether or not he said how he voted after the event is completely irrelevant. It had absolutely no bearing on his impartiality," he said.
John Bercow defends his comments on Donald Trump
A Conservative MP before being elected Speaker, Mr Bercow was already facing a vote of no confidence in the House of Commons.
James Duddridge, Conservative MP for Rochford and Southend East, tabled the motion after he described Mr Bercow's Trump comments as "wholly inappropriate".
The Telegraph previously reported that up to 150 MPs are prepared to back his motion to remove Mr Bercow.
On the Parliament website, the impartiality of the speaker is emphasised as part of the role.
It says: "The speaker is the chief officer and highest authority of the House of Commons and must remain politically impartial at all times.
"On election the new speaker must resign from their political party and remain separate from political issues even in retirement."
UK news in pictures

Show all 51
Mr Bercow previously defended his comment about opposing the US President addressing Parliament as made "honestly and honourably".
During his address at Reading University, Mr Bercow also recognised he would be expected to do his duty if Mr Trump did come to Parliament during a state visit.
"I don't think he will but I hope President Trump will study the principles of Barack Obama and learn the merits of fighting against social injustice, successfully waged by Martin Luther King and Nelson Mandela.
"And if President Trump for a period came to think that some of the views he has expressed and the pledges that he has made and the audiences that he has played to have been wrong, that would be a great advantage not just for the United States but for humankind," he said.
Mr Bercow also told the audience he had been "shocked and upset" by the surge in hate crimes and racism that followed the results of the EU referendum and that immigration was "positive for the country".
He also revealed that he "got on better" with Theresa May than he did with David Cameron and that in the event of an "unlikely" early election he would stand again but he was "not thinking beyond 2020".
Register for free to continue reading
Registration is a free and easy way to support our truly independent journalism
By registering, you will also enjoy limited access to Premium articles, exclusive newsletters, commenting, and virtual events with our leading journalists
Already have an account? sign in
Register for free to continue reading
Registration is a free and easy way to support our truly independent journalism
By registering, you will also enjoy limited access to Premium articles, exclusive newsletters, commenting, and virtual events with our leading journalists
Already have an account? sign in
Join our new commenting forum
Join thought-provoking conversations, follow other Independent readers and see their replies