Starbucks barista 'writes creepy message on coffee cup'
The message was branded 'grim' and 'inappropriate' by social media users
Will Grice
Wednesday 04 November 2015 10:16 Comments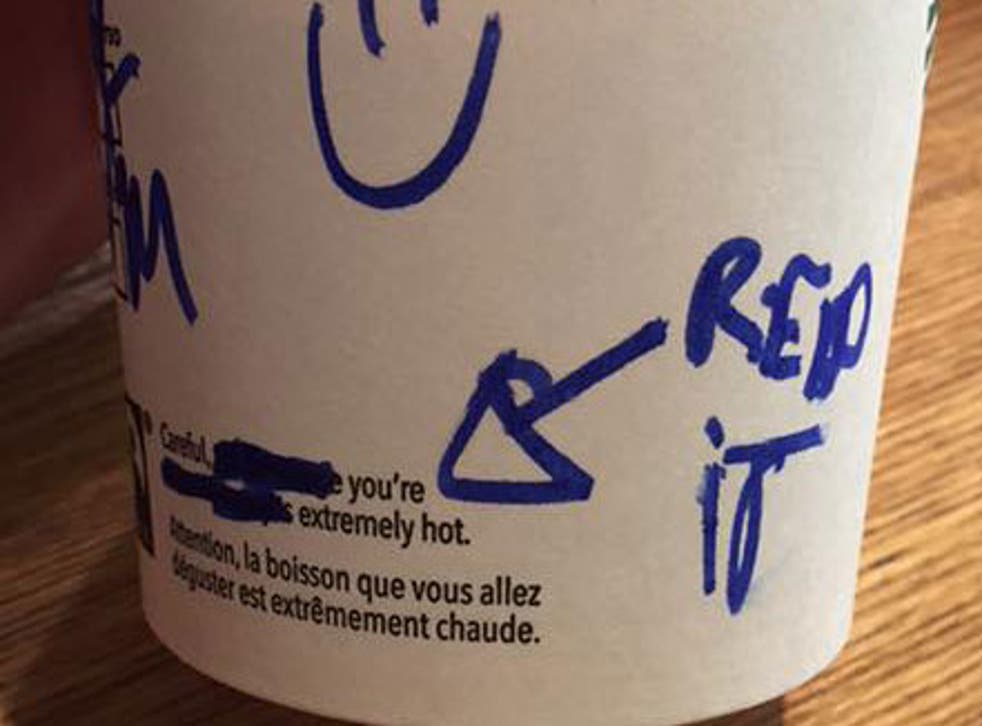 Starbucks baristas may be well-known for not being able to spell names correctly, but one of the coffee chain's employees has apparently taken the concept of spicing up a latte one step further by adding a hidden and 'creepy' message on a teenage girl's coffee cup.
The snap was posted on the Shit London Facebook group and appears to show a Starbucks-branded coffee cup with some of the words on the warning crossed out, leaving the message: "Careful, you're extremely hot."
The message also features an arrow and note next to it saying, "Read it".
The woman who posted it claims to be the girl's mother, and is seen to be describing it as "inappropriate".
One Facebook user said, "I'm sure he's fallen foul of some harassment laws there somewhere," with another user branding it as "grim".
As several users pointed out, the main issue with the message appears to be the barista's decision to use the word "careful", which many believed gave off bad connotations.
The weirdest and most shocking news stories

Show all 30
And while the authenticity of the cup - and message - have not yet been confirmed, it wouldn't be the first time that baristas have got themselves into hot water over their apparently unintelligible scrawling.
In August, debate raged over whether one cup spelled the name 'Greg' or 'Corey' - and in March it was announced that the coffee chain would be writing racial equality slogans on cups.
But some people criticised the move as a calaculated ploy to shift more coffee, rather than a noble effort to improve race relations.
The Independent has contacted Starbucks for comment.
Register for free to continue reading
Registration is a free and easy way to support our truly independent journalism
By registering, you will also enjoy limited access to Premium articles, exclusive newsletters, commenting, and virtual events with our leading journalists
Already have an account? sign in
Join our new commenting forum
Join thought-provoking conversations, follow other Independent readers and see their replies