Starbucks pays corporation tax, promising the Exchequer £20m over two years
The company has now paid corporation tax for the first time in nearly five years
Heather Saul
Sunday 23 June 2013 11:13 Comments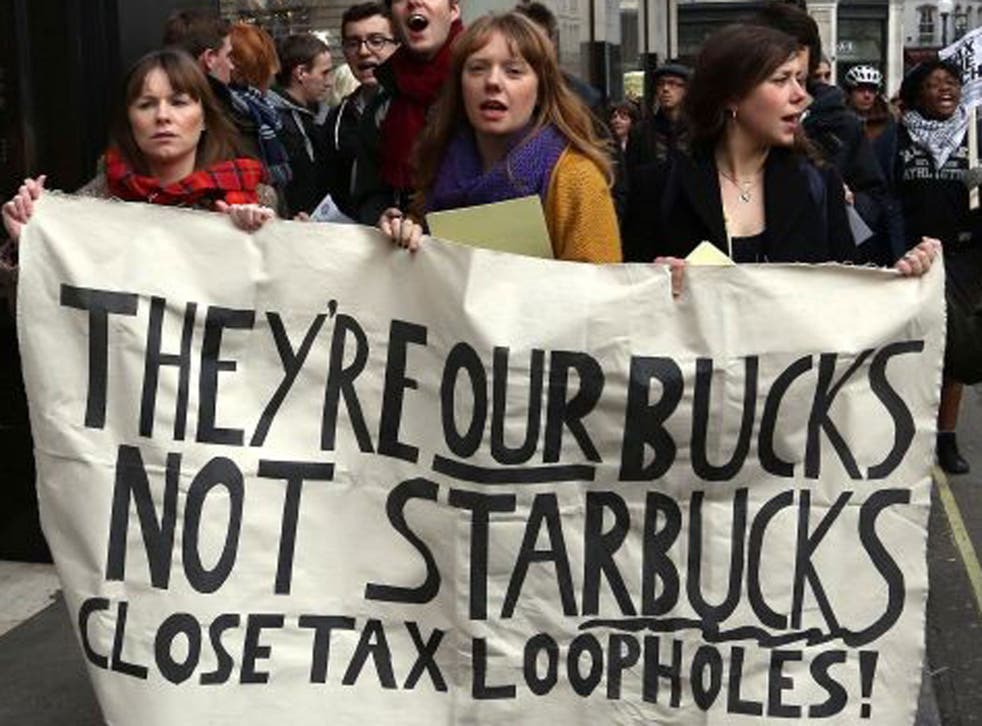 Coffee chain Starbucks announced that the company have paid corporation tax in the UK for the first time since 2008.
The chain has 650 outlets across the UK, but last year told MPs they had made a loss for 14 of the 15 years they operated in the UK, despite sales of £400m in 2012.
The Exchequer has now received £5m, and Starbucks have committed to bringing this figure up to £20m over a two year period.
A Starbucks spokeswoman said: "Six months ago, we felt that our customers should not have to wait for us to become profitable before we started paying UK corporation tax.
"We listened to our customers in December and so decided to forgo certain deductions which would make us liable to pay £10million in corporation tax this year and a further £10 million in 2014.
"We have now paid £5m and will pay the remaining £5m later this year.
"We are also undertaking measures to make Starbucks profitable in the UK, such as relocating unprofitable stores to more cost effective locations, closing them where that is not possible and placing greater reliance on franchised and licensed stores."
Politicians have continued to publicly increase mounting pressure over tax avoidance, and the group faced a sharp backlash from campaign groups such as UK Uncut who staged sit-ins across 40 store branches on busy trading days.
In a fiery showdown with the Commons' Public Accounts Committee last year Starbucks insisted it was "an extremely high taxpayer" globally and acted "to an ethical" as well as a legal standard, despite declaring losses on its UK operation.
Its global chief financial officer Troy Alstead remained resolute that the company "do not manipulate anything, anywhere", blaming an over-aggressive entry to the UK market which had left it with expensive, non-profitable properties.
"It is fundamentally true, everything we are saying and everything we have said historically", he said, telling the committee it remained committed to making profits in Britain.
He conceded that a tax deal struck with the Dutch authorities was "an attractive reason" for basing the coffee company's operations there.
A chunk of UK branch profits - 6 per cent reduced to 4.7 per cent in what one MP called a "cosmetic" deal with HMRC - is transferred there as a dividend, meaning there is no profit to declare.
It also charges a 20 per cent mark-up on coffee which it buys via Switzerland and pays 12 per cent tax.
"Respectfully, I can assure you there is no tax avoidance here", he told MPs.
"We have a global tax rate of 33 per cent around the world. Our tax rate outside the US is 21 per cent. That is higher than most multinationals' global rate. We are an extremely high tax payer."
Additional reporting by PA
Register for free to continue reading
Registration is a free and easy way to support our truly independent journalism
By registering, you will also enjoy limited access to Premium articles, exclusive newsletters, commenting, and virtual events with our leading journalists
Already have an account? sign in
Join our new commenting forum
Join thought-provoking conversations, follow other Independent readers and see their replies