Starbucks withdraws 50p discount for customers who bring own cup after just three months
Campaigners slam coffee shop chains for not doing enough to stop 5,000 cardboard cups being binned each minute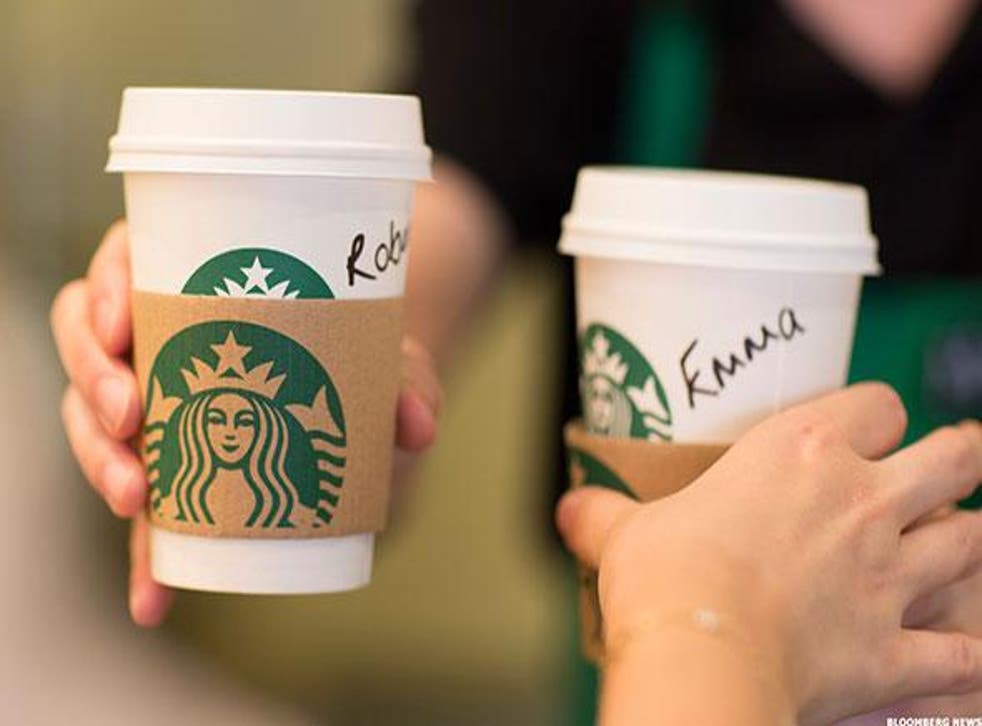 Coffee shop chains have come under renewed fire for failing to reduce the huge amount of cardboard waste generated by unrecycled disposable coffee cups after it emerged Starbucks has scrapped a 50p discount offered to customers who provide their own cup - just three months after it was introduced.
Around 2.5 billion disposable cups are thrown away each year in the UK - the equivalent of 5,000 every minute. Only around one in 400 are currently recycled.
This week government ministers rejected Liberal Democrat calls to introduce a 5p charge on disposable coffee cups following the success of a similar levy on plastic bags.
Therese Coffee, Parliamentary Under Secretary of State for the Environment, said coffee shops were doing enough to cut down on waste voluntarily.
In a letter to Lib Dem MEP Catherine Bearder she said: "Many major chains are taking their own action to incentivise environmentally friendly behaviour, for example, offering a discount on drinks if customers bring their own cup."
But now Starbucks has halved the discount it offers to customers who bring their own cup - from 50p to 25p. It remains, however, the only major high street coffee shop to offer such a discount to customers.
Caffe Nero gives customers double reward card stamps. Other chains, including Costa and Pret a Manger, do not directly incentivise customers to use more environmentally cups, although Costa donates 25p to charity every time someone brings their own cup.
Campaigners say it is nowhere near enough to reduce the huge number of disposable cups being thrown away each day.
Responding to the news of Starbucks reducing its discount, Ms Bearder told The Independent: "What a measly move for a company that pretends to look progressive and to have cleared up their image.
"We'll only save the planet by taking steps forward, however small - yet this shows Starbucks are only going backwards."
How I came, had coffee, and conquered: Starbucks boss publishes secrets of success

Show all 2
Simon Redfern, Starbucks Europe's Vice President for Communications, re-iterated the company still offered a discount, saying: "For over a decade we've been proud to offer a 25p discount if you bring your own cup or tumbler to our stores, which we sell from £1. We continue to offer this industry leading discount."
Starbucks declined to explain the decision to drop the 50p discount but said it was continuing to work with business partners to find ways to reduce waste. It is also trialling options to improve disposal of cups and working with suppliers to test recyclable cups, the company added.
Coffee cups are difficult to recycle because they are made of a blend of cardboard and plastic in order to make them waterproof – a problem highlighted by celebrity chef Hugh Fearnley Whittingstall as part of his 'War on Waste' campaign.
There are currently just two UK processing centres capable of separating the paper and plastic components - part of the reason why so few cups are recycled.
Most cups are not made from recycled materials in the first place, because the need for waterproofing means new paper pulp is used.
Ministers introduced a 5p levy on plastic carrier bags in 2015 in an attempt to reduce the seven billion bags used by British shoppers each year. The change has been hugely successful, with the number of bags used having fallen by 85 per cent in less than a year.
Register for free to continue reading
Registration is a free and easy way to support our truly independent journalism
By registering, you will also enjoy limited access to Premium articles, exclusive newsletters, commenting, and virtual events with our leading journalists
Already have an account? sign in
Register for free to continue reading
Registration is a free and easy way to support our truly independent journalism
By registering, you will also enjoy limited access to Premium articles, exclusive newsletters, commenting, and virtual events with our leading journalists
Already have an account? sign in
Join our new commenting forum
Join thought-provoking conversations, follow other Independent readers and see their replies