Labour MP Stella Creasy 'harassed and intimidated' by anti-abortion activists
MP claims group targeted her 'explicitly for being pregnant'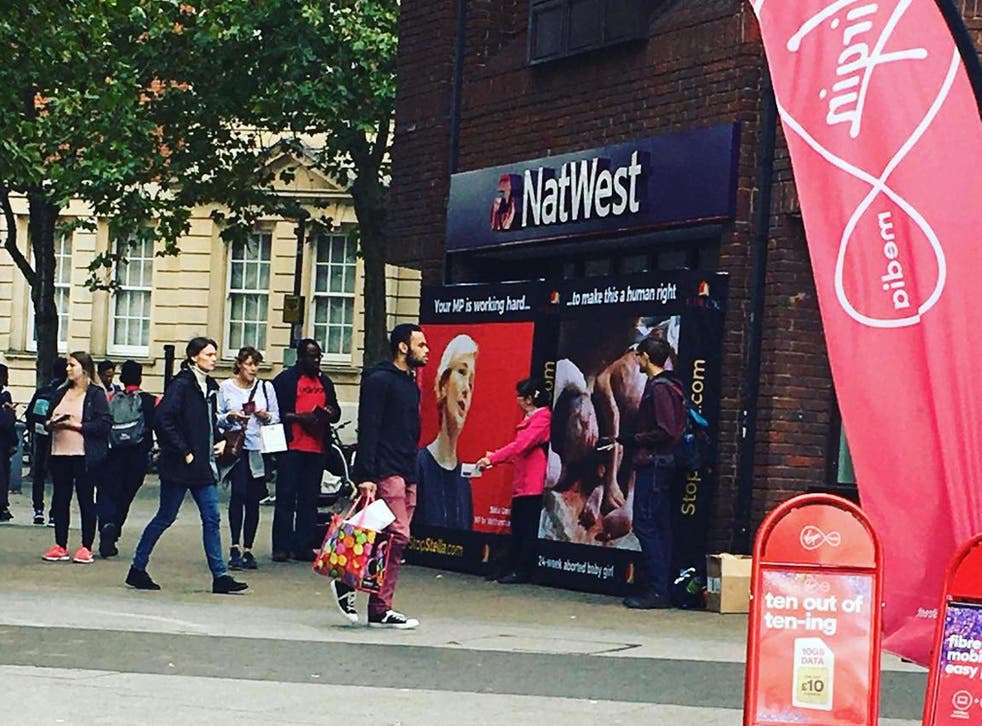 Labour MP Stella Creasy has said she felt "physically sick" after being targeted by anti-abortion activists in her constituency.
Campaigners protesting the MP's stance on abortion took to Walthamstow high street with pictures of Ms Creasy alongside a graphic image of what they claim was an aborted 24-week-old foetus and the phrase "your MP is working hard…to make this a human right".
It comes after Ms Creasy spearheaded a campaign in the commons to extend abortion rights to Northern Ireland through an amendment that was approved by 332 votes to 99.
Ms Creasy, who is currently pregnant, said she felt "physically sick" over the protests – and said there needed to be more powers in place to limit targeted protest by anti-abortion groups.
Referencing two former home secretaries on Twitter, she added: "I tried to warn you Sajid Javid and Amber Rudd when you said powers in place to deal with this crap [were] enough.
Northern Ireland abortion protest in Westminster

Show all 7
"Today the police said they wouldn't use PSPO (Public Space Protection Order) powers to move these people on.
"We also have recording saying targeting me explicitly for being pregnant".
Mr Javid rejected calls for national legislation to protect abortion clinics from protesters in September 2018.
In August, the Court of Appeal upheld a ruling by Ealing Council imposing restrictions on protesting outside an abortion clinic in west London, creating a buffer zone to protect women from "intimidation, harassment and distress".
The Mayor of London Sadiq Khan said the Metropolitan Police were investigating the incident – adding "Sickening scenes in Walthamstow where anti-abortion campaigners are targeting Stella Creasy.
"Whilst the right to peaceful protest must be respected, behaviour that deliberately targets women for harassment and intimidation should not be tolerated."
Officers attended the protest but no offences were found to have been committed and no arrest took place, according to the Metropolitan Police.
The protest group campaigning against Ms Creasy, CBR UK, are an offshoot of a US pro-life charity founded by a republican state politician.
On its website the group argues the MP's campaign to legalise abortion in Northern Ireland while pregnant is "hypocrisy" – and references interviews given by the Walthamstow politician on the hurt she experienced after suffering two miscarriages.
She is the only MP the group appear to be directly calling for action against.
It goes on to claim the Ms Creasy does not acknowledge: "the humanity of the unborn child and what an abortion procedure actually entails".
It adds: "Yet when she is speaking about her own baby in her womb, and her previous miscarriages, she speaks openly on their humanity"
Under the heading "What can you do to #StopStella", the group lists contact details for the MP and recommends supporters "demand" Ms Creasy "stop promoting human rights abuses of children in the womb".
In 2017, under the name Abort 67, the group protested pro-choice MPs as they campaigned to introduce buffer zones at abortion clinics – including Rupa Huq who said at the time activists had "unfolded huge graphic images of dismembered foetuses" outside her constituency office.
And in 2012 the group's CEO and founder Andy Stephenson was cleared of public order offences after protestors unveiled a 7ft banner of aborted foetuses outside a clinic in Brighton.
Join our new commenting forum
Join thought-provoking conversations, follow other Independent readers and see their replies