Steve Brooker: The mudlark unearthing the Thames' history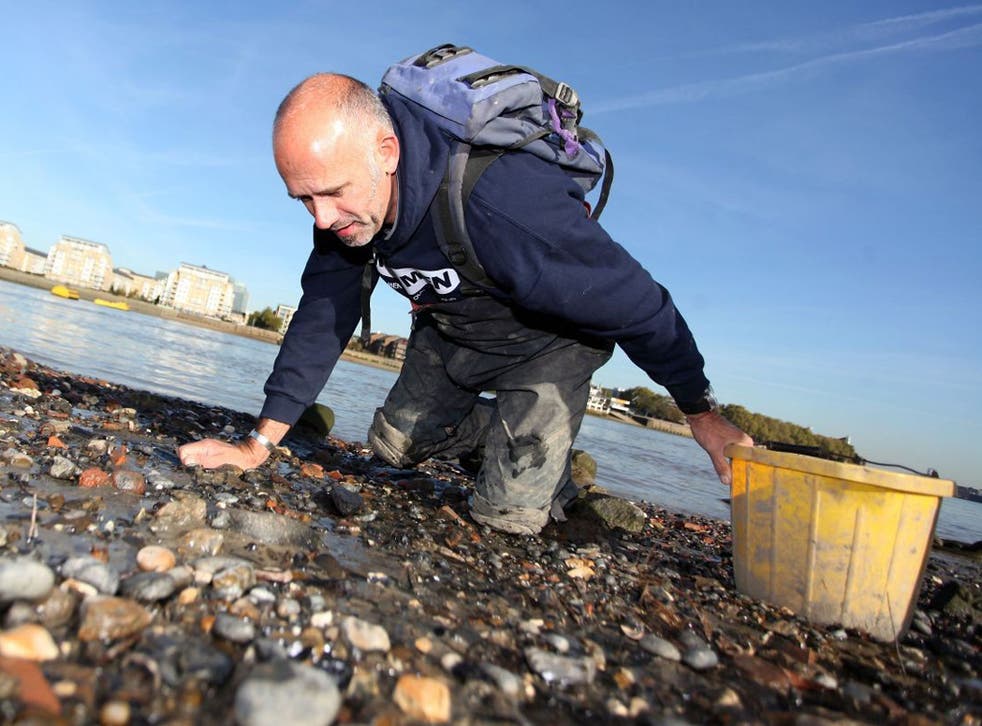 "Woo-hoo, found one," says Steve Brooker as he flicks a 1950s French coin, cut neatly in half, across the Thames foreshore. To the uninitiated, it is just one of the multitude of oddities washed up daily by the river. But to the "Mud God", it is evidence of how dockers once scammed free holidays in France – and one more piece of unlikely history teased from the dark, smelly clutches of London's waterway.
After 23 years of scrabbling around searching for detritus left behind by Londoners, Brooker is a treasure trove of tales about how the capital's inhabitants once lived based on his ability to read the runes of the artefacts, which range from the everyday rubbish of Tudor nobles to the precious possessions of Georgian merchants.
Brooker, 49, a 6ft 6 window fitter from Bexleyheath, is one of the 50-strong Society of Thames Mudlarks, an invitation-only fraternity and the sole people authorised to dig for evidence of the past in the most sensitive reaches of the river.
In a single morning squelching with The Independent along the riverbed at Greenwich, Brooker gathers a tantalising array of items – Elizabethan "chapes" or lace closures, 18th century sugar jar fragments – which tell stories of how Londoners interacted with and profited from their river.
Dressed in mud-caked waders and his voice brimming with the infectious enthusiasm that has helped propel him from a hobbyist to a recognised authority on the Thames (and an unlikely television star), Brooker says: "That is the amazing thing about the river – within the space of a few metres you travel through 500 years. There can be Tudor pins, Victorian costume jewellery, Georgian coins and strange, unexplained things like these 1950s French francs cut in half."
After several years of finding the coins – roughly the size of a two pence piece and cut with a serrated edge – on a stretch of river adjacent to a former smelting works close to the Millennium Dome, he met a former docker who provided the answer to the riddle.
Brooker, whose "Mud God" nickname arises from an uncanny ability to walk across mudflats without sinking, said: "I mentioned how I kept on finding these odd coins. It turned out that he had worked on that stretch of the river during the Fifties when the French government was sending excess coinage to London to be melted down. The dockers would cut loose a few cases from each shipment so it would fall into the mud and these guys would come back later under cover of darkness to recover the coins.
"They would then use the money to take their families on holiday to France. You have this lovely image of Greenwich dockers all going off on holiday to Brittany or wherever with their pockets full of this coinage they've nabbed. The French obviously caught on to this because they then started cutting all the coins in half before they sent them off to London."
It is a fragment of social history and an insight into the roguish ways of the London docks that speaks volumes as to the way in which mudlarking – the name given to the untouchable river scavengers of Victorian London – helps to draw up a picture of life that would be impossible to retrieve from more conventional sources.
Stomping off towards a Tudor rubbish dump down the hill from where the Palace of Placentia, birthplace of Henry VIII, once stood, Brooker says: "The Thames is a place where history comes alive. Who would have had the first clue about 50s dockers and French coins if I hadn't kept on finding those pieces and come across the old docker?
"You don't get to smell the contents of a textbook or rub the dirt off it to see what lies beneath in a way you do with, say, a medieval nit comb you've just pulled out of the mud for the first time in 500 years. This is what history should be about – feeling it in your hands, smelling it on your fingers. It is literally history from the bottom up."
The viscous, slate-coloured Thames mud with its distinct sulphurous pong is precisely what makes it possible for the modern mudlarks to go about their work. The sludge is devoid of oxygen and is thus a highly-effective preserving agent, which allows a Roman child's leather shoe lost on the foreshore in 800AD to emerge from its resting place as if it was discarded yesterday.
The mudlarks are a relaxed bunch, greeting each other with the words: "What you had up?" wherever their paths cross. But they take their work as seriously as any professional archaeologist and their activities are strictly controlled.
Anyone can walk the length of the Thames shore at low tide, safety permitting, but only the mudlarks are allowed to retrieve material from the north shore between Westminster and Wapping. The south shore is less tightly regulated, but even then can only be explored up to a depth of three inches by those with a Port of London Authority permit.
Nonetheless, the mummifying mud and the dogged work of Brooker and his confreres has allowed the mudlarks to change historians' understanding of life in the capital. Pewter toys unearthed by the dozen from the Thames have proved that far from considering their offspring as perishable assets who should be put out to work if they did not die, medieval parents cherished and doted upon their children.
Brooker, whose prize finds include Tudor daggers – tokens likely to have come from the baker on Pudding Lane where the Great Fire of London began – and medieval brooches, discovered a locked ball and chain leg iron of a type rarely seen in London, suggesting that an imported prisoner, possibly from Germany, had jumped off a ship and drowned rather than face his English custodians.
He is careful to underline that the evidence of the past he and others uncover should not be considered "treasure", at least not in terms of monetary value. By law, anything older than 300 years found on the Thames must be reported to the Museum of London, whose 30-year relationship with the mudlarks has resulted in a collection of 90,000 artefacts, ranging from pilgrims badges to traders' tokens to Roman bullion.
Kate Sumnall, a finds liaison officer for the museum, described the mudlarks' work as "phenomenally important". "They have made a huge contribution by donating artefacts to us, but also in terms of the knowledge they bring because they have been showing us their finds for such a long time. I often learn from them," she said.
Brooker is equally insistent on the importance of resisting any urge to squirrel away any particularly shiny or intricate bauble retrieved from the estuarine gloop. For him, the Thames foreshore represents a giant and sacrosanct jigsaw puzzle offering up glimpses of a Celtic, Roman, Tudor or Victorian London of which he is but a brief custodian.
He said: "There are may be five or six items every year that are really special. They are of little or no monetary value, but they change the state of our wider understanding of the past. What is the point of having something like that in the back of your drawer where neither you nor anyone can appreciate its significance?"
Growing numbers of people now recognise Brooker, who left school with just two O-Levels and an A-Level in art, since he became one half of a double act with the broadcaster Johnny Vaughan for Mud Men, an award-winning series about mudlarking which is the History Channel's most-watched British programme and is now in its second series.
Brooker, who points out that despite his fame he still needs to keep up his day job as a commercial window fitter to make ends meet, maintains he is still at his happiest when alone on the banks of the Thames with his bucket and trowel. Certainly, his eye is impressively attuned to truffling out nuggets of history – handfuls of Tudor hair pins, a section of Bellarmine "witch pot" containing fetishistic charms such as urine and fingernails cast into the river to ward of evil spirits – where the novice sees, well, mud.
Join our new commenting forum
Join thought-provoking conversations, follow other Independent readers and see their replies