Stoke football match ends with fan violence and 23 arrests
Local derby between Port Vale and Wolves sees home fans throwing missiles at police officers and smashing up a marked squad car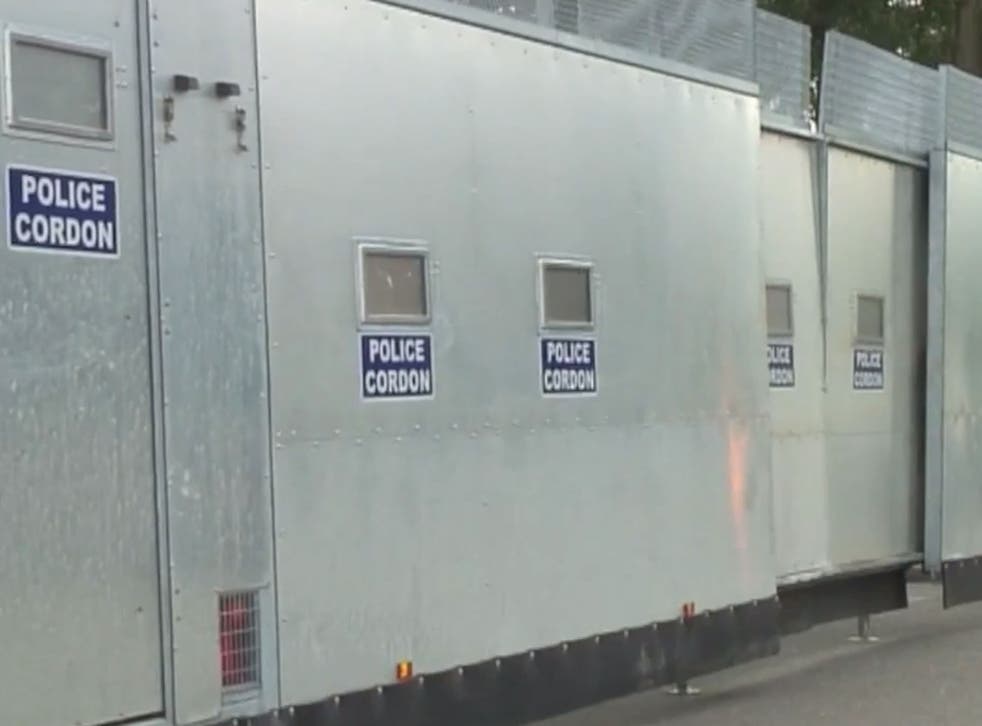 At least 23 people have been arrested following crowd trouble at a football match in Stoke between Port Vale and visiting local rivals Wolverhampton Wanderers.
Missiles and bottles were thrown at officers, a marked police car was vandalised and two adults suffered police dog bite injuries as violent disorder broke out following the League One fixture.
Staffordshire Police said a "significant group of home fans" were involved in concerted efforts to target police fan segregation lines.
Officers will now be examining CCTV from the day in order to track down anyone who contributed to the unrest, and Port Vale said the club would fully support the police in punishing those involved.
At the end of the match, while Wolves comfortably won 3-1, supporters moved out into nearby Burslem town centre in Stoke-on-Trent, at which point the most serious violence flared up.
Various missiles were thrown at officers and a marked police car was smashed up, while two adults had to be treated by paramedics after they suffered bites from police dog units.
The arrests included nine prior to kick-off, while another four were detained during the game for offences such as setting off flares and invading the pitch.
Police said they were "disappointed" by the events which occurred despite extensive preparations from both club officials and officers.
On the afternoon of the game Staffordshire Police had posted a video in a leading Port Vale fan forum, showcasing new crowd control measures including a large metal "Police Cordon" fence.
While one forum user commented "I hope it works... the last thing we need is crowd trouble," another said it was "a waste of money, massively over the top reaction to a League One fixture."
Some fans have now questioned whether the 3.00pm kick-off should have been allowed to take place so late in the day. Local derbies are often brought forward as a measure to avoid crowd trouble.
Staffs police said fans from both sides had been involved but praised a group of Wolves supporters who "co-operated with police by waiting in the away coach park whilst police worked to clear the area".
Chief Inspector Dave Bird, of Staffordshire Police, said: "We are disappointed by the actions of this significant number of so-called fans who attended today's fixture intent on becoming involved in disorder."
CCTV evidence will be examined and all those arrested will be "questioned about their actions", he added.
"The behaviour of this significant minority doesn't represent the club or our city.
"We will now continue to work with Port Vale to reduce the opportunity for future disorder."
Bill Lodey, Port Vale club secretary, said: "The club are bitterly disappointed regarding the violence that has been reported in Burslem town centre.
"We will fully support any actions taken by the police in apprehending those responsible and they can expect severe penalties."
Register for free to continue reading
Registration is a free and easy way to support our truly independent journalism
By registering, you will also enjoy limited access to Premium articles, exclusive newsletters, commenting, and virtual events with our leading journalists
Already have an account? sign in
Register for free to continue reading
Registration is a free and easy way to support our truly independent journalism
By registering, you will also enjoy limited access to Premium articles, exclusive newsletters, commenting, and virtual events with our leading journalists
Already have an account? sign in
Join our new commenting forum
Join thought-provoking conversations, follow other Independent readers and see their replies