UK weather: Storm Barney leads authorities to warn public not to take selfies during the bad weather
The Environment Agency and the Royal Society for the Prevention of Accidents warned the public against taking photos of stormy seas as the bad weather hits the south of England
Caroline Mortimer
Tuesday 17 November 2015 15:40 Comments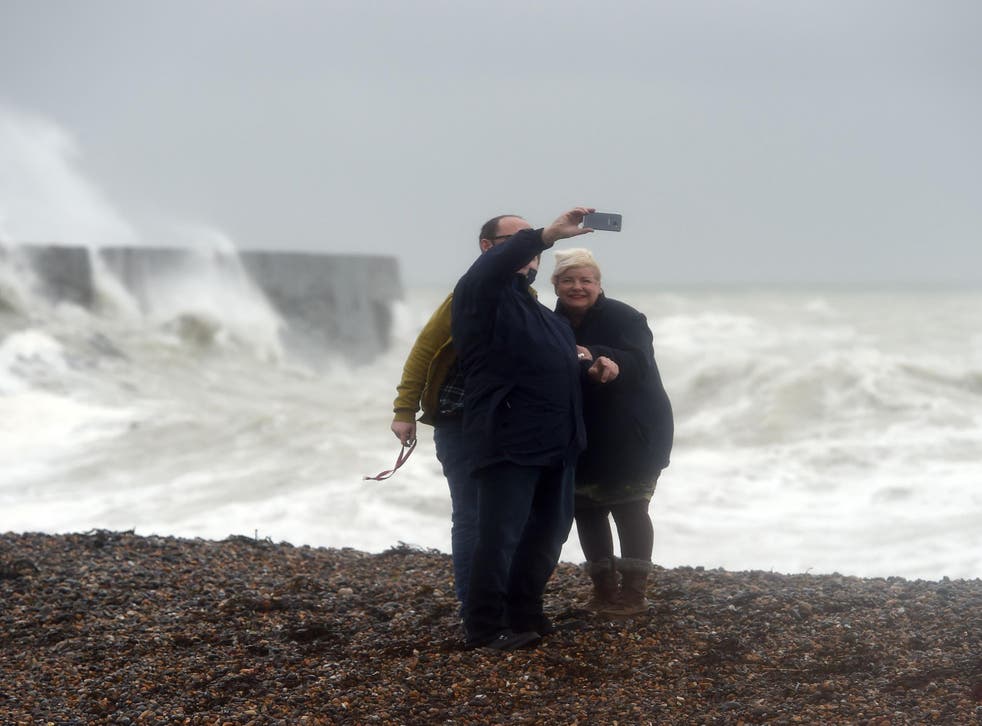 Authorities are warning people not to attempt selfies during Storm Barney, which is expected to sweep across parts of the UK tonight.
Gusts of up to 70mph are expected to blast the south of England from Tuesday evening causing major disruptions at Heathrow and Gatwick airports.
There will also be heavy rainfall and winds in Northern Ireland, Wales and north-west England.
Both the Environment Agency and the Royal Society for the Prevention of Accidents (RoSPA) issued a strongly worded warning against taking "storm selfies" and to avoid travelling along promenades with spray or through flood water.
Storm Barney is the second storm to hit the UK this winter that has been deemed strong enough by the Met Office to be given its own name since Abigail hit last week.
Neil Davies, duty flood risk manager at the Environment Agency, said: "The power of Mother Nature is a fascination to us all – and taking storm selfies may seem exhilarating. But over the last few years we've had an increasing number of people putting themselves and family members at severe risk along coastal paths and promenades.
"Floods destroy so take care and be prepared. Find out if you are at risk and sign up for early flood warnings. Stay safe and act now to be better prepared for flood to reduce the impact it could have on your family, your home and your business."
David Walker, leisure safety manager at RoSPA, said: "We understand the temptation to view powerful tides and weather conditions, however, if you get caught up or swept out to sea in these events your life will be at risk very quickly and our rescue services will also be at great risk.
The dramatic footage of winter storms last year led people to take unnecessary risks to capture images of the sea and flooding, the organisations said.
Additional reporting by PA
Register for free to continue reading
Registration is a free and easy way to support our truly independent journalism
By registering, you will also enjoy limited access to Premium articles, exclusive newsletters, commenting, and virtual events with our leading journalists
Already have an account? sign in
Join our new commenting forum
Join thought-provoking conversations, follow other Independent readers and see their replies