Storm Frank: 150-year-old Birnbeck Pier in Weston-super-Mare collapses into the sea
A section of the pier near the sea crumbled as it was battered by heavy rains and strong winds
Caroline Mortimer
Thursday 31 December 2015 12:57 Comments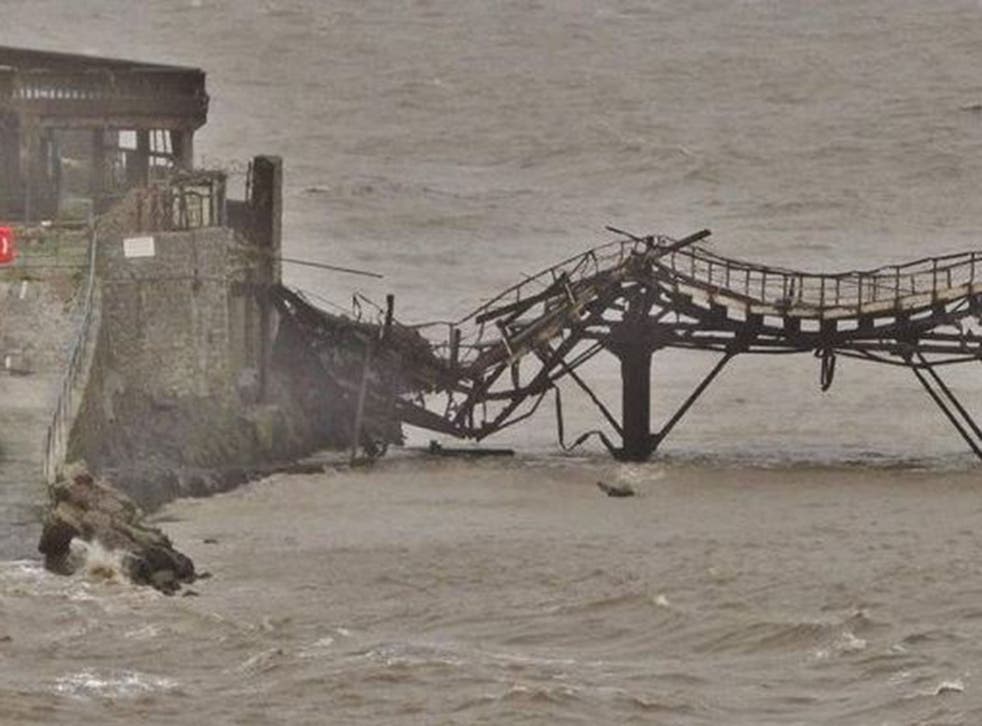 A 150-year-old pier has become the latest casualty of Storm Frank as the heavy rains caused it to partially collapse into the sea.
Birnbeck Pier in Weston-super-Mare in the Bristol Channel partially disintegrated after it was battered by the latest storm to hit the UK over the Christmas period.
An image captured by local resident, Timmay Curtis, shows the front of the section of the pier closest to the shore twisted and broken with parts having fallen into the sea.
The bad weather has wreaked havoc across the country with areas already hit by flooding in the aftermath of Storm Eva last week seeing significant further damage.
A 300-year-old bridge in Tadcaster, North Yorkshire partially collapsed into the swollen River Wharfe on 29 December after being hit by strong winds and heavy rain.
In Pictures: Floods hit the UK

Show all 17
Meanwhile hundreds of people have been forced from their homes and businesses as flood waters rise and looters in white vans are reported to have targeted properties.
The Met Office has said that victims could see a brief 48-hour respite as the UK is expected to see "clear, dry spells" on New Year's Day.
Forecaster Emma Boorman told The Independent that although some heavy showers may remain, they will be brief and are unlikely to make the situation worse.
Register for free to continue reading
Registration is a free and easy way to support our truly independent journalism
By registering, you will also enjoy limited access to Premium articles, exclusive newsletters, commenting, and virtual events with our leading journalists
Already have an account? sign in
Join our new commenting forum
Join thought-provoking conversations, follow other Independent readers and see their replies