Bed-ridden stroke victim told to use food banks after DWP admin error leaves him without benefits
'We're at the lowest of the low. Nobody knows where to turn'
May Bulman
Sunday 30 April 2017 12:28 Comments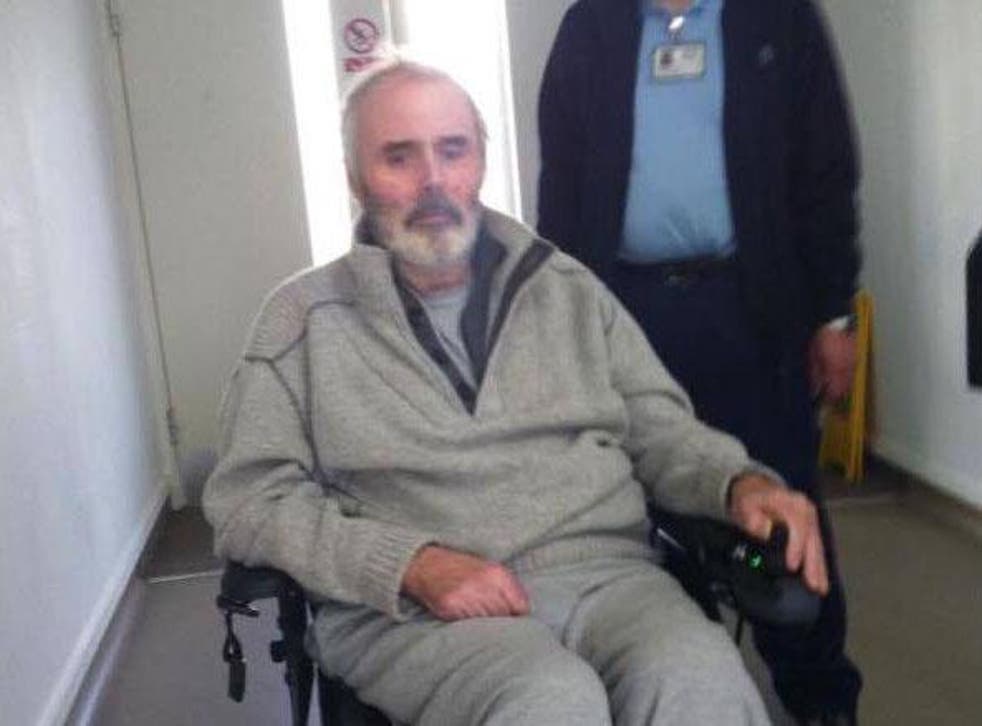 A bed-ridden stroke victim was told to use food banks after an administrative error left him and his wife facing extreme poverty.
Alan Buchanan, 65, has been bed bound after suffering several major seizures since he had his first stroke 15 years ago, and the once successful businessman is now entirely dependent on his wife Heather and the occasional visits of carers.
The couple, from the small Scottish town of Callander, near Loch Lomond, said they now fear homelessness after their benefits were stopped because of an administrative error.
Earlier this year, Ms Buchanan said an inspector from Atos — a company contracted to provide independent assessments on behalf of the Department for Work and Pensions (DWP) for Personal Independence Payment (PIP) — arrived two hours early for an assessment with Mr Buchanan, despite her phoning and specifically telling them not to arrive before 11am.
"A lady came to the house at about nine in the morning. She said she was from Atos. I explained to her that I had asked for an appointment at 11am, because Alan's carers are here before that," Ms Buchanan told The Independent.
"I did ask her if she'd like to come in, basically to show her that he was there, in his bed. She could see his wheelchair and everything else sitting about because we live in a very small flat. She said 'no it's alright, we'll reschedule'. Then she went away."
But Ms Buchanan said the inspector never called to rearrange the appointment and two weeks later, a letter from the Department for Work and Pensions (DWP) arrived, cancelling Mr Buchanan's benefits.
It said they would be getting nothing in their PIP, because they hadn't provided "a good enough reason" for Mr Buchanan, who cannot get dressed or go to the toilet independently, "not attending" to the assessment.
Three days later, Ms Buchanan received another letter from the DWP saying her husband's Attendance Allowance, designed to help with personal care for disabled people aged 65 or over, would also be stopping.
They made a claim to the DWP to have the case reconsidered, and when Ms Buchanan asked officials for advice on what they should do if they were struggling, they were told to use the local food bank.
"I couldn't believe it. I called up the DWP and asked what we should do in the meantime, because the money stopped, everything stopped, and I thought that's it, because the flat's paid for through DWP benefit," said Ms Buchanan.
"It's really difficult to communicate with the service because you speak to different people every time you phone, and they all seem to give out different information. The girl on the phone said she could only suggest that we ask for social welfare and use the local foodbank.
"My stomach hit the floor. We've never asked for anything in our lives. Alan had his own business for 30 years. He travelled abroad, selling computing products in Indonesia, China, Turkey — everywhere.
"He brought a lot of revenue into the country. And yet he's now really struggling, and it's such a shame."
A week later, Ms Buchanan received another letter from the DWP, stating that it had "looked again at the facts and evidence" and "considered the points [Ms Buchanan] raised and any new information provided", but that the DWP was "unable to change the original decision".
It proceeded to state that if Ms Buchanan still disagreed with the decision, she appeal to an independent tribunal.
Despite pressure from Mr Buchanan's GP and social workers, the DWP did not reconsider until the case was raised in Parliament earlier this week by the couple's local MP, the SNP's Steve Paterson, who quizzed the Prime Minister on why the Government was "punishing vulnerable people" such as Mr and Ms Buchanan.
"My constituent Mr Buchanan suffered several serious strokes and requires extensive care," Mr Buchanan told the House.
"He was deemed to have missed his Atos assessment appointment when the Atos inspector arrived earlier for that appointment, and his carers hadn't got him up yet.
"His benefits were stopped. Why is this government's welfare regime punishing vulnerable people like my constituent?"
Responding, Theresa May admitted there had been "some issues" with the way the system of assessing people applying for benefits had operated, but insisted the DWP was looking "very carefully" to ensure "proper assessments" were taking place.
Mr Paterson told The Independent Mr Buchanan's case was a "damning indictment" of the "brutal benefits regime" under the current government, which he said left vulnerable people facing "uncompromising bureaucracy".
"The fact that the UK Government's Department of Work and Pensions refused to allow any flexibility in dealing with Mr Buchanan's case is a damning indictment of the brutal benefits regime being administered by the Tory Government," he added.
"The stopping of lifeline benefits seems to be the first and only step they are willing to take, and vulnerable people facing the most difficult of situations caring for loved ones are left to fight an uncompromising bureaucracy no matter how genuine their need.
UK news in pictures

Show all 50
"My fear is that there are many others who have suffered the injustice of losing the benefits to which they are entitled due to the patently unfair and ruthless way in which the benefits system is run under the Tories."
Following Mr Paterson's action, Ms Buchanan was informed by the DWP who informed her that the matter will be resolved within a week, although she said she wasn't "holding out hope".
Close to tears, Ms Buchanan said: "It's really hard. Alan's condition as deteriorated rapidly in the last four years. It's not nice to see him like that. If we were without the benefits for the coming months, I would need a lot of help.
"Had I not shouted about this, I wouldn't have known what to do or how to do it. You hit brick walls every way you run. The people you speak to at Atos can be very rude. It made me feel as if I was asking for something that we didn't deserve. It makes you feel very guilty.
"Some of the people I see at support groups have given up. They don't go any further because of the stress and the strain. They say they're at the lowest of the low. Nobody knows where to turn."
Register for free to continue reading
Registration is a free and easy way to support our truly independent journalism
By registering, you will also enjoy limited access to Premium articles, exclusive newsletters, commenting, and virtual events with our leading journalists
Already have an account? sign in
Join our new commenting forum
Join thought-provoking conversations, follow other Independent readers and see their replies