Prison suicide rate more than doubles in four years, figures reveal
Assaults and self-harm in jails in England and Wales also reach record levels as politicians are urged to address the 'shameful' issues facing the penal system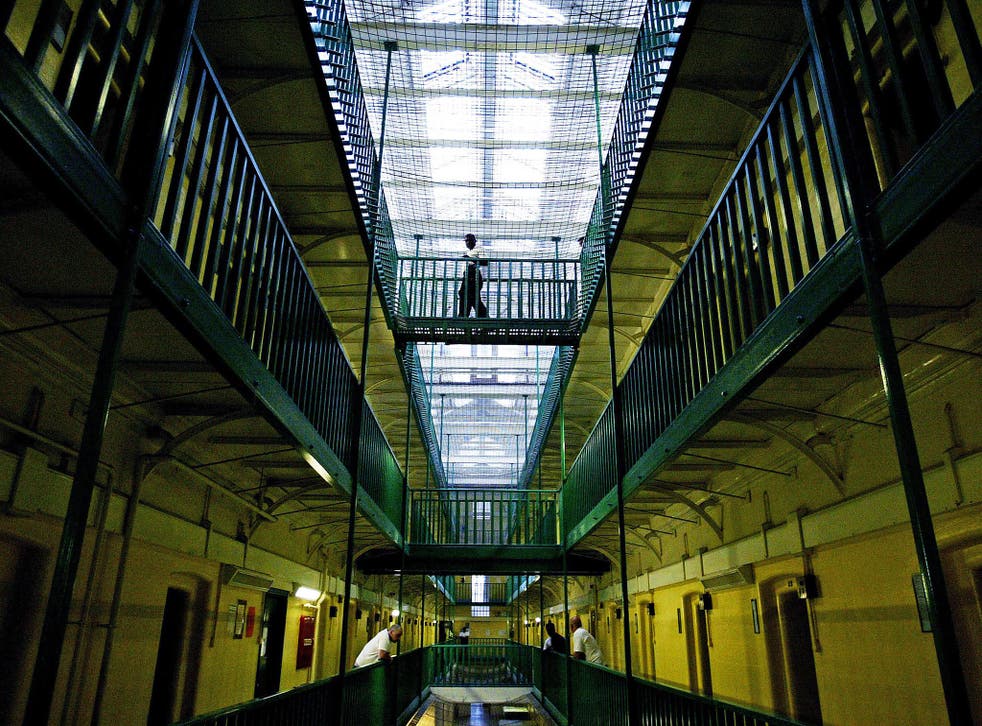 The suicide rate in prisons in England and Wales has more than doubled since 2013, official figures have revealed, prompting campaigners to urge politicians to address the "shameful" issues facing the penal system ahead of the general election.
Statistics published by the Ministry of Justice show that 113 people committed suicide in the year ending March 2017 — an 11 per cent increase on the previous 12 months.
They were among a total of 344 people who died in prisons in England and Wales in the last year — the highest death toll since current recording practices began in 1978.
Prisons have also seen incidents of self harm rise to record levels, with more than 40,000 incidents recorded the year ending December 2016 – an average of 110 a day.
This represents a 24 per cent increase on the previous 12 months. The number of self-harm incidents requiring hospital attendance rose by 21 per cent to 2,740.
Violence in prisons has also risen starkly, with assaults reaching a record high of more than 26,000 in the year ending December 2016 - a 27 per cent increase.
Between 2013 and 2016 the number of assaults has risen by 77 per cent and the number of serious cases has almost trebled since 2012.
Assaults on staff increased by 38 per cent in the year ending December 2016, with almost 7,000 incidents recorded – about 19 per day on average.
The figures come amid growing concern about overcrowding and under-staffing in prisons.
Government figures released earlier this month revealed that two thirds of prisons in England and Wales were overcrowded, prompting warnings from campaigners that the combination of overpopulation and severe staff shortages are creating a "toxic cocktail" within the penal system.
Andrew Neilson, director of campaigns for the Howard League for Penal Reform, said the latest statistics were "shocking but sadly not surprising", adding that the charity is urging political parties to address the issues in their general election manifestoes.
"These figures are shocking, but they're sadly not surprising. They come out every quarter, and every quarter they paint a worsening picture," Mr Neilson told The Independent.
"It emphasises the impact of the combined effect of overcrowding with prisons being under-staffed and under resourced to deal with it, and absolutely underlines the need for radical change in prisons policy.
"We are talking to the political parties and urging to have something about this in their manifestos. This is a public service that is clearly in need of radical change, and we're hoping that whoever wins the next election will start to address that in the coming months."
His colleague and the charity's chief executive, Frances Crook described the figures as "utterly terrible" and "frankly shameful" and urged politicians to address the crisis by taking "bold but sensible steps" to reduce the prison population.
"These latest figures on safety in custody are unutterably terrible. It is frankly shameful that such human misery under the supposed care of the state is allowed to continue in the 21st century," Ms Crook said.
"The general election is only six weeks away and the political parties must address this crisis directly. By taking bold but sensible steps to reduce the prison population, we can save lives and prevent more people being swept away into deeper currents of crime and despair."
UK news in pictures

Show all 50
Deborah Coles, director of Inquest, which provides advice and support around contentious deaths in custody, said: "These shocking figures reflect the desperate reality of prison life characterised by suicide, self-harm and violence and the failure to protect those in its care. Prisons are places where the safety and dignity of prisoners is increasingly under threat."
She added: "Politicians need to address this failing system and the associated economic and human costs. Prison is an ineffective and expensive intervention that fails in its stated aims. It fails to rehabilitate, thereby failing victims and communities. Until there is a dramatic reduction in the use of prison and a redirection of resources into radical community alternatives, then the death and harm will continue."
Join our new commenting forum
Join thought-provoking conversations, follow other Independent readers and see their replies