University that allowed lecturer convicted of beating up student to carry on teaching 'shows total disregard for women's safety'
An NUS spokesperson said Sussex University must 'seriously reconsider the decision to allow a convicted criminal to continue on in his post'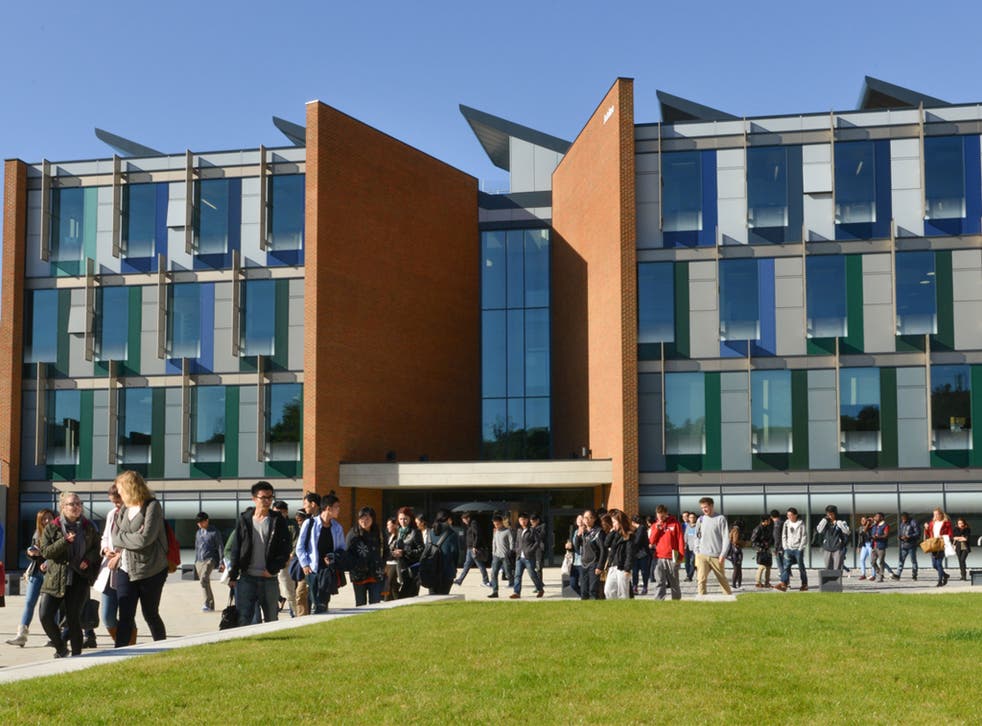 Student welfare campaigners have called for the University of Sussex to be held to account after it was revealed that a senior lecturer found guilty of assault was allowed to continue teaching.
Dr Lee Salter remains employed by the institution and has been able to continue in his post for ten months after he assaulted his girlfriend and former student, 24-year-old Allison Smith.
He was convicted of assault by beating and causing criminal damage to belongings at Brighton Magistrates Court in July this year.
Speaking to The Independent, Ms Smith described the "extreme physical and emotional trauma" she experienced during her relationship with the senior lecturer.
She sought guidance from student support officers following the attack, but said she received no response from the university itself.
Responding to the events exposed by The Independent, The National Union of Students made demands for the university to apologise for what it called "a total disregard for women's safety" and called for a full review of its welfare policies.
Domestic abuse charity Refuge pointed to claims Ms Smith was not offered the degree of support listed as available in the university's own policy statement.
Anti-women laws that still exist in 2016
Chief executive Sandra Horley said: "It is one thing for a university to have a policy in place for students whose safety is at risk, it is another thing to implement it and develop a safety management plan."
Regulations laid out on the university's own website state that: "staff and students are subject to disciplinary procedures that, amongst other things, proscribe violent behaviour".
"The University will take disciplinary action in accordance with its procedures against anyone who behaves in a violent manner including, should it be necessary, the immediate exclusion of the perpetrator from the campus," the policy reads.
"The University may also seek injunctions to exclude the perpetrators of violence from University premises in order to protect staff and students from further violent incidents."
Hareem Ghani, NUS women's officer said: "We need to ensure the University of Sussex is able to move forward from this so a similar situation never arises again."
"For one, the university needs to offer a much-needed apology to Allison and secondly, they seriously need to reconsider their decision to allow a convicted criminal to continue on in his post."
"It is also vital the university reviews its protocol concerning harassment and sexual violence and the survivor support that is made available to students and staff."
"The strong response to Allison's story has only highlighted that the University of Sussex is disconnected from its student body and women students across the country."
"The university's actions show a complete misunderstanding of students' concerns, as well as a total disregard for women's safety."
Ms Horley added: "Dr. Lee Salter has been convicted of a violent assault on a young student. Is it right that someone who has inflicted such a vicious and degrading attack upon a female student remain in such a position of trust, power and influence?"
"I would be very concerned about any student being taught by anyone with such a propensity towards violence," she said. "Why do we have criminal records checks if, once in post, crimes of this type can be committed without any meaningful consequence to someone in this position. A violent lecturer is not a good role model and potentially puts other students at risk."
Salter, 40, pleaded not guilty in court but received a 22-week jail sentence suspended for 18 months, was ordered to complete 150 hours of unpaid work and issued with a restraining order not to contact his victim.
He has since lodged an appeal against the conviction.
Described by Ms Smith as a "manipulative and cruel man", Salter alluded to her of having previous relationships with former students. She said he attended his court sentencing accompanied by another young student from the University of Brighton.
The court heard that Salter's relationship with that student would be "closely monitored" as part of his sentencing.
A spokesperson for Women's Aid said: "A responsible educational institution should not turn a blind eye to domestic abuse. Robust action should have been undertaken by the university to demonstrate to perpetrators that violence against women is never acceptable. If it is not, we will never drive the culture change we need to keep women safe".
The University said in a statement: "The University had been following the court case closely and our thoughts are with our former student. A senior member of the University's management team has been in regular contact with her throughout and they continue to support her."
"The University does not tolerate violence of any kind and it is important that such matters are dealt with by the police and the courts, which takes precedence over employment procedures. We are responding to the courts findings, however we are unable to comment on individual employment matters."
"The welfare of our community is paramount and we encourage any student who is experiencing abuse or has concerns about a friend to contact our Student Life Centre, without delay. We provide a wide range of support for students including a 24 hour service delivered by a team of professional support staff and a dedicated team of counselling professionals who provide support on campus as well as referring students to a range of other national and local services."
Register for free to continue reading
Registration is a free and easy way to support our truly independent journalism
By registering, you will also enjoy limited access to Premium articles, exclusive newsletters, commenting, and virtual events with our leading journalists
Already have an account? sign in
Register for free to continue reading
Registration is a free and easy way to support our truly independent journalism
By registering, you will also enjoy limited access to Premium articles, exclusive newsletters, commenting, and virtual events with our leading journalists
Already have an account? sign in