Syrian war: British volunteers in socialist 'Bob Crow Brigade' prepared to die fighting Isis
Exclusive: Members of Kurdish-allied force speak to The Independent as they prepare for new advance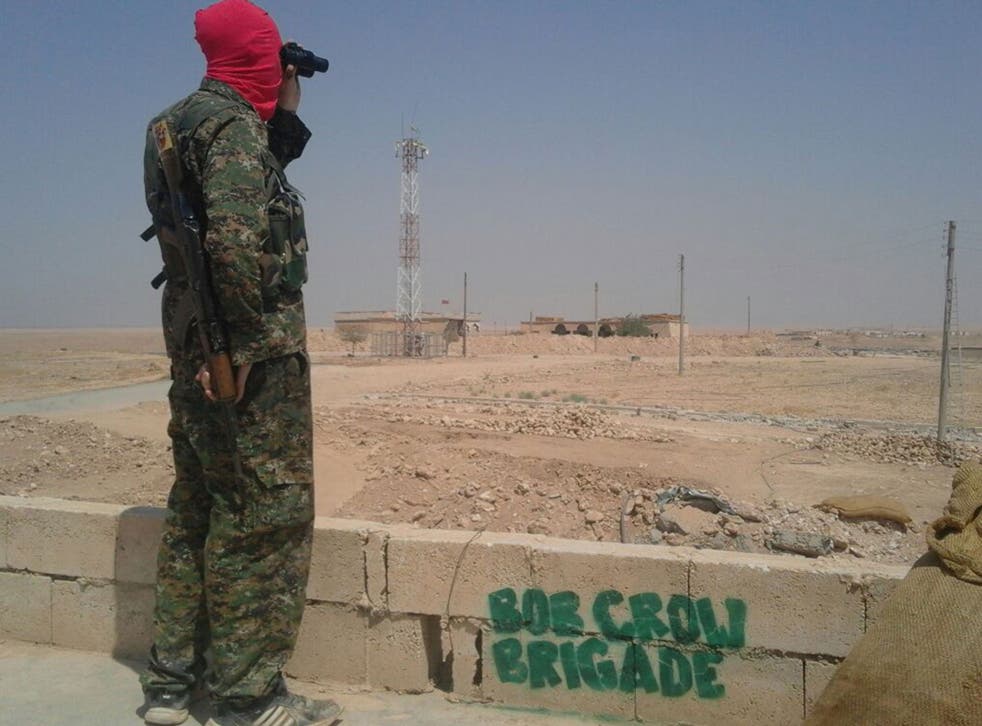 A group of British, Irish and Canadian volunteers fighting in Syria say they are prepared to die in defence of their "revolution" as they prepare to face both Isis and Turkish-backed rebels.
In an exclusive interview with The Independent, members of the socialist Bob Crow Brigade (BCB) said their 40-strong group would battle to "defend the first revolution of the 21st Century" against all enemies.
They came to prominence after posting a photo online showing themselves posing by a wall with a message to Labour leadership contender Owen Smith.
"Want to talk to Isis? Tell that to the martyrs of Manbij," it said, referring to his assertion that "all actors need to be involved" in peace talks.
The painted message was followed by a quote attributed to Bob Crow reading: "If you fight you won't always win. If you don't fight you will always lose."
The fighters, who named their unit after the late RMT General Secretary, travelled separately to join the Syrian conflict and met at a training camp run by the Kurdish People's Protection Units (YPG) in spring this year.
"As we were all socialists, we decided join the International Freedom Battalion where we met other English speakers and decided to use the name [Bob Crow Brigade] so long as we were together," said a member, who did not want to be named.
"There's no initiation process - if you can understand all the accents most of the time, you're in."
The brigade incorporates volunteer fighters from England, Scotland, Ireland and Canada, ranging from 25 to 35 years old.
Many anti-Isis fighters known to have travelled to Syria are former soldiers, with several having fought in Iraq and Afghanistan, but the BCB claims there is no previous military experience in its ranks.
A spokesperson said some members were previously unemployed, while others left occupations including a council gardener, railway worker, removals man, farmer and bike messenger.
"We are fighting for socialism, against fascism, in the Rojava Revolution," he added.
Syria ceasefire comes into effect under US-Russia deal
Rojava, also known as Western Kurdistan, is a region of northern Syria that declared its autonomy in 2013.
After the withdrawal of Bashar al-Assad's armed forces the previous year, local militias took control and the YPG grew in Kurdish areas to become a significant fighting force against Isis.
But the group's Marxist links have been a been a stumbling block for some foreign volunteers, with one US Army veteran saying he planned to join until finding out the YPG were "a bunch of damn Reds".
The BCB is not shy of declaring its allegiance.
"Some of us are dyed-in-the-wool Marxists, some more libertarian, but differences like that melt away here - revolutions have a tendency to do that," a member said.
"Were inspired by the Rojava revolution and have stepped straight from the workplace canteen to the armed struggle.
"We are not ex-soldiers or militaria obsessives, that's not what motivates us - we're Reds."
He cited the method of government in Rojava, which incorporates a variety of ethnicities and religions, and its inclusion of women in leadership positions and its armed forces as reasons for support.
"That's our side - the side that turned the tide on Isis and is carrying out a progressive proto-socialist renaissance," he added. "Our enemies are anyone that attacks it."
The YPG and its allies have gained significant support from the US-led coalition to advance against Isis to control of land stretching almost the entire length of the Syrian border.
But the Kurds' success has alarmed Turkey, with President Recep Tayyip Erdogan has called the fighters "terrorists" and starting a major advance against both Isis and the YPG.
Tanks, elite troops and Turkish-backed rebels poured over the border last month with a remit to fight any "threat", sparking clashes between Kurdish fighters and the advancing Free Syrian Army (FSA).
Both sides are signatories to a fragile ceasefire currently agreed between the Assad regime and opposition but numerous accusations of violations have been exchanged and tensions remain high.
The predominantly Kurdish Syrian Democratic Forces and US special forces were forced to pull out of the former Isis stronghold of al-Rai on Friday as FSA fighters were filmed chanting "we're going to slaughter you" at passing American troops.
As part of the anti-Isis International Freedom Battalion, the BCB are currently stationed in Manbij, where rebels backed by the US-led coalition drove out jihadists after a two-month advance in August.
The location traps the British volunteers between two frontlines – against Isis in its stronghold of al-Bab and hostile Turkish-backed FSA rebels in Jarablus.
Despite impending battle, the BCB has remained engaged with British politics, sporadically taking to Twitter to lend its support to strikes and criticise the Government, American foreign policy and Turkish-backed forces.
When they are cut off in the Syrian desert, commanders have news articles printed off and driven out, with the internet and cable television bringing welcome updates from home when the brigade is stationed in towns.
But the relay of news can be delayed, including Britain's vote to leave the European Union in June.
"We heard the Brexit news word of mouth - an American said 'Duuuudes, Britain just like, wrecked its economy!'," the BCB's spokesperson said, adding that members supported "self-determination".
He said the fighters' mutual ideology led them to take Mr Crow's name, praising the late union leader as a "beacon of hope for the Labour Movement" and hero of socialism.
The RMT (National Union of Rail, Maritime and Transport Workers) has no official view on the BCB but broadly supports the Kurdish push for autonomy in Syria.
Speaking in a personal capacity, Senior Assistant General Secretary Steve Hedley said he thought Mr Crow, who died aged 52 in 2014, would have been "honoured" by the fighters' efforts.
"I think he would draw parallels with the RMT members who went to fight the fascists in the International Brigades of the Spanish Civil War," he told The Independent.
"It was a long-standing tradition to name themselves after people who inspired them."
Henry Tuck, from the Institute for Strategic Dialogue, said the BCB are among at least 300 Western foreign fighters in anti-Isis groups.
He told The Independent that socialism was a "somewhat unusual, but not unheard of, motivation" for recruits, many of whom are driven by perceived humanitarian factors.
But like the vast majority of parties in the five-year Syrian civil war, the YPG has been accused of war crimes and human rights violations.
Its leadership angrily refuted an Amnesty International report accusing its members of forcibly evicting non-Kurdish ethnic groups including Arabs and Turkmen, and destroying their homes.
The inclusion of foreign fighters in the YPG's ranks can also be met with hostility by Syrians wary of external influences.
"Often Western fighters are held back from the frontlines as the groups they are fighting with do not want the negative publicity that can come with the death of an international volunteer and value the legitimacy that international fighters lend to their cause," Mr Tuck said.
"Those with little military experience are less likely to be used in forward roles than those with more experience and skills."
The distinction could be lost on British authorities, who have repeatedly warned that anyone travelling to fight in Iraq and Syria – for whatever side – can be prosecuted upon their return.
"Anyone who does travel to these areas, for whatever reason, is putting themselves in considerable danger," a spokesperson for the Home Office said.
"Those who travel abroad in order to participate in conflicts may be committing criminal or terrorism offences and could face prosecution when they return to the UK.
"There are many crimes committed abroad – including murder – which courts in the UK can prosecute."
Arrests for returned fighters are discretionary, with the circumstances assessed by both the police and Crown Prosecution Service, but at least one British Army veteran reported being detained for fighting with the YPG under the Terrorism Act.
The BCB's spokesperson said members endeavour to remain anonymous and suggested that the British Government could "find socialism as much of a threat as Isis".
For now the group seems optimistic, but with several foreign YPG fighters, including British volunteer Dean Carl Evans, already killed in battles against Isis, fighters acknowledge they may never return home.
"Some of our families are completely supportive, others don't even know… it's remarkably easy to just slip away," the group's spokesperson said.
"Some of our friends tried to talk us out of it - but the list of things they gave as alternatives only cemented our resolve: music festivals, cheap holidays - things we do to distract ourselves from the ever clearer truth that society doesn't need us even as cheap labour any more.
"Right now the UK is waiting either for a rapid collapse or a sudden rejuvenation. Some of us will be there to see it, others probably not."
Join our new commenting forum
Join thought-provoking conversations, follow other Independent readers and see their replies