Taliban shooting victim Malala Yousufzai is the most courageous girl in world, says Gordon Brown
Few watched in Pakistan. Only two of the country's channels showed the speech live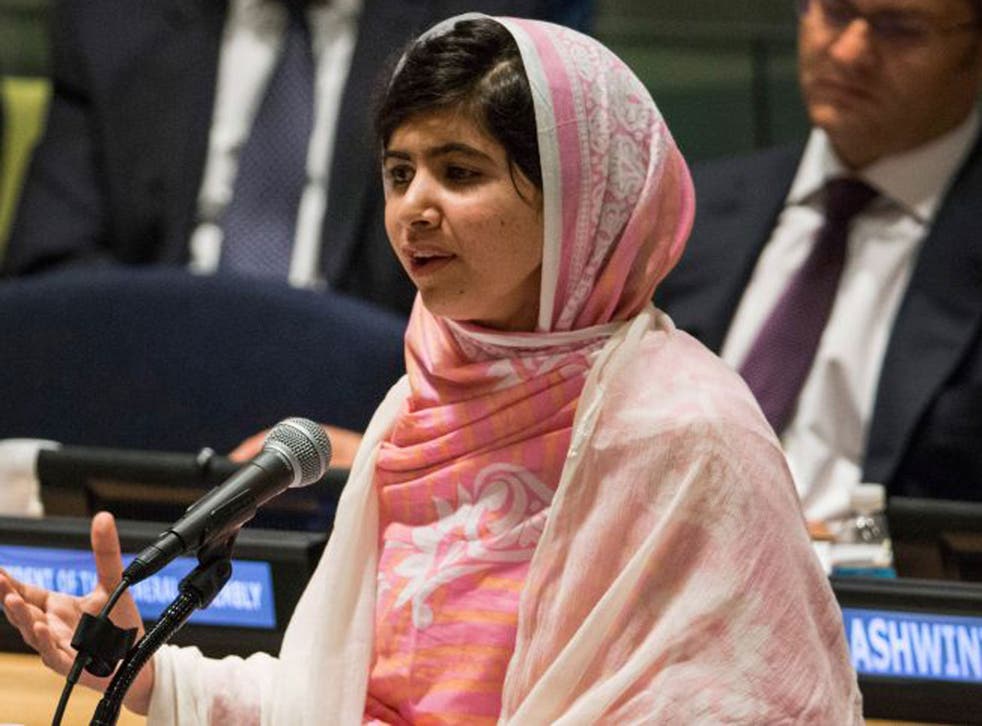 Former UK Prime Minister Gordon Brown hailed Malala Yousafzai as "the most courageous girl in the world" as the Pakistani schoolgirl who was attacked by the Taliban last year called on world governments to provide free compulsory education for every child in a speech at the United Nations headquarters in New York.
The address, timed to coincide with her 16th birthday, drew a standing ovation at a special Youth Assembly held in the presence of Mr Brown, who is the UN's special envoy for education, and the body's Secretary-General, Ban Ki-moon, who declared it "Malala day".
Ms Yousafzai, who was shot in the head in October in Pakistan's Swat Valley after attracting the ire of the Taliban for raising a voice against its attacks on girls' education, also presented Mr Ban with a petition signed by 4 million people asking for help to deliver education to all children.
The speech came as Save the Children released a report based on research by Unesco revealing that almost 50 million children living in war zones do not attend school at all, and that attacks on education are on the rise, largely due to the conflict in Syria. Justin Forsyth, Save the Children's chief executive, said of Malala: "She was speaking for the nearly 50 million children around the world who are currently being denied the opportunity of an education because of conflict." He added that the world "should listen" to Malala, who was nearly killed in last year's attack.
Few, however, managed to watch Ms Yousafzai in Pakistan. Only two of the county's many news channels showed the speech live. The most-watched broadcaster, Geo News, showed portions of the speech later, while other channels all stuck to normal programming. Moreover, Pakistanis are currently unable to see videos on YouTube, because of an ongoing court ban.
The speech did not get much attention in the days leading up to the event. In Pakistan, she is seen as a hero by many, especially those who oppose the Taliban's campaign of violence. But for others she has been turned into to an object of controversy, shrouded in conspiracy theories wildly alleging that she was "a CIA agent" and that her shooting was "staged".
These theories have had alarmingly wide purchase among young Pakistanis on the internet. The hostility to the schoolgirl, some observers say, is a measure of the pitch of anti-Americanism in Pakistan, where even the faintest association with the US is attacked.
Register for free to continue reading
Registration is a free and easy way to support our truly independent journalism
By registering, you will also enjoy limited access to Premium articles, exclusive newsletters, commenting, and virtual events with our leading journalists
Already have an account? sign in
Register for free to continue reading
Registration is a free and easy way to support our truly independent journalism
By registering, you will also enjoy limited access to Premium articles, exclusive newsletters, commenting, and virtual events with our leading journalists
Already have an account? sign in
Join our new commenting forum
Join thought-provoking conversations, follow other Independent readers and see their replies