'Mostly, it's lonely': Teenager describes reality of being held almost 24 hours a day in solitary confinement
Exclusive: Kyefer, who is routinely held in his cell for 23-and-a-half hours a day, tells The Independent solitary confinement is having a compounding impact on his mental health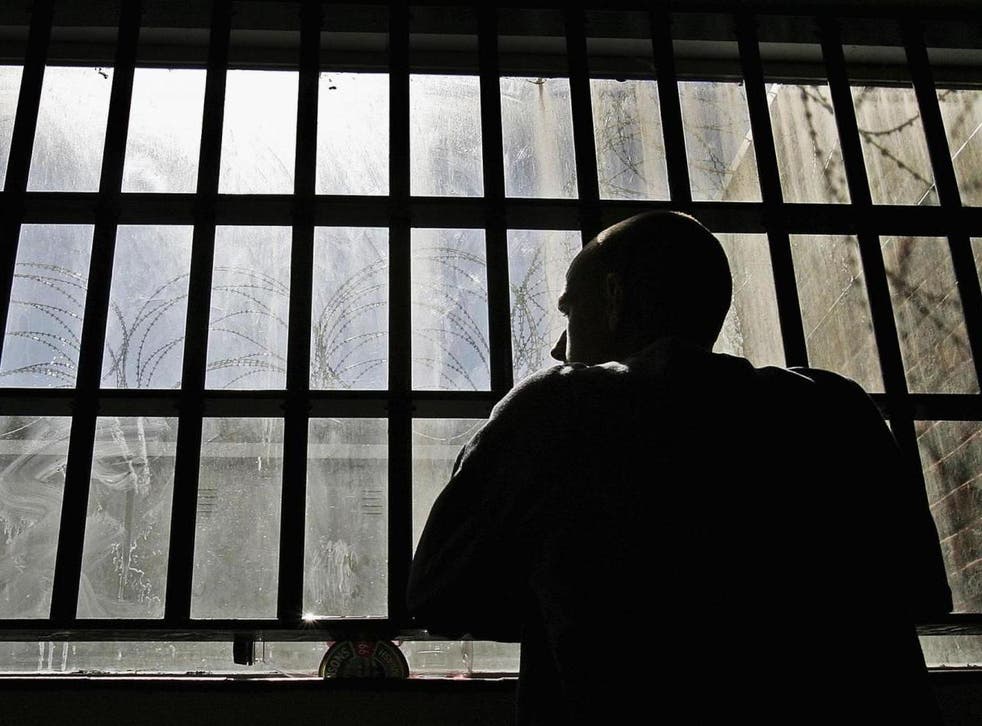 Seventeen-year-old Kyefer spends 23-and-a-half hours a day between the four walls of a small cell. In the room is a bed, a shower and a desk. He lies on his bed and does nothing.
A meal is delivered three times a day through a slot in the door, which he eats alone. He has no television, and only a few books to keep himself occupied. Since he was referred to Cookham Wood Offenders Institution's Segregation Unit several months ago, the teenager has been receiving no form of regular education.
The only stint of daily exercise he gets in the Kent jail is at around 8:30am, when inmates on his wing are allowed half an hour outside.
Kyefer was sentenced to life at the age of 14 on a joint enterprise conviction for a murder and has been at Cookham Wood since January. He has been repeatedly moved between the "segregation" unit and B1, also known as the "progression" wing, during which he says he experienced solitary confinement for more than 20 days in a row.
A report published by the Inspectorate of Prisons earlier this year on Cookham Wood, which holds boys aged 15-18, revealed that in both units, inmates are routinely locked in their rooms for more than 23 hours a day, in a regime it described as "inadequate".
"It's depressing. It's stressful," says Kyefer, according to his mother. He speaks in short sentences and sounds worn out, despite having been cooped up for hours. It's around 2pm, but he says he woke up just moments before. "I sleep a lot. Sometimes being stuck in here makes me angry. Mostly it's lonely," he adds.
Locking juveniles up for 23-and-a-half hours is a breach of human rights law, according to the European Committee for the Prevention of Torture (CPT). Earlier this year, the Committee found that young offenders at Cookham Wood were on occasion being held in conditions "akin to solitary confinement" for up to 80 days for reasons of "discipline and good order".
An investigation by The Independent in February exposed more than a dozen examples of child inmates being held in solitary confinement, including teenage prisoners with serious mental health conditions for whom it caused considerable distress and psychological damage.
Kyefer, who grew up in Liverpool and, since his sentence, has been held in five different jails, was recently diagnosed with a borderline personality disorder. His mother, Sheena Evelyn, says she was told by his psychologist that his mental state is declining due to the trauma of being separated from his family at a young age and then locked up with no human contact.
A recent psychiatric report on Kyefer seen by The Independent shows that on a number of occasions he reported feeling "stressed by being in his cell too much", "frustrated with being in segregation" and "frustrated with being in his cell for a long time".
Ms Evelyn says Kyefer phones her whenever he can because he is so distressed. "He phones me whenever he can just to speak to someone. There's no education. Nothing. These boys are getting 30 minutes out of the cell exercise and that is it," she told The Independent.
"Staff have told me that's the standard procedure. Off the back of that, they're going to be misbehaving. They're caged like animals. So then they go back to segregation. It's a vicious circle. They bounce from segregation to B1 wing."
The Howard League for Penal Reform, which recently launched a court case challenge over a teenage boy's prolonged solitary confinement in Feltham Young Offenders Institution, has warned of the "irreversible risk of harm" that can result from the prolonged isolation, saying it raises "serious child protection concerns".
"Kyefer has always been an energetic child. Now he always disengaged and depressed. Even when I visit him with his younger siblings, he isn't engaging as well as he used to. This prison is breaking him," says Ms Evelyn.
"He's threatened to take his own life on multiple occasions. Staff have ignored his pleas. It's falling on deaf ears. Has there got to be a death of one of these boys before something happens?"
It comes as the Chief Inspector of Prisons warned this week that young offenders aged 15 to 18 in Feltham Young Offenders Institution, where Kyefer reportedly spent six months in solitary confinement before being moved to Cookham Wood, are being locked in their cells for almost entire days and deprived of education and activity.
A "restricted regime" has resulted in a notable rise in the use of solitary confinement, in which four in 10 inmates are locked up during the school day, inspectors said.
An earlier report by the Inspectorate on Cookham Wood found that while there were some positive developments in the prison, the regime on the segregation unit was "inadequate", while the regime for the most challenging boys on B1 was "insufficient".
Laura Janes, legal director of the Howard League for Penal Reform, told The Independent: "This practice of keeping a child in isolation has been raised as a very serious issue by a range of expert bodies. It raises really serious child protection concerns.
"Research suggests that prolonged isolation of anyone, let alone children, can bring with it irreversible risk of harm. Prisons are sometimes permitted to limit children from mixing with other children, but that can only be in accordance with prison rules in which require all sorts of reviews to take place.
UK news in pictures

Show all 50
"We know the prison system is in crisis, but isolation is such a potentially damaging thing to do to children. It cannot be justified by lack of resources. If a parent locked their child in their bedroom or house without having meaningful human contact for 22 hours a day I think it would be seen as a serious child protection issue.
Ms Janes said conditions in the B1 unit of Cookham Wood was "a matter of great concern", arguing that for young offenders to have to remain in their rooms for 23-and-a-hours a day when they are supposed to be showing "progression" created a "catch 22 situation".
A spokesperson for the Ministry of Justice told The Independent they did not comment on individual cases, but claimed "we do not have solitary confinement in the UK". They added that segregation "is only be used as a last resort, under specified safeguards and regular review, where young people are putting themselves and others at risk."
Register for free to continue reading
Registration is a free and easy way to support our truly independent journalism
By registering, you will also enjoy limited access to Premium articles, exclusive newsletters, commenting, and virtual events with our leading journalists
Already have an account? sign in