Isis video: Siddhartha Dhar was sent letter demanding passport by police - weeks after he had already fled to Syria
Paul Peachy
Wednesday 06 January 2016 09:54 Comments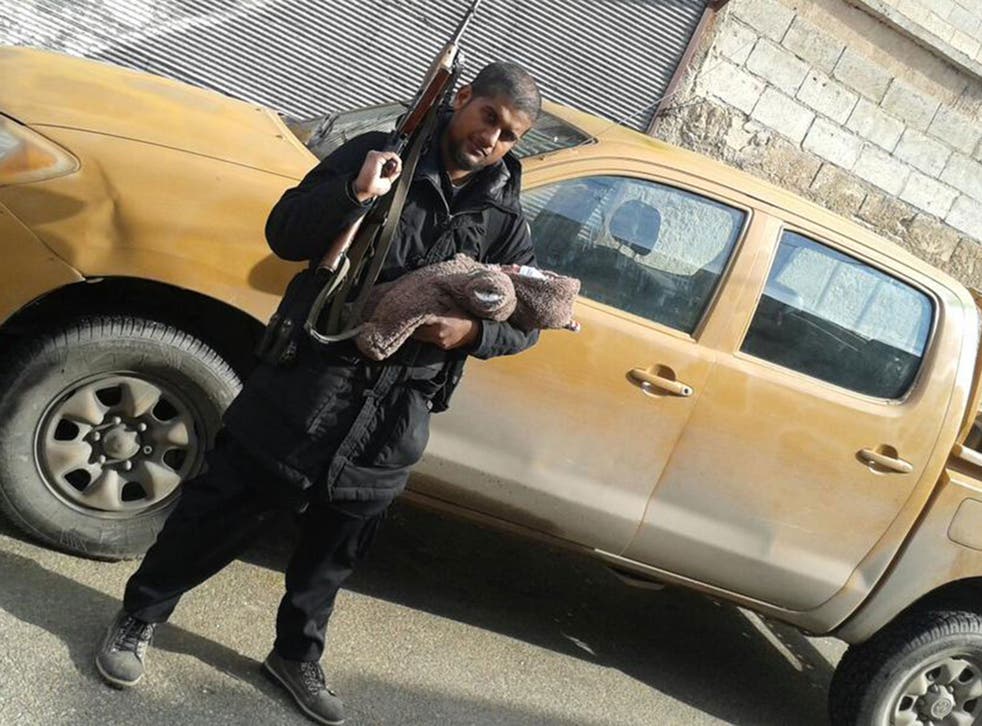 The Government has been accused of presiding over a major security lapse after a Briton suspected of featuring in Isis propaganda about its latest murders slipped out of the country while on police bail.
Siddhartha Dhar fled the country 15 months ago after an apparent double failure, when police failed to secure his passport and exit checks failed to identify him as being under investigation for a terrorism-related offence.
A letter, sent to Dhar at his home address six weeks after he had already left for Syria, asked him to 'surrender all travel documents at Charing Cross police station by 23:00 on 03/10/14.' By the 3 October, Dhar had already absconded with his wife and four children by coach to France.
The shadow Home Secretary, Andy Burnham, brandished the letter and called for an inquiry in the House of Commons, pressing the Home Secretary, Theresa May, on what she had done after it was discovered that Dhar had fled the country.
He said that Dhar had been arrested six times for terrorism-related offences and was well known to the authorities, but was still able to leave the country. ""It is clear he had left the country long before this letter was sent. The system has failed because it allowed him to abscond to Syria.He was well-known to the authorities having been arrested six times on terrorism related offences. Something has clearly gone very seriously wrong," Mr Burnham told the Commons yesterday.
Dhar headed to Syria via Paris by coach on 27 September 2014, the day after he was released from custody following his arrest during an inquiry into alleged support for the banned extremist group al-Muhajiroun. Dhar was ordered to hand in his passport as part of his bail conditions but was not accompanied by a police officer to ensure he complied with the conditions.
On his arrival in Syria, Dhar taunted authorities for allowing him to slip through the net. He posted a picture on social media in which he is holding his baby son in one hand and a rifle in the other. He wrote on Twitter: "What a shoddy security system Britain must have to allow me to breeze through Europe to the Islamic State."
The letter, dated 7 November, asks Dhar to call the police when he received the letter: 'Are there any changes to your circumstances that the police need to be aware of? Could you please contact the police on the telephone number provided as a matter of urgency?'
In August 2014, Dhar said in a television interview after the beheading of the US journalist James Foley that more murders would be expected unless Britain and the US changed their policies in relation to Syria. Dhar's family has said that there were similarities between his voice and that of the masked man who is seen killing five people accused of spying for Britain in a video released at the weekend.
Ms May said yesterday that an initial assessment has been made of the video – in which a masked spokesman with a British accent issues threats to Britain and calls David Cameron an imbecile – but did not comment further. She repeatedly declined to say whether she had ordered an inquiry or to say if and when she was told about Dhar's departure from the country. "Decisions as to whether someone is put on police bail are operational matters for the police," she said.
Terror plots foiled by British security since 7/7 attack
UK terror plots that were foiled by security services

Show all 14
David Anderson, QC, the Government's independent reviewer of anti-terror legislation, said that hundreds of people known to the security services had got out of Britain and ended up with Isis.
Boris Johnson, the Mayor of London, said he would be taking up the issue with the police as to why the decision was taken not to ensure that Dhar's passport was removed.

Register for free to continue reading
Registration is a free and easy way to support our truly independent journalism
By registering, you will also enjoy limited access to Premium articles, exclusive newsletters, commenting, and virtual events with our leading journalists
Already have an account? sign in
Join our new commenting forum
Join thought-provoking conversations, follow other Independent readers and see their replies