Tesco worker 'told gay couple they were disgusting after man kissed boyfriend's cheek'
Steve Luetchford said other staff failed to intervene during the rant in Brixton
Lizzie Dearden
Saturday 08 August 2015 15:08 Comments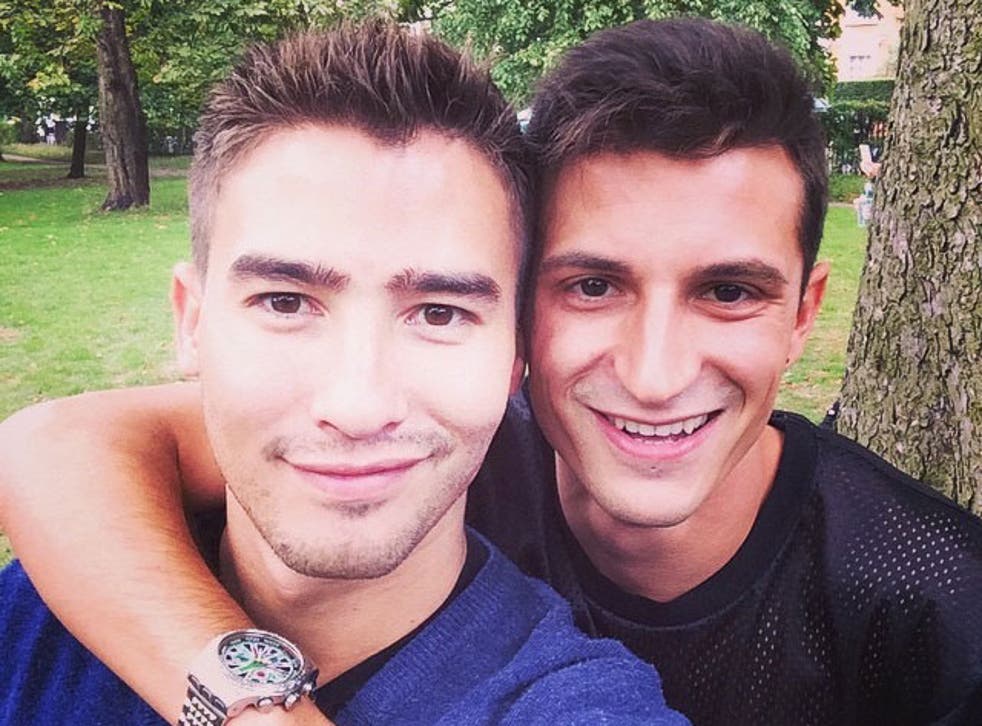 A Tesco worker in London called a gay couple "disgusting" and told them they had "no right" to display affection in public in a homophobic rant, a man has claimed.
Steve Luetchford was shopping with his boyfriend, Mattia Pievani, at the chain's Brixton superstore on Thursday night when the woman allegedly launched the tirade.
"We were dashing around looking for dishwasher tablets and my boyfriend turned around and held my hand, gave me a kiss on the cheek and told me he loved me," Mr Luetchford told The Independent.
"Then heard shouting and realised the woman was talking to us.
"She said: 'You can't kiss in front of children, you can't do that in here, you should go outside to do that.'
"We had a moment where we ignored her but she kept on repeating it. She said: 'You don't have the right to do that in front of children'."
Mr Luetchford, 28, who noticed no children in the supermarket, said he told the staff member that they had every right to show affection and what she was saying was discriminatory.
But he claims the woman ignored his protests and that two other Tesco employees standing nearby refused to intervene when he complained.
Mr Luetchford, who works at Ku Bar in Soho and as a part-time actor, claimed she called him and his boyfriend "misses", likening them to women.
After attempting to speak to a manager and make a complaint – requests he said were refused – he and Mr Pievani paid and left.
"I felt like I couldn't go back there because I'm gay," Mr Luetchford said.
He moved to London from South Africa four years ago and said he had never before been made to "feel ashamed of who I am".
"I'm in the UK, I'm in the first world, I'm in a place that's supposed to be accepting of all minorities," he added.
"Even if you don't agree with something, you don't get to make someone feel that way. Not anymore."
LGBT+ rights around the globe

Show all 9
Mr Luetchford, who wrote about the incident on social media, said he received a huge response from the LGBT community on Facebook and Twitter, with many saying they had experienced similar verbal abuse.
"I spoke out because I think a lot of people don't say anything," he added. "Everyone wants to not have to think twice before holding someone's hand or giving them a kiss."
The alleged incident came months after a cashier in another Tesco supermarket, in Surrey Quays, allegedly told a lesbian couple that gay people "shouldn't have babies" and should "die alone".
Mr Luetchford said the manager of the Brixton branch had called him to apologise and say the matter was being fully investigated.
"Everyone is welcome at Tesco so we take any allegations of discrimination extremely seriously," a spokesperson for Tesco said.
"Our Brixton store manager is looking into the incident and our customer service team, who are in contact with Mr Luetchford, will update him as soon as they can."
Register for free to continue reading
Registration is a free and easy way to support our truly independent journalism
By registering, you will also enjoy limited access to Premium articles, exclusive newsletters, commenting, and virtual events with our leading journalists
Already have an account? sign in
Join our new commenting forum
Join thought-provoking conversations, follow other Independent readers and see their replies