What British Muslims really think about poll that asked: 'What do British Muslims really think?'
This week's ICM survey for Channel 4 polled Muslims who live in areas where they make up at least 20% of the population
Tom Brooks-Pollock
Tuesday 12 April 2016 11:23 Comments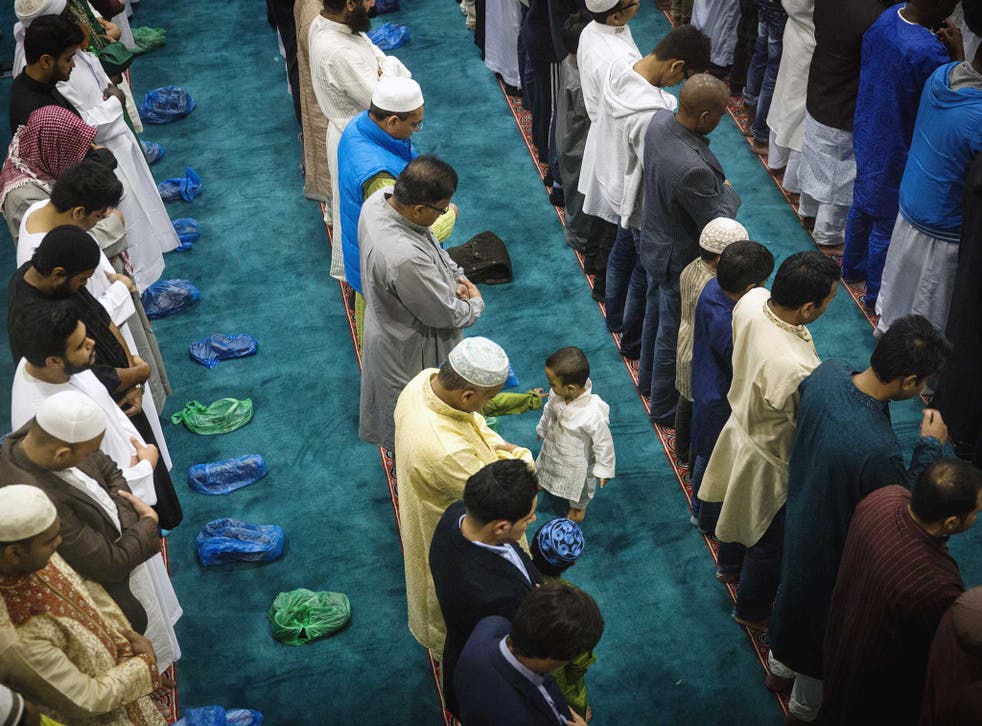 This week's survey of British Muslims gave rise to warnings about "ghettos" and a "nation within a nation" because of attitudes towards gay people, women and suicide bombers.
The poll made alarming reading for the former chair of the Equalities and Human Rights Commission, Trevor Phillips, who will present a Channel 4 programme entitled What British Muslims Really Think, to be aired on Wednesday.
He penned comment pieces for the Sunday Times and Daily Mail – which deployed the above-mentioned phrases in their headlines.
The ICM poll found that a majority of British Muslims think homosexuality should be illegal, just under a third think polygamy should be legalised, and the "equivalent of 100,000 Muslims", in Phillips' words, or 4 per cent, sympathise with suicide bombers who fight injustice.
However, as Shiraz Maher, lecturer in war studies at King's College London, pointed out, there are problems with the sample: it consists only of Muslims living in areas where they make up at least 20 per cent of the population, who are likely to be less integrated with their non-Muslim neighbours.
Here's ICM's description of its sample methods, courtesy of Adil Ray:
Ray thinks that, for this reason, such polls are unhelpful, when it is already a problem with the attitudes of a minority of British Muslims. Pollster Anthony Wells, in a post on UK Polling Report, set out why polling Muslims as a group is particularly difficult.
The most powerful Muslims in the world

Show all 9
He writes that there is "no ideal way", because each possible methodolgy, within cost contraints, has its biases: internet panels are skewed towards well-integrated English-speakers, while random phone-ringing won't produce big enough samples. So ICM's methodolgy, of face-to-face polling, is probably the least worst option. He says it covers 51 per cent of the country's Muslim population.
Wells adds:

The pollster concludes that the poll doesn't tell us much new: that most Muslims identify as British, that they are more socially conservative than the rest of the population, the overwhelming majority condemn terrorism and Isis, but a tiny minority do not.
Miqdaad Versi, of the Muslim Council of Britain was less positive about the poll, writing in the Guardian that the poll was "skewed" and "divisive".

Elsewhere, Muslims reacted to the poll in a less scientific, though no less compelling way – by making the #WhatMuslimsReallyThink hashtag about the comically banal.
Register for free to continue reading
Registration is a free and easy way to support our truly independent journalism
By registering, you will also enjoy limited access to Premium articles, exclusive newsletters, commenting, and virtual events with our leading journalists
Already have an account? sign in
Join our new commenting forum
Join thought-provoking conversations, follow other Independent readers and see their replies