'The UK Hunger Games': Home Office anti-immigration tweets spark Twitter backlash
Crackdown against suspected offenders causes outrage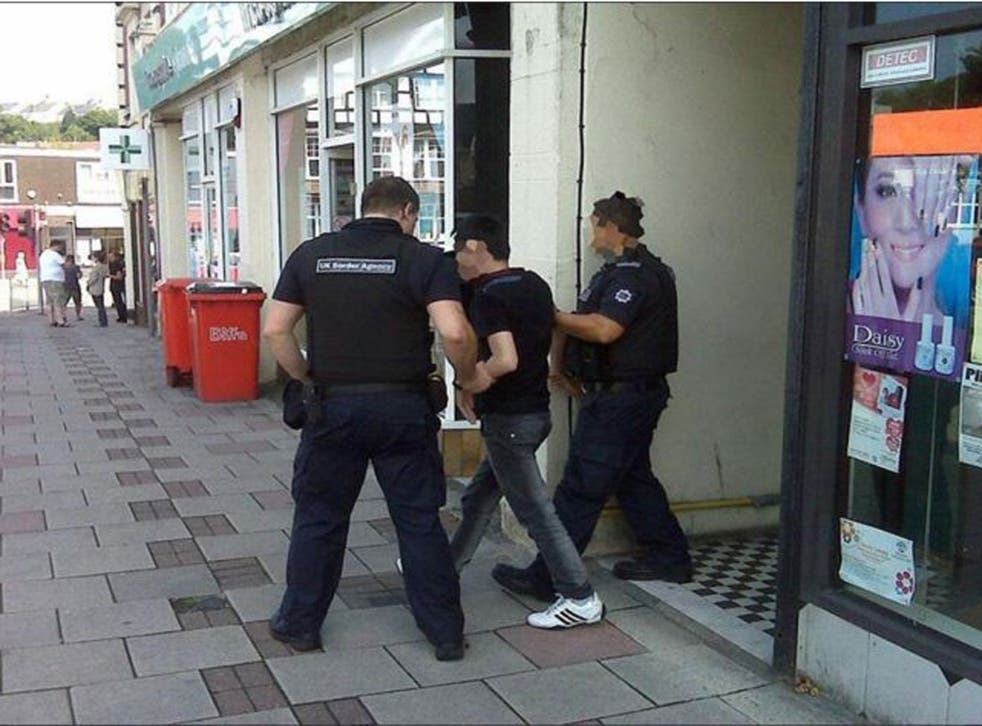 A high-profile Home Office crackdown on illegal immigration has sparked a backlash of criticism accusing it of racial profiling, contempt of court and using the Twitter hashtag #immigrationoffenders to instigate the "UK Hunger Games".
The official Twitter profile @ukhomeoffice posted pictures as it arrested suspects in connection with possible immigration offences, showing people with their faces pixillated being taken away by officers.
While most of the posts were careful not to jeopardise potential legal action by saying the arrested people were guilty, at least one did not, linking to a Home Office website page describing all 139 suspects as "immigration offenders".
Users responded on Twitter by accusing the government of publicising the crackdown as a form of "dystopian" entertainment, with comedian David Schneider sarcastically saying: "I'm enjoying @ukhomeoffice's tweeting of the preliminary rounds of the UK Hunger Games."
The Hunger Games is a dystopian series of novels, made into a film starring Jennifer Lawrence, where youths from the lower strata of society are rounded up and made to fight for the entertainment of the wider public.
Guardian columnist Charlie Brooker wrote: "Hey @ukhomeoffice why not make your tweet-a-long-a-stormtroop gallery of brown folk thrown in vans even more dystopian by using cattleprods?"
And David Allen Green, legal correspondent for the New Statesman, said: "For the @ukhomeoffice to say those arrested are already #immigrationoffenders is to prejudge their cases and possibly contempt."
Anger, particularly at the possible use of racial profiling in the crackdown, was not limited to the social media platform.
The Equality and Human Rights Commission said it was looking into a whole range of practices that make up the anti-immigration campaign.
A spokesman said: "The Commission is writing today to the Home Office about these reported operations, confirming that it will be examining the powers used and the justification for them, in order to assess whether unlawful discrimination took place.
"The letter will also ask questions about the extent to which the Home Office complied with its public sector equality duty when planning the recent advertising campaign targeted at illegal migration."
Phil O'Shea, who witnessed one of the operations earlier this week in North London, told the Kilburn Times: "They appeared to be stopping and questioning every non-white person, many of whom were clearly ordinary Kensal Green residents going to work."
The #immigrationoffenders campaign comes after criticism of the Home Office for its use of stop-and-search tactics, and of vans telling illegal immigrants to "go home".
Writing in the Independent, Dave Garratt, the chief executive of charity Refugee Action, warned that the operations could "incite racial tensions".
"Over the last few weeks we've seen some very visible signs of the Government's 'hostile environment' crusade. There have been vans out on the streets with threatening slogans and, reportedly, non-white people being visibly stopped and searched," he wrote.
"The Home Office is responsible for community cohesion. Yet we are increasingly seeing what appears to be hostility towards non-white immigration, which will do nothing but incite racial tensions and divisions within otherwise rich and diverse communities."
Championing the campaign on the Home Office website, Immigration Minister Mark Harper said: "Today's operations highlight the routine work we are carrying out every day to stamp out illegal working. We are sending a clear message to employers who choose to use illegal labour: we will find you and you will pay a heavy penalty."
And a Home Office spokesman defended the tactics, saying: "We make no apology for enforcing our immigration laws and our officers carry out hundreds of operations like this every year around London. Where we find people who are in the UK illegally we will seek to remove them."
Shadow immigration minister Chris Bryant said: "The Home Secretary said that it is unacceptable to stop someone simply on the basis of their ethnicity. Theresa May said that someone from an ethnic background was seven times more likely to be stopped than a white person, and she said that this was wrong and we supported her.
"We must now have immediate reassurance from the Home Secretary that this is the case for immigration enforcement too. With enforcement operations now under the direct control of the Home Office she must establish straight away whether the rules preventing racial profiling are being enforced.
"Intelligence-led operations to remove illegal immigrants are to be welcomed. Racial profiling is not."
Register for free to continue reading
Registration is a free and easy way to support our truly independent journalism
By registering, you will also enjoy limited access to Premium articles, exclusive newsletters, commenting, and virtual events with our leading journalists
Already have an account? sign in
Register for free to continue reading
Registration is a free and easy way to support our truly independent journalism
By registering, you will also enjoy limited access to Premium articles, exclusive newsletters, commenting, and virtual events with our leading journalists
Already have an account? sign in
Join our new commenting forum
Join thought-provoking conversations, follow other Independent readers and see their replies