Thousands more children at risk
Huge crackdown on children's services after Baby P inquiry as 28 councils are named and shamed over failed care.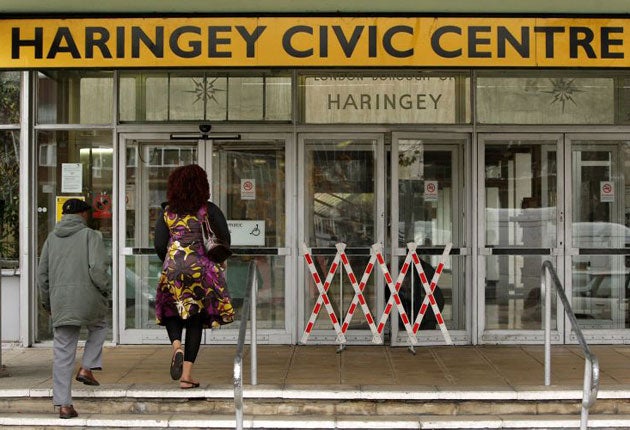 Thousands of Britain's most vulnerable children are at risk because councils are failing to move swiftly enough to protect them from abuse, it emerged last night.
Dozens of local authorities are taking inadequate action to avoid repetition of serious abuse cases, warned the head of the Office for Standards in Education, Children's Services and Skills (Ofsted).
As the Government announced an unprecedented crackdown on children's services in an attempt to avoid another tragedy like that involving Baby P, the watchdog published a list of 28 councils where internal inquiries into serious injuries or child deaths caused by abuse were judged "inadequate".
Ofsted said that 38 of the 92 case reviews it investigated were carried out inadequately. In addition, one in four local authorities had not carried out reviews – possibly, said Ofsted, because they did not realise they had to. Christine Gilbert, the Ofsted chief executive who is also the chief inspector of schools, said: "The latest figures show many children's services are failing to learn fast enough from the most serious cases. Too many opportunities are missed and too many vulnerable children are still being let down."
In the case of four councils – Birmingham, Cornwall, Northamptonshire and Surrey – Ofsted judged that three inquiries into child abuse cases were carried out inadequately. The revelations came after Ofsted's report into Haringey Council's handling of the Baby P case revealed a devastating catalogue of blunders.
The Children's Secretary, Ed Balls, called for the removal from office of Haringey's director of children's services, Sharon Shoesmith. The Council leader, George Meehan, and Liz Santry, the councillor responsible for children's services, resigned. Baby P, aged 17 months, died in August after receiving more than 50 injuries from his abusive mother, her boyfriend and her lodger.
Ms Gilbert told The Independent that the circumstances in Haringey were "exceptional but not unique" and there was still resistance by some directors of children's services to tackling inadequacies. "One said to me 'but this is only one case'," she added. Mr Balls said Ofsted's findings about the shortcomings of social services were "devastating", and announced that every council in the country would face an annual "spot check" on the delivery of care. Every children's board which carried out a case review judged inadequate has been told to convene an independent panel to reconsider the verdict. Yesterday, Ofsted published the results of an investigation of 50 of the 92 reviews it had received, showing that 21 involved children under the age of one – 16 of whom had died (in 14 of these cases, a parent or partner was suspected or found guilty of abuse or neglect). "In five cases, the baby was found dead after sleeping with a parent," the report said. "In all these, there was evidence of, or suspected, drug and/or alcohol abuse by the parent sleeping with the baby. Of the nine children in the one-to-10 age group, three were from large families known to agencies, where signs of serious and chronic abuse or neglect had not been appropriately assessed or addressed.
"One child died in a house fire, another due to scalding, another suffered abuse and neglect. A feature of these cases was that agencies failed to understand, accept or assess the impact of domestic violence. In three cases, domestic violence was known about and adults dealt with by police without consideration of impact on the children."
In one case, a report said: "A further visit was made following a referral from neighbours. The mother was reluctant to speak to the police or let them into the property. They spoke to her at the door ... neither mother nor child appeared injured. There is no indication that the child was examined (it had in fact been severely injured)."
Ofsted's inspectors added: "More often, reports noted that the child was not seen, that there was no record of when, or if, the child was ever seen alone, no record of how they looked and what they said, and no account was taken of their wishes and feelings."
'Inadequate action' Child abuse reviews

The 28 local authorities where serious case reviews into child abuse were judged to be "inadequate".

*Councils where three reviews were carried out inadequately:

Birmingham, Cornwall, Northamptonshire, Surrey

*Two inadequate reviews:

Devon, Rotherham.

*One inadequate review:

Barnsley, Bolton, Bristol, Derbyshire, Doncaster, Hampshire, Hertfordshire, Lambeth, Lincolnshire, Manchester, Middlesbrough, North East Lincolnshire, Nottingham City, Peterborough, Portsmouth, Sandwell, Shropshire, Somerset, Staffordshire, Stockport, Suffolk, Thurrock.
Join our commenting forum
Join thought-provoking conversations, follow other Independent readers and see their replies