Tom Watson calls for UK citizens to 'buy British' in response to Brexit and Donald Trump
Labour's deputy suggests the world should reserve its judgement on US President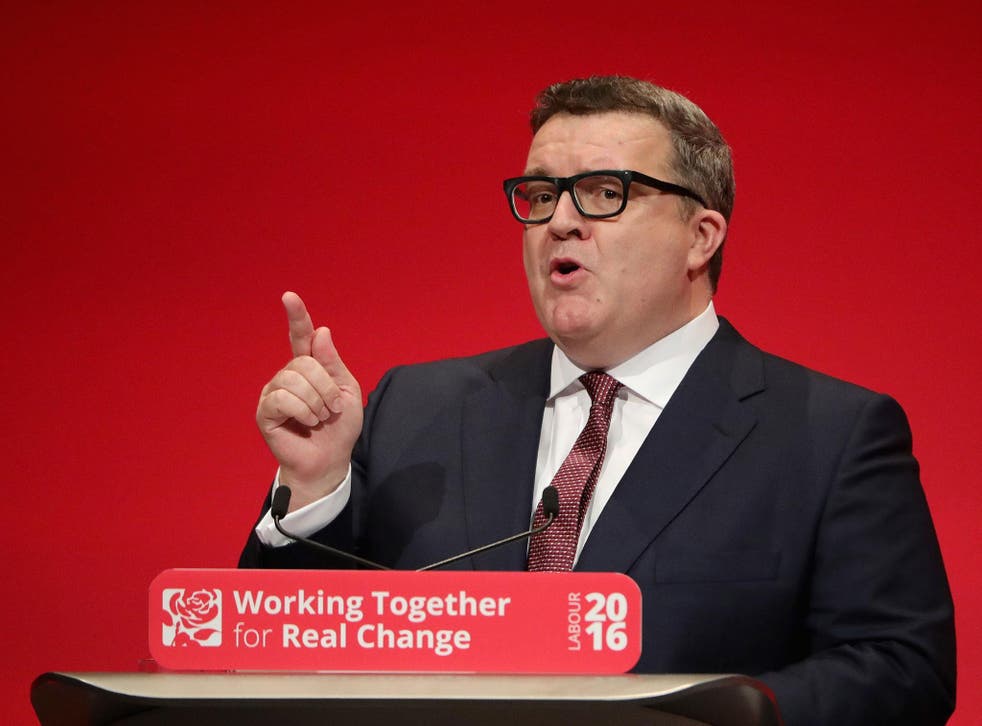 Labour's deputy leader Tom Watson has called on UK citizens to "buy British" in response to President Donald Trump's repeated pledge to "put America first" – placing him at odds with party leader Jeremy Corbyn.
In a controversial speech, Mr Watson said the UK could experience a "Brexit bounce" when it leaves the EU and questioned the prevailing belief that free trade was always a good thing.
As politicians and the media rush to condemn Mr Trump, Mr Watson suggested people should "keep an open mind" about the new President's policies.
Speaking at the Co-operative Party Economic Conference in London, Mr Watson said: "If Trump says 'buy American', our rational response is 'buy British'.
"Yet to say 'buy British' these days risks sneering derision from much of Britain's commentariat and chattering classes, few of whom have been on a factory floor lately. When did you last hear Theresa May say it?"
He argued that the creation of a national investment bank could benefit the UK by prioritising investment in industries that make goods currently imported from overseas.
Mr Watson said the election of Mr Trump added "real uncertainty to global trading arrangements, against a backdrop of significantly increased economic nationalism".
But the MP, who has a background in trade unionism, asked: "What if he does bring back the manufacturing jobs to America?
"What if the interests of the rust-belt workers, who had their lives turned upside down by cheap imports from China, are prioritised over the ideological beliefs of Davos habitués?"
The speech places the deputy leader in a different position from the one recently adopted by Mr Corbyn, who has said he wants Britain to seek "full tariff-free access" to the single market on leaving the EU.
Historically, however, Mr Corbyn has been a Eurosceptic, opposing every major European treaty since voting against EEC membership in 1975.
In September last year, Mr Corbyn attacked EU "free market dogma" in the Commons, saying it was damaging the economies in many developing countries.
Mr Watson is the MP for West Bromwich East, which voted Remain but is in the Black Country, where a majority of the surrounding constituencies opted for Brexit.
Although Mr Watson campaigned to remain, he has always said he accepts the Brexit decision and has attacked the Liberal Democrats for saying they would vote against triggering Article 50.
The deputy leader argued that Mr Trump might have a point when he says the Chinese have taken American jobs in manufacturing.
"You can make a cogent case that the debt-fuelled growth of China has given Chinese corporations who receive forms of hidden state subsidies an unfair advantage in Western markets," he said.
"Indeed, Trump used the export of manufacturing jobs to China as a devastating political weapon."
And Mr Watson argued that many in the trade union movement had questioned the wisdom of free trade agreements for years.
"Now those international trade agreements Donald Trump is ripping up with gusto have also been the focus of opposition by organised labour, and for good reason: they also prohibit states from protecting workers," he said.
"For the UK to ignore the early signs of a global reformation of international trading arrangements would be a mistake."
True colours? Is Blue Labour the way forward for the left?

Show all 4
Mr Watson suggested the UK was "arguably" too dependent on the financial sector, particularly at a time when a number of banks are apparently planning post-Brexit moves to Germany.
He quoted the economist Robert Skidelsky in calling for "rapid expansion to substitute goods currently imported with domestically produced goods to the UK".
His views highlight the difficulties the Labour Party is having reconciling itself to Brexit after the vast majority of its MPs campaigned to remain but many of its traditional voters opted to leave.
This week, a handful of Labour frontbenchers resigned their posts after Mr Corbyn said he would impose a three-line whip on his MPs instructing them to vote to trigger Article 50.
Mr Corbyn, Mr Watson and many other Labour MPs have said they will not obstruct the will of the people when the bill comes before Parliament – but other MPs, including Tulip Siddiq and Jo Stevens, both of whom represent strongly pro-Remain seats, said they will listen to the views of their constituents.
Register for free to continue reading
Registration is a free and easy way to support our truly independent journalism
By registering, you will also enjoy limited access to Premium articles, exclusive newsletters, commenting, and virtual events with our leading journalists
Already have an account? sign in
Register for free to continue reading
Registration is a free and easy way to support our truly independent journalism
By registering, you will also enjoy limited access to Premium articles, exclusive newsletters, commenting, and virtual events with our leading journalists
Already have an account? sign in
Join our new commenting forum
Join thought-provoking conversations, follow other Independent readers and see their replies