Top court refuses to rule on allowing rape victims to have abortions
Appeal Court says issue of abortion reform should be left to Stormont's Assembly
May Bulman
Thursday 29 June 2017 12:37 Comments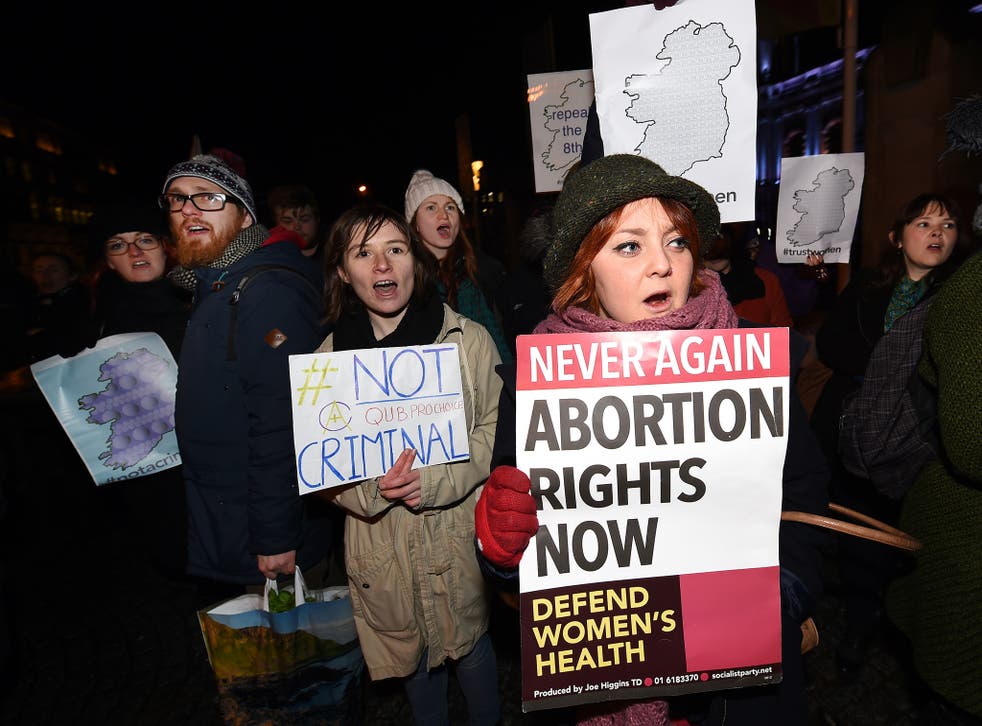 The Court of Appeal in Northern Ireland has refused to rule on allowing rape victims to have abortions, ruling that it is not up the courts to decide on abortion law.
Northern Ireland's Appeal Court said abortion reform should be left to Stormont's Assembly as it ruled that the law was compatible with existing provision.
The court was set to decide on Thursday whether to uphold two high court rulings from 2015 and 2016 that ruled existing abortion laws breached a woman's right to a private life under European law.
The rulings, which involved women and girls who were unable to undergo abortions in local hospitals in cases of fatal foetal abnormality or who had become pregnant through sexual crimes, were appealed by the Department of Justice and Northern Ireland's attorney general.
The NI Human Rights Commission (NIHRC), which brought the original case, was cross-appealing on Thursday and re-introduced all of the original grounds it brought before the High Court.
But the Appeal Court said the issue of abortion reform should be left to Stormont's Assembly.
Unlike the rest of the UK, it is unlawful to perform a termination of pregnancy abortion in Northern Ireland unless a woman's life is at risk or there is a permanent or serious risk to her mental or physical health.
The punishment for breaking this law, under section 58 of the Offences against the Person Act 1861, is life imprisonment.
Responding to the ruling, Emma Norton, lawyer for human rights campaign group Liberty, said it was a "sad day" from women across the UK.
"This is a devastating ruling for women and girls in Northern Ireland – especially after the High Court's landmark decision that the current law does breach their human rights," she said.
"A system that threatens women with life imprisonment in Northern Ireland – but allows those in England, Scotland and Wales to exercise their rights – is outrageous, unfair and completely unsustainable.
"It's a sad day for women across the UK that these very reasonable proposals were dismissed, but there is hope in the indication that the case will go on to the Supreme Court."
The court ruling comes as the Speaker in the House of Commons selected an amendment to the Queen's Speech relating to access to abortions for women from Northern Ireland.
More than 50 MPs from all the major parties have signed the amendment, co-ordinated by Labour's Stella Creasy, which calls on the government to allow women in Northern Ireland to have abortions for free in England, instead of being charged as they are now.
A vote on the amendment is likely to be held after 5pm on Thursday.
It comes amid renewed political focus on abortion law in the light of the Democratic Unionist Party's (DUP) deal with Theresa May.
The party is vehemently opposed to reforming Northern Ireland's abortion laws, and has joined forces with others in the Stormont parliament to vote against legislation aimed at allowing terminations in cases of fatal foetal abnormality and women and girls made pregnant through rape or incest.
UK news in pictures

Show all 50
Amnesty International issued a warning following the General Election that the negotiations to establish the next UK Government must not trade away long overdue abortion law reform in Northern Ireland.
The DUP has previously blocked attempts to reform the region's abortion laws, which date back to 1861 and have been found to breach women's rights. In recent years, the DUP has also sought to reinforce the criminalisation of women who seek abortions in Northern Ireland through proposed amendments to a Justice Bill.
A survey by the Northern Ireland Life and Times revealed earlier this month revealed an overwhelming majority of Northern Irish people favour reform of the country's abortion laws.
Register for free to continue reading
Registration is a free and easy way to support our truly independent journalism
By registering, you will also enjoy limited access to Premium articles, exclusive newsletters, commenting, and virtual events with our leading journalists
Already have an account? sign in
Join our new commenting forum
Join thought-provoking conversations, follow other Independent readers and see their replies