Transgender people become women for 'fashion or clothes', says novelist Fay Weldon
Men choose to become female for 'frivolous' reasons, says the writer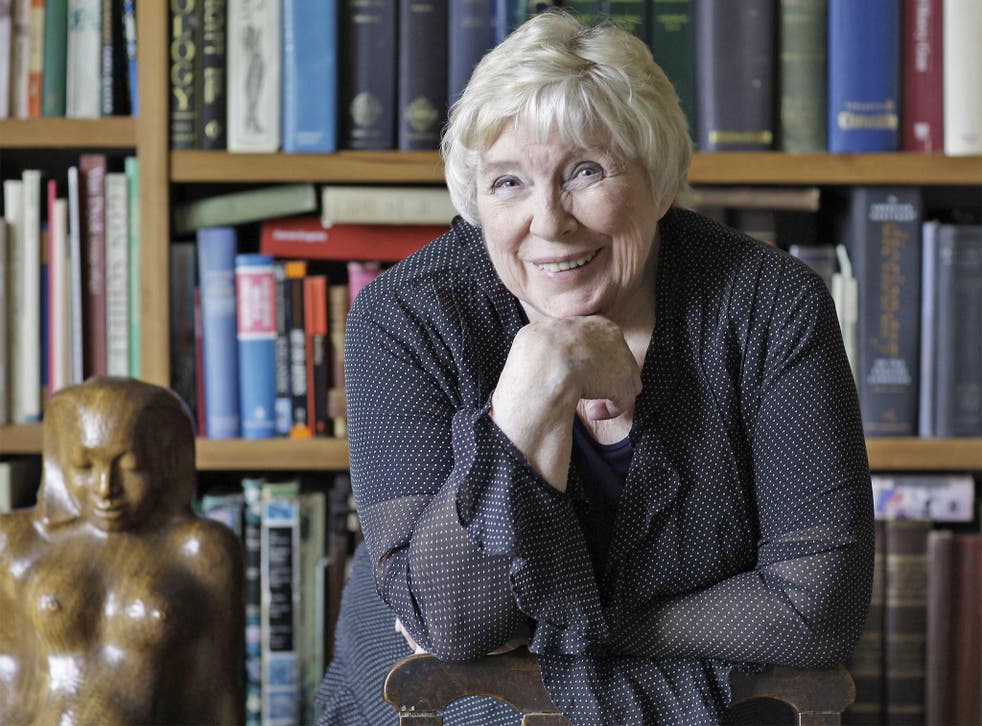 The writer Fay Weldon has suggested some transgender women choose to transition for "frivolous" reasons such as fashion or clothes. She made the comments while promoting her new novel, which criticises fourth-wave feminism.
In an interview on Tuesday's Newsnight, Weldon told Kirsty Wark she believed some transgender people wanted to be female because it's easier to be a woman in modern society.
The 86-year-old novelist has written a sequel to her best-known work, The Life and Loves of a She-Devil, in which one character undergoes a male-to-female sex change.
Weldon told The Guardian she felt compelled to write the novel when "Germaine [Greer] got into trouble, as everyone does these days, for saying that just to get one's genitals chopped off doesn't make you a woman".
In one section she writes: "Man now controls the best weapon woman ever had – the body he so envied, its very moods and subtleties. He can become her."
Weldon, who has identified as a feminist, also took aim at the direction of the women's movement, which she said had not lived up to her expectations.
Fay Weldon says trans people become women 'for the fashion or the clothes'
"I don't see men as the enemy any more. I tend to see women as rather the oppressive force", she said.
The writer also stood by previous comments in which she had suggested behaviour which was formerly "welcome attention" is now condemned as sexual harassment.
When questioned on this point, Weldon said: "What went on behind the filing cabinets was what made the office fun, why you wanted to go to work."
Her comments come after other prominent commentators on women's issues, including Jenni Murray and Chimamanda Ngozi Adichie, have provoked outrage after questioning whether trans women could be considered "real" women if they had grown up presenting as male.
Murray, longstanding presenter of Radio 4's Woman's Hour, wrote a column in The Sunday Times entitled: "Be trans, be proud – but don't call yourself a 'real woman'."
Vicky Lee, who runs The Way Out, London's longest-running trans night, told The Independent: "What I would say to her is that every single unique individual has had their own childhood and each of those have good things and bad things, and female things and male things, and influences from mothers, fathers, daughters, brothers, uncles and aunts.
Museum of Transology - In pictures

Show all 29
"It's nonsense to say that any single person has had a female or male childhood. And as a trans person, and all the thousands of people I've spoken to who identify as trans, none of our childhoods were particularly male or female."
Hannah Brooks-Lane, a spokesperson for Trans Media Watch, said: "Men are still highly privileged and it is unrealistic to suggest that even shallow men would become women for frivolity."
James Morton, manager of the Scottish Trans Alliance, said: "It's disappointing but not surprising that Fay has used a cheap click-bait statement just to try to generate more press attention for her new novel. We doubt she knows anything much about trans people.
"Her earlier novel, The Life and Loves of a She-Devil, was a deliberately bizarre over-the-top comedy with no connection to the real lives of women, so obviously her new novel will be similarly ridiculous in it's depiction of trans people.
Fay's said herself in the past that she enjoys lying to journalists so we hope people will realise that her comments shouldn't to be taken seriously.
The problem is, though, that trans issues are so unfamiliar to many people that insensitive jokes can easily cause significant harm, confusion and distress."
Weldon has been contacted for comment.
Join our new commenting forum
Join thought-provoking conversations, follow other Independent readers and see their replies