Travel disruption begins even before St Jude's Day Storm blows into Britain
One cross-Channel ferry operator has cancelled some sailings to France; rail passengers face slower journeys; and airlines are warning of disruption
Simon Calder
Sunday 27 October 2013 10:34 Comments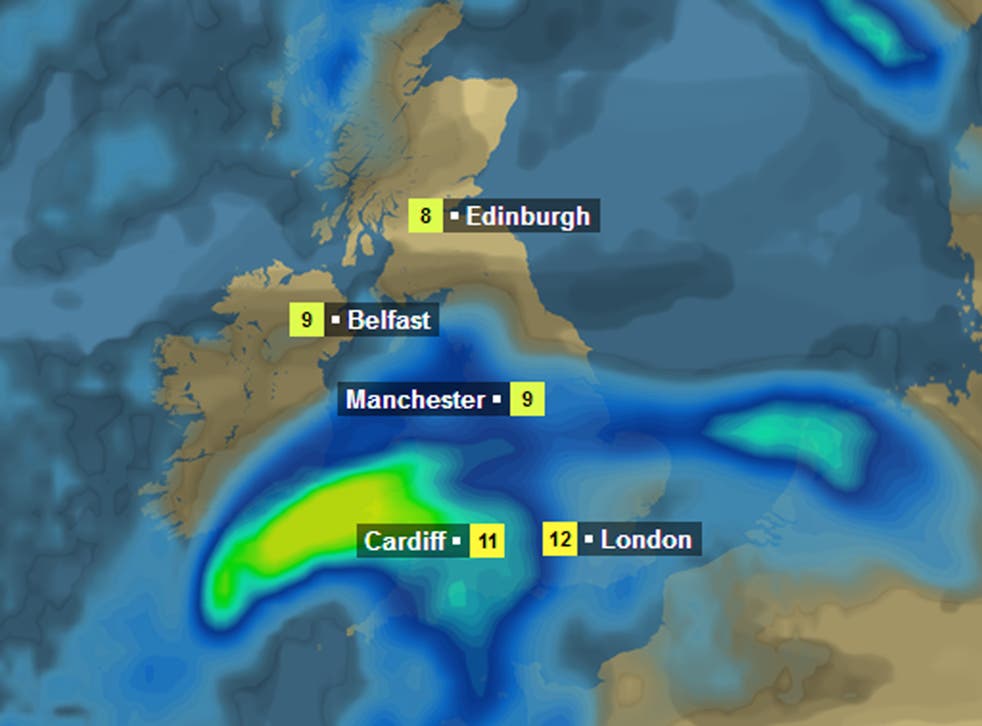 Even before the storm strikes, the prospect of hurricane-force winds has already affected journeys planned for tonight and tomorrow.
British Airways, facing the risk of disruption at the start of the working week, has relaxed restrictions for passengers; one cross-Channel ferry operator has cancelled some sailings to France; and rail passengers face slower journeys.
The main aviation focus is on Britain's busiest airports, Heathrow and Gatwick – not just because they have the most passengers, but also because they are the most vulnerable to disruption on the planet. Heathrow is the world's busiest two-runway airport, and Gatwick is the busiest single-runway airport. As a result, any reduction in "flow rate", ie the frequency of landings and take-offs, can rapidly lead to severe delays and cancellations.
British Airways has made no cancellations so far, but is allowing any passenger booked to or from its London airports tomorrow to switch days – including bringing travel forward to today. The airline is telling passengers: "If your flight is still operating and you are due to travel on Monday 28 October to or from London Heathrow, Gatwick or City Airport the following option is available to you: you may change the date and time of your flight for another service departing between 29 October 2013 and 11 November 2013. You may also bring your flight booking forward to Sunday 27 October subject to availability".
The biggest airline at Gatwick, easyJet, has not made any cancellations so far, but anyone booked from any airport in the southern half of Britain should check in advance – and allow extra time to reach the airport.
East Coast Trains, which runs inter-city services from London King's Cross to Yorkshire, North East England and Scotland, has published a "storm schedule" with increased journey times between London and York. Some trips on Monday will take up to 50 per cent longer; non-stop trains which normally take under two hours are scheduled to take nearly three hours.
Elsewhere, South West Trains, which runs from London Waterloo to Surrey, Hampshire, Dorset and Devon, has been sending out maintenance teams over the weekend to carry out "mitigation work" to try to minimise flooding and fallen trees, and will be deploying staff in high-risk areas. Even so, it says "The risk of falling trees as well as damage to buildings and equipment is high. These conditions present risks to the railway from localised flooding, fallen trees and debris on the tracks." The highest risks are between Weymouth and Basingstoke, which includes Bournemouth, Southampton and Winchester, and between Portsmouth and Guildford.
Greater Anglia says anyone with an Advance ticket for a specific train tomorrow can travel today to avoid the risk of delays and cancellations. The other operators say they may issue emergency timetables – and warn commuters that the start of services tomorrow could be delayed.
Stena Line and P&O Ferries, which operate Irish Sea, English Channel and North Sea services, say that services are running normally at present but there may be disruption tonight and tomorrow morning.
Brittany Ferries, which sails on the western Channel, has already taken action. This evening's sailing from Cherbourg to Poole has been moved four hours earlier to try to avoid the risk of bad weather, while tomorrow morning's Portsmouth to Caen sailing has been delayed until lunchtime. There are also some cancellations on sailings from Poole and Plymouth. The situation is further complicated by technical problems on Brittany Ferries' flagship, Pont Aven, which has led to a number of cancellations that have nothing to do with the storm.
Register for free to continue reading
Registration is a free and easy way to support our truly independent journalism
By registering, you will also enjoy limited access to Premium articles, exclusive newsletters, commenting, and virtual events with our leading journalists
Already have an account? sign in
Join our new commenting forum
Join thought-provoking conversations, follow other Independent readers and see their replies