New 'treason law' which would jail jihadis is not being considered by government
Critics say proposed law is too broad and would have 'grave consequences' for fundamental freedoms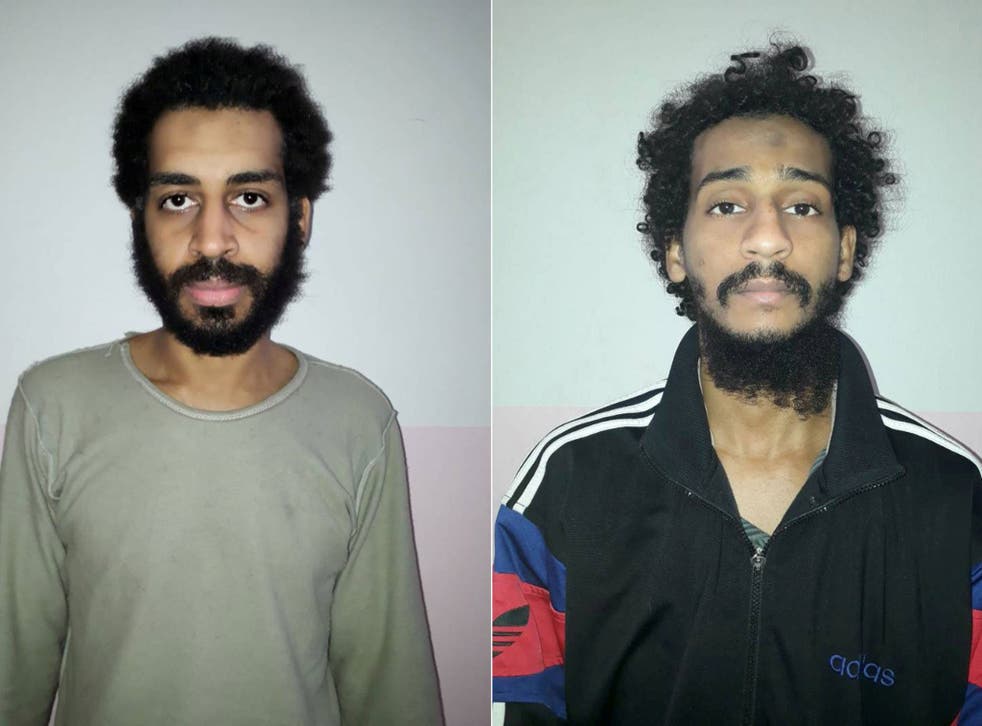 The government has no plans to back a new "treason" law after calls to use an updated version of the ancient offence to jail jihadis for life, The Independent understands.
Former home secretary Amber Rudd, ex-MI5 chief Lord Evans and former Lord Chief Justice are among supporters of legislation that could be used against security threats like Isis "Beatles" Alexanda Kotey and El Shafee Elsheikh,
Ministers claimed that fears the pair could not be successfully prosecuted under British law drove the decision to send them to the US without assurances they would not be executed.
A paper drawn up by the Policy Exchange think-tank suggested defining treason as "aiding a hostile state of organisation" with a new act of parliament.
But critics said criminalising support for a "state or organisation that intends to attack the UK" was too broad and argued that existing terror laws were sufficient.
The Independent understands that the Law Commission, an independent body charged with legal reforms, is not carrying out any work on treason and the Home Office has no plans to go further than proposals contained in the Counter Terrorism and Border Security Bill.
"I am not convinced by the desire to label activity treason, when we have terrorism offences with extra-territorial jurisdiction and the possibility of a life sentence, which is already frequently imposed," a source close to the government told The Independent. "What more do we need?"
The proposed law set out a series of actions that would be deemed treason, including helping prepare or commit an attack on the UK, aiding the military or intelligence operations of a state or organisation intending to attack the UK or "prejudicing the security and defence of the UK".
Mother of John Foley, Diane, opposed to the death penalty
The draft says that anyone found guilty would be sentenced to life imprisonment unless it would be "manifestly unjust" in their individual circumstances.
As envisaged by backers, the law would apply to anyone in the UK, as well as the actions of British citizens or "settled non-citizens" anywhere in the world.
Adam Wagner, a human rights barrister at Doughty Street Chambers, said the proposed offence was "extremely wide and unworkable in practice".
"It would have potentially grave consequences for free speech, free assembly and the right to protest, amongst others," he told The Independent. "The concept of an 'attack on the UK by any state or organisation' is much too wide and subjective. What is an 'attack'?
"This would be in the eye of the beholder and if you also bring in organisations, why not a 'subversive' human rights organisation, as has become common in other countries such as Hungary and Turkey?"
While the initial supporters of the proposal couched it firmly in the context of terrorism and national security threats, other backers quickly widened it out to Brexit and economics.
Tory MEP David Campbell Bannerman was condemned for suggesting that people undermining the country through "extreme EU loyalty" should be tried for treason.
"It is about time we brought the Treason Act up to date and made it apply to those seeking to destroy or undermine the British state," he tweeted. "That means extreme jihadis. It also means those in future actively working undemocratically against UK through extreme EU loyalty."
The former Lord Chief Justice of England and Wales, Lord Judge, said the government must reconsider "whether the current laws against terrorism and disclosure of official secrets are adequate to cover what might be or, arguably, should be treated as treason".
Timeline: The emergence of Isis

Show all 40
"Treason is a heinous crime – it should be treated as such," he added. "If a citizen of this country chooses to fight with the Taliban in Afghanistan against British forces, his crime is more than terrorism. It is treason, and should be prosecuted accordingly."
Conservative MP Tom Tugendhat, who co-authored the paper, said existing terror laws "are not a substitute for a workable law of treason", adding: "In an age of rising great power competition, when states like Russia are attacking the UK in ways falling short of outright armed conflict, it is vital that our law ensures that citizens assisting hostile states or seeking to undermine the UK, can be prosecuted separate from any violence they may use."
Fellow co-author Khalid Mahmood, a Labour MP said a new treason law "would help to highlight, and over time to reinforce, the duty each of us has to refrain from betraying our country".
Treason laws, which date back to 1351, have been updated several times and the last person to be convicted was William Joyce, more commonly known as Lord Haw-Haw, who was hanged in 1946 for assisting Nazi Germany.
In 2008, the Law Commission briefly addressed treason as part of wider work to simplify criminal law in England and Wales, but did not recommend any changes.
"It is an example of an area of the law shaped by political and social conditions that have ceased to be of contemporary relevance," it said at the time. "Offences which once served a useful purpose no longer do so, in part because new offences have been developed which are far better suited for tackling the problems that currently afflict society."
The Home Office did not call for any update to the Treason Act as part of the Counter Terrorism and Border Security Bill, which is currently progressing through parliament.
It has drawn separate controversy over proposals to criminalise viewing terrorist material three times and making "reckless" statements that could invite support for proscribed groups.
Ben Wallace, the security minister, said: "There is clear merit in the need to look across a range of existing legislation to ensure they are up to date and can counter emerging threats. All governments have a duty to ensure that espionage, terrorism and treason are countered with an effective response."
Join our new commenting forum
Join thought-provoking conversations, follow other Independent readers and see their replies