Tunnock's advert that shows female tennis player putting cake on thigh banned for 'objectifying' women
Poster 'was likely to be viewed as demeaning towards women', Advertising Standards Authority rules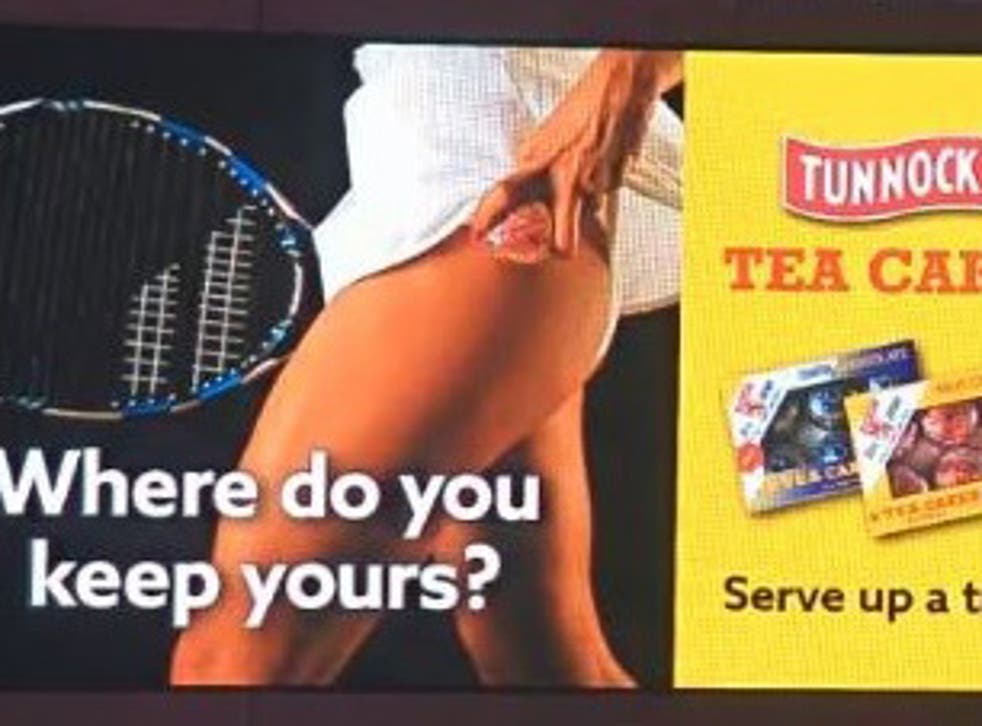 An advert showing a female tennis player holding a Tunnock's Tea Cake to her thigh has been banned because it was "likely to cause serious offence".
Branded "socially irresponsible" by the Advertising Standards Authority (ASA), the poster showed the woman's underwear and the text: "Where do you keep yours?" and "Serve up a treat".
The advert was displayed next to the SEC Hydro Arena in Glasgow to coincide with a charity tennis match.
One person complained the ad was offensive and irresponsible because it was sexist and objectified women.
The ASA upheld the complaint, noting the ad showed the woman's bare thigh exposed and bore no relevance to the advertised product.
Thomas Tunnock Ltd, trading as Tunnock's Tea Cakes, said the ad was created with a tennis audience in mind.
UK news in pictures

Show all 50
They said the placement of the tea cake was a substitute to the normal placement of tennis balls, adding that they did not intend to offend anyone.
Reaction to the ASA ruling was mixed on social media, with some questioning why the advert was banned after just one complaint.
"Serious offence – really? Serious offence? Tunnocks tea cakes? Those Glaswegian types don't quite have the grit they used to have," said former UKIP communications lead Gawain Towler.
But others agreed that there should be no place for objectification in advertising.
An ASA spokesperson said: "We considered the phrase 'serve up a treat' would be understood to be a double entendre, implying the woman featured in the ad was the 'treat', and considered this was likely to be viewed as demeaning towards women.
"We considered that although the image was only mildly sexual in nature, when combined with the phrase 'serve up a treat' it had the effect of objectifying women by using a woman's physical features to draw attention to the ad.
"In light of those factors, we concluded that the ad was likely to cause serious offence to some consumers and was socially irresponsible."
Register for free to continue reading
Registration is a free and easy way to support our truly independent journalism
By registering, you will also enjoy limited access to Premium articles, exclusive newsletters, commenting, and virtual events with our leading journalists
Already have an account? sign in
Register for free to continue reading
Registration is a free and easy way to support our truly independent journalism
By registering, you will also enjoy limited access to Premium articles, exclusive newsletters, commenting, and virtual events with our leading journalists
Already have an account? sign in
Join our new commenting forum
Join thought-provoking conversations, follow other Independent readers and see their replies