Turning off street lights does not cause increase in traffic accidents or crime, says study
Researchers suggest that the evidence could be used to support further cuts in street lighting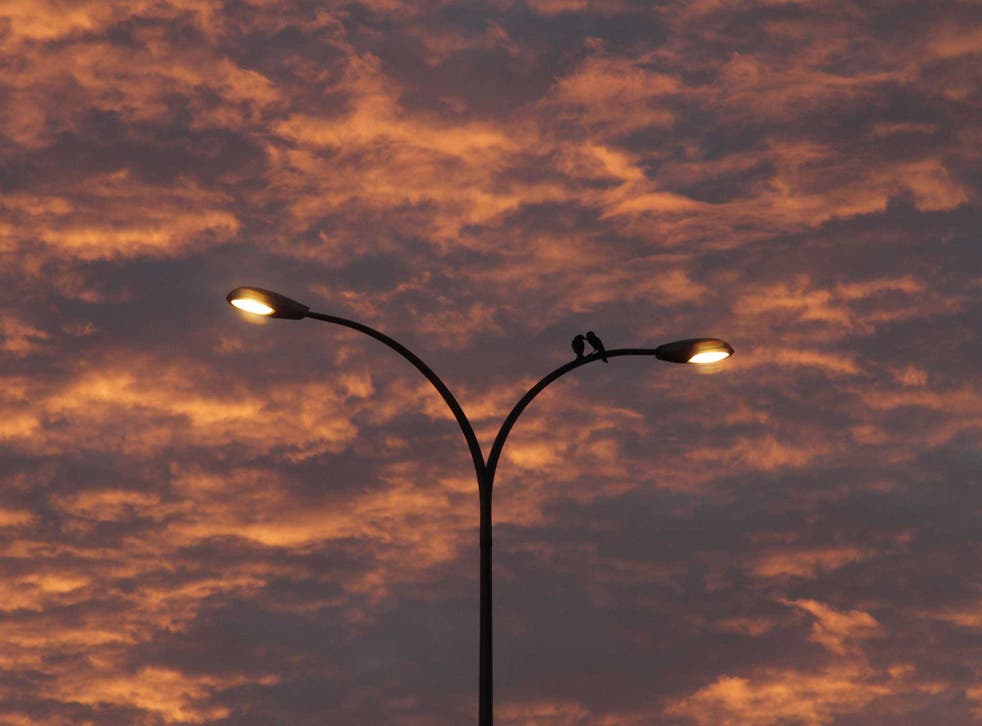 Turning street lights off late at night to save money does not seem to trigger an increase in either traffic accidents or crime according to a survey of local councils in England and Wales where such cuts have been made.
Data gathered from 62 out of 174 local authorities on road casualties and on crimes that may have benefited from streets being in the dark has failed to find a link with reductions in street lighting, scientists said.
The researchers suggest that the evidence could be used to support further cuts in street lighting, either by dimming the lights, replacing them with energy-efficient lamps or turning them off completely – providing any potential risks are "carefully considered".
"The simple conclusion from our study is that we didn't find any evidence for an increase in road casualties or crime in the 25,000km of roads we looked at," said Phil Edwards of the London School of Hygiene and Tropical Medicine, the lead investigator of the study.
"An estimated £300m is spent every year on street lights in the UK. At a time when local authorities need to make spending cuts, our findings show that by carefully assessing risks, street lighting can be reduced without an increase in car crashes or crime," Dr Edwards said.
"It doesn't mean we can just turn street lights off at midnight all over the country because some roads are more risky than others, but risk assessments are already made before the lighting is changed," he said.
Research by the Labour Party last year found that much of Britain was being "plunged into darkness" after midnight due to the soaring number of street lights that have been turned off in order to save local councils money. Out of 141 councils in England, a total of 106 were either switching off or dimming some lights, Labour claimed.
The latest study, published in the Journal of Epidemiology and Community Health, surveyed crime and road-accident statistics in the 62 local authorities that replied to requests for information. The scientists focussed on crimes that are more likely to occur at night, such as burglary, vehicle theft, robbery, violence and sexual assault.
Over a 14-year period, during which time many councils had changed their policy on leaving street lighting on all night, the researchers failed to find any increase in road accidents or crime that could be put down to a change in lighting, such as dimming, converting orange lighting to energy-efficient white LED lighting, or turning them off completely after a certain hour.
The researchers acknowledge that the findings may have been biased in favour of the one third of councils that replied to the survey, but they believe that the overall conclusions are still robust enough to contribute to policy-making decisions.
"It's evidence that other local authorities who are considering reducing street lighting may want to take. They don't need to be necessarily fearful that it will cause harm – although some people do fear walking in the dark at night," Dr Edwards said.
Kevin McConway, professor of applied statistics at the Open University, who was not involved in the study, cautioned about over-interpreting the findings as the study cannot be entirely confident of ruling out harmful effects.
"Overall we're reassured by this study that the lighting changes so far weren't disastrously bad in their effects on road safety and crime. But because it's an observational study, we can't be sure why that is. The implications for future policy really aren't clear," Professor McConway said.
"The data don't allow much to be said about exactly how to consider the risks, or about how much scope there is for further safe reductions beyond those already made. It's not a blank cheque for further turn-offs and dimmings," he said.
Join our new commenting forum
Join thought-provoking conversations, follow other Independent readers and see their replies