Online porn laws: Two dominatrix pornographers become first filmmakers to be hit by new rules
A ruling found that sites run by them breached rules designed to prohibit scenes ranging from portrayals of violence to scenes of criminal activity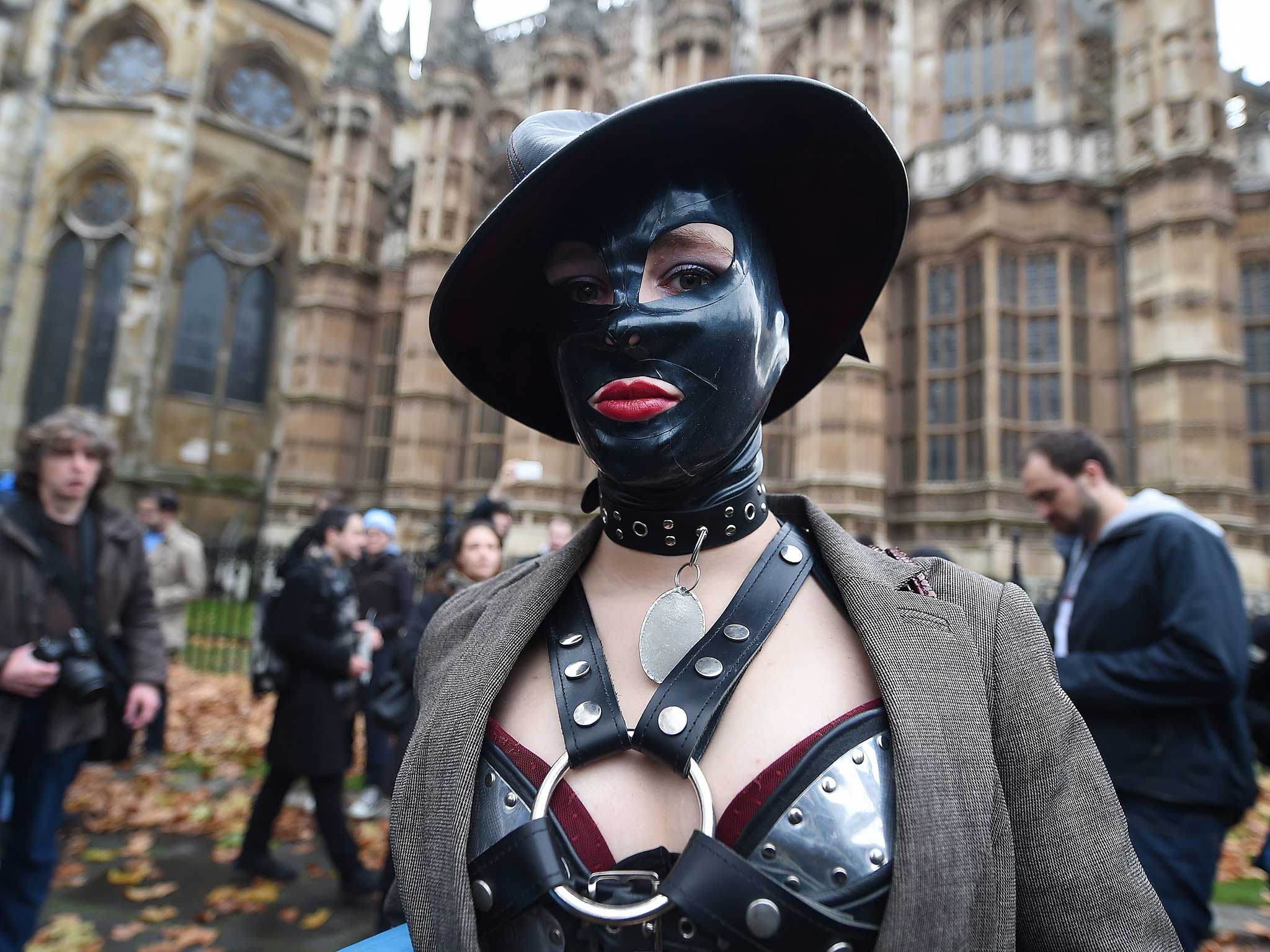 Two dominatrix pornographers have become the first adult filmmakers to fall foul of strict new regulations governing online pornography.
In December hundreds of pornographers took part in a "face-sitting" demonstration outside of parliament to protest against new rules which brought niche internet porn in line with DVD sales in sex shops.
They said the rules effectively banned a range of sex acts on film, including face-sitting, strangulations, canning and spanking.
Now, a ruling from the television on demand regulator has found that videos from professional dominatrix Megara Furie and a Welsh dominatrix operating under the name Mistress R'eal were in breach of the new guidelines.
Face-sitting protest in pictures
Show all 9
In the first ruling of its kind, the Authority for Television on Demand (Atvod) found that sites run by the two dominatrix filmmakers breached rules designed to prohibit scenes that range from detailed portrayals of violence to scenes of criminal activity.
According to Atvod "banned pornographic material" on the websites included "heavy whipping likely to cause lasting physical harm, the infliction of pain on a person who appears unable to withdraw consent, and repeated strong kicks to the genitals which appear to draw blood."
Critics of the new rules have long argued online viewers of niche pornography are still able to access content banned in the UK by watching videos filmed abroad, and new rules amounts to "arbitrary censorship", while Myles Jackman, a British obscenity lawyer said that the case showed regulators were "making up their interpretation" of obscenity laws "as they go along".
A spokesperson for Backlash UK, which is campaigning to defend freedom of sexual expression, added: "Atvod have erected themselves - pun intended - as the UK's Pornfinder General…. The sole purpose of this new puritanism is mass control and surveillance, under the pretence of protection. "

However the Atvod said it was forced to act as the content of the videos "went beyond that which could be sold only to adults in licensed sex shops" and that the two websites also failed to ensure that under-18s did not access the pornography.
Megara Furie, 31, who describes herself as a professional dominatrix, said she "felt sick" that her content was "available to minors" and that she had taken her site down immediately after she was informed by the regulator. She now uses a more robust third-party operator to host her videos.
She said: "The banned material, as far as I am aware was one ball kick, which resulted in the equivalent of a shaving cut and lots of blood because it was a testicle. I was happy to take that down. It was an eye-opener and I'll now be more selective about my content. I wasn't aware I was breaching the rules."
Last night Atvod said that because Megara Furie has removed the offending material quickly there was no need for further action, but there was "on-going enforcement action" with regards the Mistress R'eal service. If the website fails to comply it could face a £10,000 fine and have its right to broadcast revoked.
In a warning to rogue pornographers, Pete Johnson, chief executive of Atvod, said: "The rulings are the first under new statutory requirements which bring UK VOD services into line with UK DVD distributors. If material is unlawful to distribute on a DVD in the UK, it is now unlawful to distribute it on a UK VOD service."
According to Mr Johnson, the ban is targeted at pornographic videos which feature "violent, life-threatening, coercive, incestuous or under-age scenarios, or in which consent is not clear".
The Independent approached the Mistress R'eal service for comment but did not receive a reply.