UCL rent strikers say soon only wealthy will have enough money to study in London
150 students from two of the university's student halls of residence have decided to go on rent strike
Rachael Pells
Friday 29 January 2016 19:04 Comments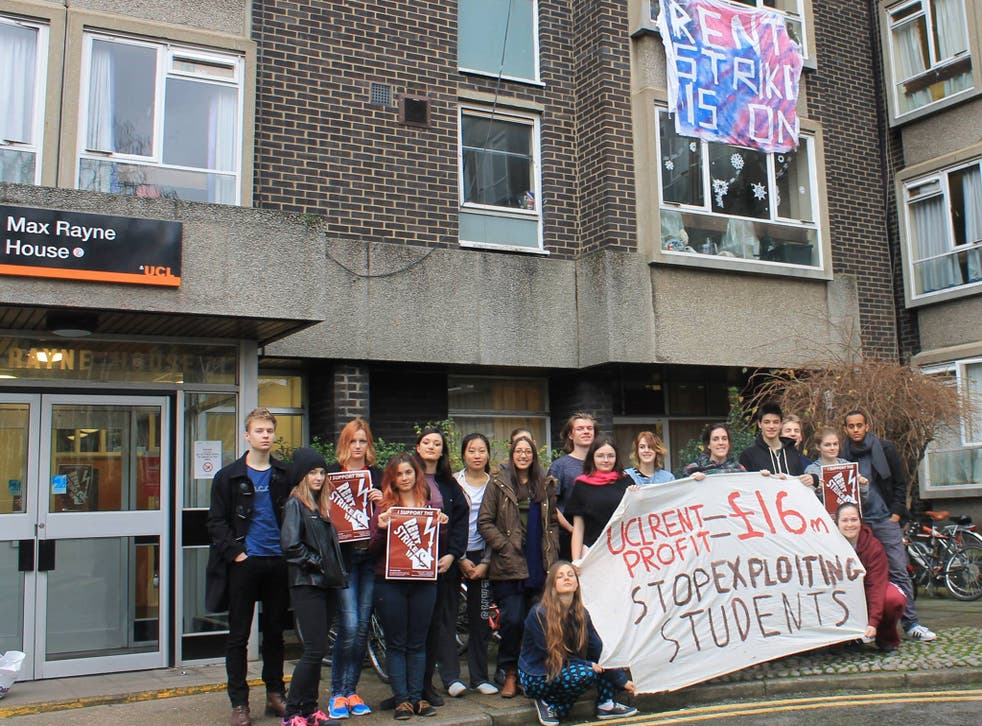 Vix Nowak's bedroom looks just like any other student digs. A desk, wardrobe and sink line the walls, and piles of books and Post-it notes hint at the busy life of a University College London (UCL) undergraduate.
The space would be small for one inhabitant, but Ms Nowak, 20, has to share hers with a roommate. Twin beds lay squashed up together and take up most of the room. The girls were complete strangers in September, but willing to forgo the luxury of space and privacy in return for the lowest possible rents at Max Rayne House in Camden. They pay £206 per week between them.
"Of course the space is not ideal but that's not the issue here," says Ms Nowak. "Most of us would happily live in worse conditions if it meant we could pay less rent."
In her second term at UCL, Ms Nowak is one of 150 students from two of the university's student halls of residence who this week decided to go on rent strike, refusing to pay for this term's accommodation until the university agrees to cut rates by 40 per cent.
Cut the Rent, the campaign group behind the protest, says that rents at the university have risen by around 56 per cent since 2009 and are set to go up again next year.
In total, the UCL students are withholding more than £250,000. But at the end of their first week on strike, it's clear they are starting to feel anxious. "There is the possibility that we'll just be evicted, but that's the risk we're taking," says Logi MacDonald, a politics student also living at Max Rayne House.
"If people from other universities in London see us doing this, there's the possibility that it will be replicated. It's not just us at UCL who are struggling with the student fees and cost of living."
Ms Nowak, who is originally from Poland, says she is considering quitting her course because of the debts she is racking up.
"UCL's motto says, 'Let all come who by merit deserve the most reward'," says Ms Nowak, "but that's ironic because it's becoming a place that only the wealthy can afford. Eventually students from lower-income families won't be able to come to London to study at all."
The university said: "UCL Estates is actively seeking dialogue with the Cut the Rent campaign. While we understand the concerns around the cost of accommodation in London, it is inaccurate to suggest that UCL is making a profit for the university. All of the money that UCL receives in rent is ploughed back into residences."
But according to the Radical Housing Network, which helped Cut the Rent instigate the strike, the UCL is putting money into "state of the art, obscenely priced" properties, rather than options for lower-income students. A spokesperson said: "We believe the UCL rent strike could blow the rent strike concept across London – we're already planning a second strike at UCL and we've been in conversation with other student campuses around the country."
The National Union of Students (NUS) is fully supportive of Cut the Rent. In a letter to UCL Estates, NUS vice president of welfare Shelly Asquith said: "We do not believe that even this lowest band [of housing] is affordable."
Register for free to continue reading
Registration is a free and easy way to support our truly independent journalism
By registering, you will also enjoy limited access to Premium articles, exclusive newsletters, commenting, and virtual events with our leading journalists
Already have an account? sign in
Join our new commenting forum
Join thought-provoking conversations, follow other Independent readers and see their replies