UK's 4G mobile coverage 'worse than Albania, Panama and Peru'
Britain 'languishing in digital slow lane' say Government infrastructure advisers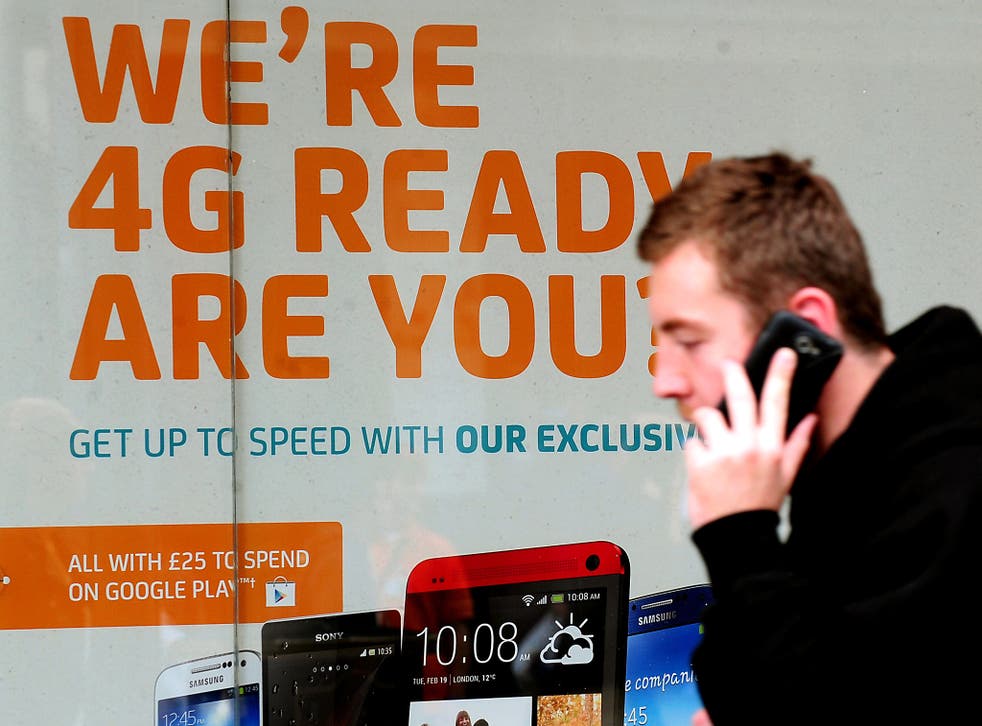 Britain is "languishing in the digital slow lane" with 4G connectivity lagging behind the networks of countries like Romania, Albania, Panama and Peru, according to the Government's official infrastructure advisers.
Market provision of mobile services has left too many "digital deserts" and "not spots" where users cannot get 4G signals, even within major city centres, the National Infrastructure Commission (NIC) found.
It called on the Government to step in to ensure that basic talk, text and data services are available to all Britons, wherever they live, work and travel, and to make the country ready for next-generation 5G communications.
The NIC was asked in March to advise ministers on how the UK can become a "world leader" in the deployment of 5G, which potentially offers ultra-fast, ultra-reliable, ultra-high capacity seamless connectivity to support future technologies like augmented reality, connected vehicles and the "Internet of things".
But the Commission found that there was still much work to be done to haul the UK out of its 54th position in global rankings for 4G, with typical users able to access the service only 53% of the time. Countries like the USA and Japan already have data volumes four to five higher than the UK, the report found.
The Commission called for the creation of a strong "digital champion" in government, backed by a dedicated Cabinet minister, to drive forward change.
The Government and regulator Ofcom should develop a Universal Service Obligation requiring providers to ensure consumers can access essential services when they need them, regardless of the network they subscribe to.
Preparations for 5G must include a trackside network to deliver enhanced connectivity for rail passengers on all key routes by 2025, as well as mobile networks "fit for the future" on motorways by the same date, said the Commission.
And it called for "tens of thousands" of small cells to be installed in urban centres to eliminate areas of poor and no reception.
Some 20% of urban homes and 80% of rural premises are currently in not-spot areas for 4G coverage and only 8% of A and B roads have full 4G connectivity, the report found. Even on the motorways, users fail to get either 3G or 4G almost 25% of the time.
NIC chairman Lord Adonis said: "5G is the future - ultra-fast, and ultra-reliable it has the potential to change our lives and our economy in ways we cannot even imagine today. But the UK is currently languishing in the digital slow lane.
"Britain is 54th in the world for 4G coverage, and the typical user can only access 4G barely half the time. Our 4G network is worse than Romania and Albania, Panama and Peru.
"Our roads and railways can feel like digital deserts and even our city centres are plagued by not-spots where connectivity is impossible. That isn't just frustrating, it is increasingly holding British business back as more and more of our economy requires a connected workforce."
Lord Adonis added: "5G offers us a chance to start again and get ahead. If government acts now, we can ensure our major transport networks and urban centres are 5G ready in time to give British industry every chance to lead the world in exploiting its applications.
Gadget and tech news: In pictures

Show all 25
"But none of this will matter unless we bring our mobile network up to speed. The existing system does not provide the level of coverage we will need in our connected future. We need a new universal service obligation which ensures that the mobile essentials - like text, talk and data - are available to us wherever we need them.
"From connected vehicles to the internet of things, 5G will support a whole new way of communicating and doing business. The UK must not be left behind."
The leader of the cross-party British Infrastructure Group of MPs (BIG), Grant Shapps, said, "This infrastructure report confirms what BIG has been saying for a long time. Over the years, ministers have been too easily taken in by glib promises provided by the telecoms providers and the ineffective and weak response of the regulator Ofcom.
"Britain cannot afford repeat of that outcome with 5G and today we call on the Prime Minister to personally ensure that the infrastructure report recommendations are enacted in detail. In particular it's essential that a Cabinet minister is given the exclusive responsibility to deliver on the promise of 5G and drive progress throughout the UK."
PA
Join our new commenting forum
Join thought-provoking conversations, follow other Independent readers and see their replies