UK accused of doing China's bidding after police raid home of Tiananmen Square survivor over peaceful protest
Exclusive: Shao Jiang's home was searched after he was arrested outside a London reception for President Xi Jinping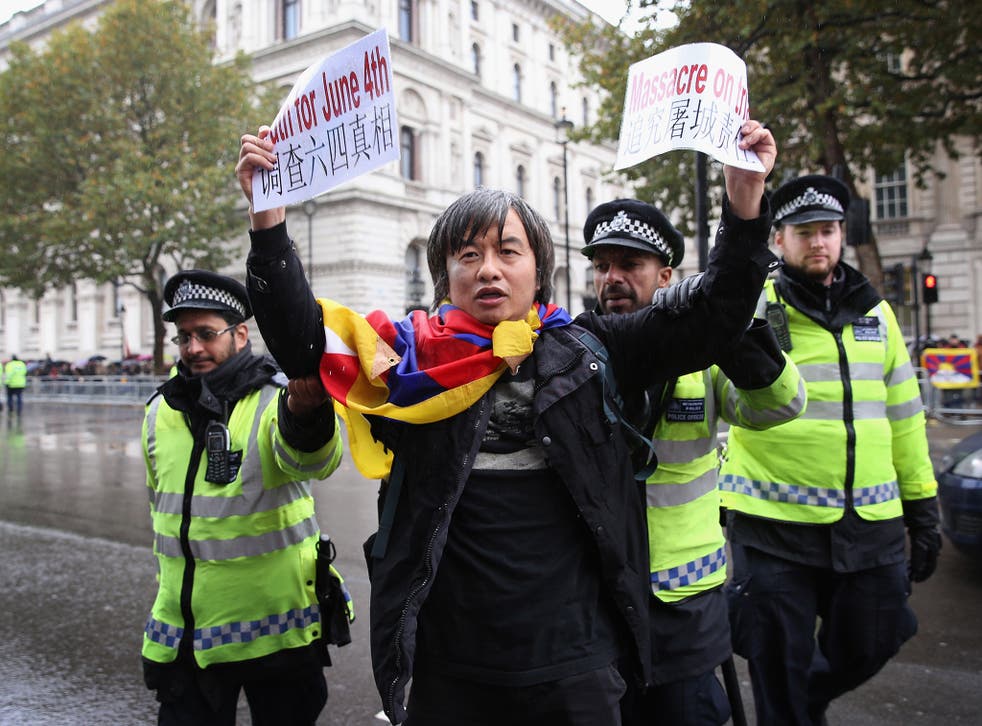 Britain has been accused of doing the bidding of the Chinese regime after UK police raided the family home of a Tiananmen Square survivor – for standing in the road holding up protest banners in Central London.
Chinese democracy activist and Tiananmen Square survivor Shao Jiang, 47, was arrested in the street outside London's Mansion House where a reception was being held for visiting Chinese Premier Xi Jinping.
Campaigners say Dr Jiang was "brutally manhandled" by police officers after he attempted to block the motorcade by standing in front of it - in a scene reminiscent of a famous image of a lone protestor standing in front of Chinese tanks used to crush peaceful protests in Beijing's Tiananmen Square in 1989.
He was holding two banners, which read "End autocracy" and "Democracy now".
After his arrest and overnight detention police searched his home and took away computer equipment.
Last night his wife said the arrest had left the couple "traumatised" and revived the "awful" memories of a raid on his home by Chinese police.
Johanna Zhang, who earlier protested with her husband outside Downing Street, said: "When I was told by the police he had been arrested, it was like I was back in China again. All he was doing in the morning was holding protest signs. They were Amnesty International signs calling for the Chinese to end the crackdown."
Ms Zhang, 42, insisted the couple did not wish to be "portrayed as victims" but said they were genuinely shocked the "battleground" for human rights had moved to the UK.
"The police here in the UK are now doing the same things as in China," she added.
Two Tibetan women were also arrested by police after they attempted to wave Tibetan flags at the passing motorcade.
The two women, Sonam Choden, 30, and Jamphel Lhamo, 33, were also dragged from the scene. According to one eyewitness, the police at first assured the two they weren't being arrested but then an order countermanding that came and both were arrested.
The arrests come amid accusations the British government and Scotland Yard have kowtowed to Chinese demands for firm action over protesters.
Human rights groups have accused the UK government of "trading away" its reputation for supporting human rights.
Tsering Passang, of the Tibetan Community in Britain group, said last night: "As a British Tibetan, I am shocked the Metropolitan Police would arrest peaceful protesters. Tibetans are being silenced both in their homeland and now in the UK. I demand fair treatment for all protesters who are standing up for human rights and democracy."
Previously unseen photos of Tiananmen Square

Show all 13
Allan Hogarth of Amnesty International UK, said: "This looks like a very heavy handed response to a peaceful demonstration. The police need to urgently explain to Shao Jiang why they entered his property and took his possessions, and when they will return them."
Other protesters have expressed "shock" at how peaceful demonstrators are being treated by police. After agreeing a position with police for a peaceful demonstration outside Buckingham Palace protesters were surprised to find the position had been moved to a less prominent place where they could be obscured by pro-Chinese supporters. When they tried to move they were "subjected to aggressive bullying by Chinese men carrying huge flags which they used to cover and hide ours."
In a letter in the Independent, protestor Carole Beavis said she was "shocked" and in one incident told British police present she felt 'threatened' by what she took to be Chinese security officials present.
After trying to take pictures she says she was "singled out by three official looking Chinese men, who effectively herded me away from the event, lowered my arm holding the camera. I stood next to a policeman and told him I felt threatened, and they immediately backed off."
"I should not be silenced in my own country by an orchestrated show of power from the Chinese Embassy. And these are the people who we have invited in to take tea with our Queen.
"We have invited this regime in with open arms and, based on the conduct I have seen this week, I am convinced we will live to regret it," she said.
All three arrested on Wednesday were released today on police bail.
Dr Jiang, traumatised after witnessing seeing Chinese soldiers shoot fellow unarmed protesters at Tiananmen Square in 1989, was re-arrested in 1995 before fleeing China in 2003. He settled in Sweden before coming to the UK, where he is a PhD researcher and Amnesty International UK activist.
Dr Jiang was among the group who gathered in secret in a Beijing university to draft the demands of the Tiananmen Square protests.
He was arrested three months after the Tiananmen massacre and spent 18 months in a string of overcrowded jails where he was questioned for up to 16 hours a day.
An outspoken critic of China's human rights record, he had earlier called for British politicians to be "bold in raising concerns over "widespread human-rights abuses" in China. He had praised Jeremy Corbyn for committing to raise the issue with Premier Jinping.
"The real problem is that the Government here is putting trade before human rights. Britain enjoys cheap Chinese goods and Chinese investment but the price is paid by Chinese workers who have no right to strike and no right to organise," he said.
A Metropolitan Police spokesman confirmed the arrest of three demonstrators. The three were initially arrested to prevent a breach of the peace he said but were later rearrested on suspicion of conspiracy to commit threatening behaviour.
Join our new commenting forum
Join thought-provoking conversations, follow other Independent readers and see their replies