UK banks fund deadly cluster-bomb industry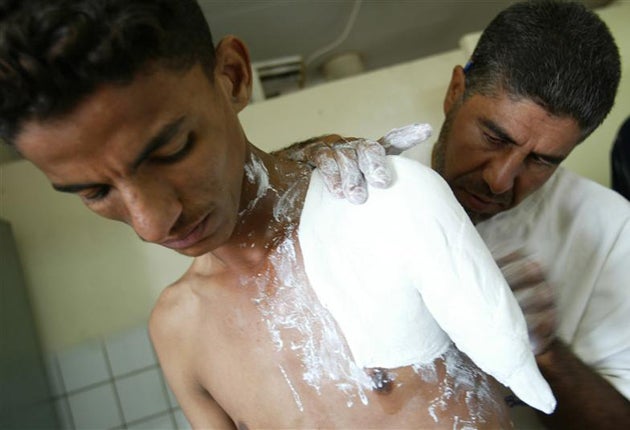 British high-street banks, including two institutions that were bailed out by taxpayers, are investing hundreds of millions of pounds in companies that manufacture cluster bombs – despite a growing global ban outlawing the production and trade of the weapons.
How cluster bombs work: click here to download graphic (71k)
The Royal Bank of Scotland, Lloyds TSB, Barclays and HSBC have all provided funding to the makers of cluster bombs, even as international opinion turns against a weapons system that is inherently indiscriminate and routinely maims or kills civilians.
One year ago this month, Britain became an active participant in the Convention on Cluster Munitions, a global treaty that bans the use, production, stockpiling and transfer of cluster bombs. To date, 108 countries have signed the treaty, which also forbids parties from assisting in the production of cluster weapons.
Yet there has been no attempt by the Coalition Government to rein in banks and investment funds that continue to finance companies known to manufacture the weapons.
Using a loophole in the legislation, financial institutions can continue to back cluster-arms manufacturers as long as they don't invest in the bombs directly. The loophole has prompted Amnesty International to launch a national campaign calling on the Government to legislate against any indirect investment in cluster weapons.
An investigation by Dutch arms experts into how financial institutions continue to invest in the industry has revealed that the virtually state-owned RBS is the UK's worst offender. Saved by the public purse after its collapse during the credit crisis, taxpayers now own 83 per cent of the bank. But that has not stopped it from investing hundreds of millions of pounds in the arms trade.
In October 2010, RBS was part of a banking syndicate that provided the American arms manufacturer Alliant Techsystems with a $1bn (£600m) five-year credit facility, with RBS itself loaning $80m. It has also underwritten $110.1m in bonds to Alliant Techsystems and Lockheed Martin.
The partially state-owned Lloyds, which was bailed out by the taxpayer with an injection of £20bn of state funds, has also invested in Lockheed Martin, the US arms giant that has a long track record of making cluster munitions. In November 2009, Lloyds contributed $62.5m as part of a 12-bank syndicate when Lockheed issued bonds for a total of $1.5bn.
Other British high street banks have also played a role in investing in arms companies known to make cluster weapons. In April 2009, Barclays and HSBC were involved in a major financing deal with Textron, a US arms manufacturer that builds a "sensor fused weapon" – the world's most powerful cluster bomb. Alliant Techsystems makes the weapon's rocket motor.
Textron issued $757.4m worth of bonds and shares with the financial aid of a 10-bank syndicate. HSBC and Barclays combined underwrote $44.6m worth of loans. Barclays then went on to invest a further $75m in a separate Textron bond deal five months later.
The report on the banks, a joint piece of research by the Dutch and Belgium NGOs IKV Pax Christi and Netwerk Vlaaneren, reveals that since May 2008, 166 financial institutions across the world have invested an estimated $39bn in the eight largest cluster-munitions manufacturers.
None of these investments is illegal. But they will lead to further concerns about the moral behaviour of the banking industry at a time of public anger over its role in the credit crisis and bankers' bonuses.
The majority of investors in cluster munitions are from countries such as China, Russia and the US, which have refused to sign up to the global ban. Those countries are also the world's largest producers of sub-munitions.
But financial investment has also come from banks within nine countries that have signed up to the treaty. Australia, Britain, Canada, France, Germany, Italy, Japan, Switzerland and the Netherlands have yet to pass legislation that specifically forbids indirect investment in cluster-bomb producers.
Belgium, Ireland, Luxembourg and New Zealand are the only countries that have banned banks from directly or indirectly financing cluster bombs. Within the financial industry there are signs that some banks are beginning to distance themselves from cluster-bomb makers. Since the publication of the Pax Christi report, HSBC said it has brought in a new investment policy that forbids it from investing in companies that make such weapons. The bank would not confirm whether that means it has ended its relationship with Textron. But Mark Hemingway, the head of media relations at HSBC, told The Independent: "We have exited relationships with clients if the requirements of our policy are not being met."
A spokeswoman for Barclays said the company's investment policy "explicitly prohibits financing trade in landmines, cluster bombs or any equipment designed to be used as an instrument of torture". Barclays would not confirm whether it would no longer invest in Textron but The Independent understands no new investments have been made since 2010. The relationship has also been discussed by senior execs at the bank.
In contrast, Lloyds and RBS resolutely defended their investments. A spokesman for Lloyds said: "Lloyds does not knowingly finance or otherwise support the manufacture of any weaponry that breaches UK, US, EU or UN legislation, or weapons which have been outlawed by International Treaty. These include, amongst others, bans on anti-personnel mines and cluster munitions."
RBS said it had been assured by arms companies that they don't make cluster bombs. "We do not invest in cluster munitions. We have received assurances from our defence-sector clients that that they are not in breach of the Convention on Cluster Munitions," a spokesperson said.
But Oliver Sprague, an arms expert at Amnesty, said: "High street banks like Royal Bank of Scotland are making a mockery of UK law by shamefully investing in companies that make weapons the UK Government and 108 other countries have clearly and quite rightly banned. Given the UK Government's clear decision to ban cluster munitions, no UK financial institutions should be assisting their production."
Laura Cheeseman, who is the director of the Cluster Munition Coalition, which spearheaded the lobbying drive for the ban on cluster weapons, said: "The UK and other countries that have already signed the ban treaty should pass strong national legislation to make sure they are not contributing to the production of weapons that they have outlawed."
Join our commenting forum
Join thought-provoking conversations, follow other Independent readers and see their replies