UK could have taken 1,300 more child refugees not just 130, says fostering charity
Home Office accused of telling 'continuous lies' about number of unaccompanied refugee children UK has capacity to take in from Europe under Dubs Amendment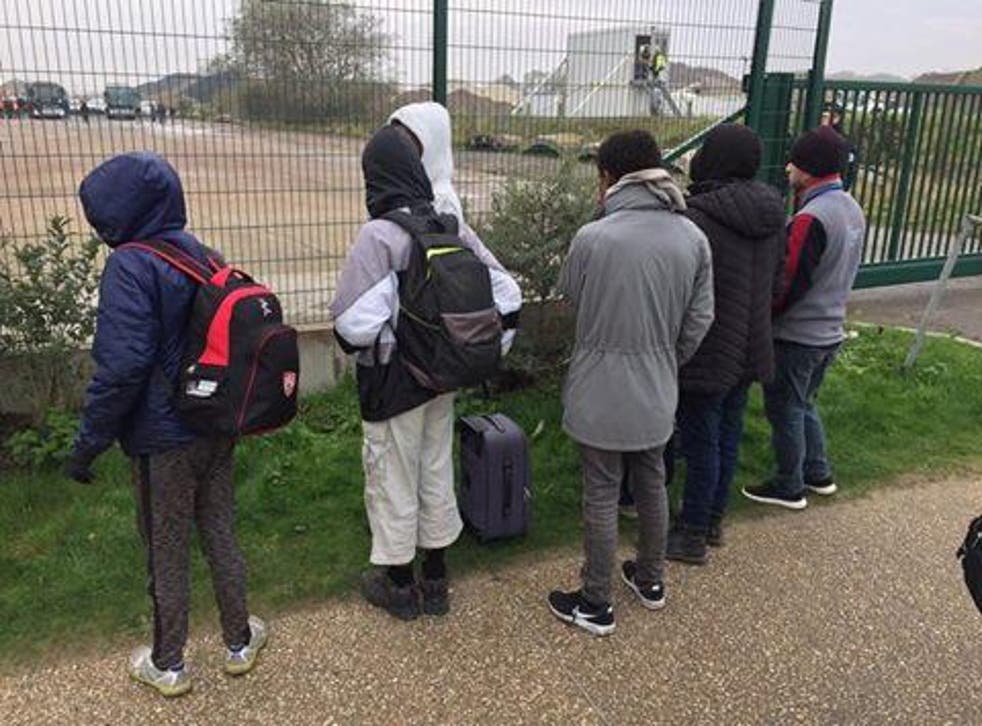 The UK has capacity to take in at least 1,300 more child refugees, 10 times more than the 130 the Home Office has specified, Britain's largest fostering and adoption charity has said.
Tact Care, which provides foster care for between 30 and 70 refugee children each year as well as hundreds of domestic children, told The Independent the Home Office was adopting a "dog whistle policy" in the transfer of child refugees from Europe, saying it did not consult local authorities properly to establish how many children could be brought to the UK under the Dubs Amendment.
Following an announcement by the Immigration Minister on Wednesday in which he said 130 places offered by local councils for unaccompanied minors as part of the Dubs scheme were not originally accounted for due to an "administrative error", the charity accused the Home Office of "telling continuous lies" about the true capacity.
Tact Care said on its Twitter page: "Great work from Citizens UK but the Home Office lied about capacity. There is room for at least 1300 more not 130.
"In 2016 the Association of Directors of Children's Services and the Home Office agreed a national transfer scheme. Most local authorities nowhere near agreed capacity limit and Home Office know this."
Andy Elvin, chief executive of the charity, told The Independent the Home Office was telling "continuous lies" about the UK's capacity to take in child refugees, and accused the Government of failing to consult local authorities before calling an end to the Dubs scheme, saying there were probably "a lot more" councils who would be willing to provide places.
"The Home Office is spouting continuous lies. There is room for at least 1,300 children in the UK, but due to a chaotic system many places are going unaccounted for," said Mr Elvin.
"They didn't have an organised process of asking local authorities how many places they could offer Dubs children. I've spoken to a number of children's services and those who lead on these issues in local government, and they all said no one asked them.
"The announcement yesterday was a result of Citizens UK getting some of their local groups together and lobbying councils. A few more councils quickly signed up for the national transfer scheme, and the Home Office probably received the offers and they knew they couldn't not say it.
"But there are probably a lot more that would. When you work out how many children the UK could take based on the 0.07 per cent of child population that local authorities are asked to take in for the national transfer scheme, you see that there is a lot of capacity."
​The Home Office came under fire earlier this year when it announced that the scheme, which was initially intended to bring in 3,000 unaccompanied minors from Europe, was to be capped at 350, with charities warning that the Government's policy on child refugees appeared to be based on "guesswork" rather than actual evidence.
Since the Dubs scheme was ended in February, scores of vulnerable, potentially eligible children have continued to live rough in and around Calais, routinely risking their lives by continuing to make dangerous attempts to cross the Channel illegally to reach the UK.
Mr Elvin added that there was additional capacity for child refugees that wasn't being considered at all, because charities such as his were not contracted by the Home Office to take part in the scheme, despite them volunteering to do so.
"There are independent fostering agencies with places that aren't included in local authority capacity. Throughout the process the Home Office has not come to us to ask how much capacity we have. We've volunteered it. We've said they can contract directly with us. We've got plenty of capacity around the country to offer placements but they don't even ask us," he said.
"All of it is based on dog whistle policy. They're not wishing at all to be humane towards refugees or asylum seekers. In the Home Office there's this myth that if they create a hostile environment for refugees then less will come.
"They fail to appreciate the push factors. People are sending their children because the alternative is their children dying. It's not a marginal life style choice that's being made here. People will continue to come because various bits of the world are on fire.
"They can get away with it because when people talk about immigration, especially now that we have an election, no one is talking about the rights of refugees. They know they're going to get votes out of saying we will be tough on them."
Refugees welcome here: Protesters demand UK resettle more migrants in response to refugee crisis

Show all 7
Charities and campaigners welcomed the Immigration Minister's announcement on Wednesday that the number is higher than previously thought, but voiced concern that such errors could be being made on a wider scale and subsequently called on the Government to re-consult with councils on capacity and consider re-opening the Dubs scheme.
Rabbi Janet Darley, spokesperson for Citizens UK's Safe Passage project, said: "Yesterday's admission by the government that 130 extra places have been found for vulnerable children due to an 'administration error' only highlights the need for the government to re-consult with local authorities.
"They have a legal and a moral obligation to establish the true number of places available for vulnerable refugee children."
Join our new commenting forum
Join thought-provoking conversations, follow other Independent readers and see their replies